CALENDAR OF EVENTS
Community Cinema at Soka University - STRONG!
Date: 05.10.2012
Time: 7:00 pm - 9:00 pm
Location: Pauling 216
Free Admission.
A formidable figure, standing at 5'8" and weighing over 300 pounds, Cheryl Haworth struggles to defend her champion status as her lifetime weightlifting career inches towards its inevitable end. Strong! chronicles her journey and the challenges this unusual elite athlete faces, exploring popular notions of power, strength, beauty, and health.
The Independent Television Service (ITVS), KOCE-TV (PBS) and Soka University of America are pleased to announce the third year of the Community Cinema series, which begins in September 2011. The largest public interest outreach program in public or commercial television, Community Cinema features a sneak peek of nine documentaries set to broadcast on the award-winning PBS series Independent Lens.  Community Cinema, in partnership with the Humanities Program and Student Affairs, screens films monthly from September through May.
After the screenings, Community Cinema features panel discussions with leading community based organizations, special guest speakers, information, resources, and other programming designed to help our students and our community learn more about the issues and get involved.  Faculty members are encouraged to incorporate these films in their class curricula.
For more information about the films and Community Cinema visit:  http://www.itvs.org/engagement
 Subscribe to Soka University's monthly email about upcoming arts and campus events.
ITVS brings communities together through independent film by providing resources and opportunities for education, engagement, and action — transforming film and public broadcasting into a powerful resource for individuals, communities, and organizations.

Community Cinema is a groundbreaking public education and civic engagement initiative featuring free monthly screenings of films from the Emmy Award-winning series Independent Lens. Community Cinema is on location in more than 90 cities nationally, bringing together leading organizations, community members and public television stations to learn, discuss, and get involved in key social issues of our time
Julie Wyman, Producer/Director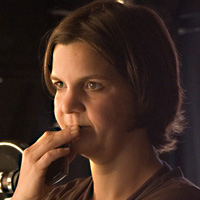 Julie Wyman is an award-winning filmmaker as well as a performer, writer, and professor. Her 2004 film, Buoyant, screened at NY MoMA, Walker Arts Center, La Jolla MoCA and at festivals internationally. Her full-length documentary, A Boy Named Sue (2000) aired on Showtime, MTV's Logo TV, and screened at festivals internationally, winning the 2001 Sappho Award for Best Documentary and receiving a nomination for the Gay and Lesbian Alliance Against Defamation's Media Award for Best Documentary. Wyman's writing has been published in the Journal of Aesthetics and Protest and will be included in a forthcoming edited volume entitled Scholarly Acts. Wyman is also a member of the artist/activist collective BLW whose performance work, cited in Artforum International, January 2008, has been featured at venues including the Institute for Contemporary Art, Philadelphia, Southern Exposure Gallery, San Francisco, Pilot Television, Chicago, and the Wadsworth Athenaeum, Hartford. Wyman holds a BA from Amherst College and an MFA in Visual Arts from the University of California, San Diego. She has served as an Assistant Professor of Media Studies at Queens College, CUNY and the University of Hartford and is currently an Assistant Professor of Digital Filmmaking in the Technocultural Studies Department at UC Davis.