Founder's Message - 1st Undergraduate Commencement Ceremony
Aliso Viejo, California | May 22, 2005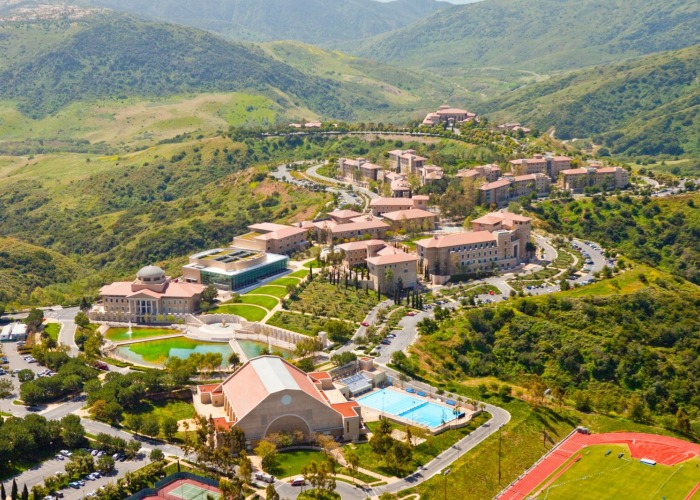 Soka University of America represents the culmination of the effort to make value-creating education a reality.
Founder's Message
To The First Commencement Ceremony, Soka University of America, Aliso Viejo
"Youth! You are young. Your youth itself gives you the greatest strength. With this awareness, we should exert, refine, and develop ourselves. If youth do not live with joy, where is the joy of humanity to be found?"
These are words that I wrote in my diary when I was 22.
Members of the Class of 2005, the first graduating class of Soka University of America! You stride along the great, unsurpassed path of youth. I offer you my heartfelt congratulations on the superb, magnificent occasion of your graduation!
I wish to thank H. E. UN Under-Secretary-General Anwarul K. Chowdhury; Dr. Jack W. Peltason, former President of the University of California; and our many other distinguished guests who have honored us with their presence today.
I also wish to offer my deepest gratitude to the administration and faculty members of SUA for your many efforts over the past four years.
To the friends and family of today's graduates, my warmest congratulations!
Today is the day I have been awaiting, the day I have been looking forward to with all my heart. I so very much wished to participate and be with you today, celebrating your new departure. It has, however, proven impossible for me to leave Japan at this time, something which I truly regret. But my heart is always with you, the students of SUA. Please know that, from Japan, I am following today's ceremony, picturing the brave, inspiring sight of you today, magnificent in your growth.
As a gift to you on your departure, I have written an address entitled "The University of the 21st Century—Cradle of World Citizens" in which I consider the future of the university, exploring the mission and responsibility of those who have received a university education. I would be delighted if this stimulates new thoughts in you who have experienced the humanistic education of Soka and who, as successors, are today embarking on lives of global leadership.
I myself was 22 when I was entrusted with the vision of Soka University by my mentor, Josei Toda. Amidst the chaotic social conditions of postwar Japan, Mr. Toda's business had come to a truly critical pass, and I put aside all else to devote myself to working to the utmost for and to protect Mr. Toda. It was midst of these truly dire circumstances that I firmly pledged to build a center of higher education that would enable the principles of value-creating education to contribute to the peace and happiness of humankind.
Soka University of America represents the culmination of the effort to make value-creating education a reality. I can only imagine the delight with which the father of Soka Education, Tsunesaburo Makiguchi, together with Mr. Toda, would greet the noble sight of the first graduating class of SUA setting out today, the warm praise they would lavish upon you.
Your path ahead in life may be marked by many difficulties and trials. I hope that the members of the Class of 2005 will always maintain a high sense of pride in being the pioneers of Soka Education as you serenely surmount these challenges, emerging from each of them indisputably triumphant.
Helen Keller remained undefeated despite multiple adversities. During her university years she committed herself to a way of life that could be termed "fighting optimism." She described her belief in this way: "My optimism, then, does not rest on the absence of evil, but on a glad belief in the preponderance of good and a willing effort always to cooperate with the good, that it may prevail." And she was confident of ultimate victory, describing the optimist as follows: "He stands always in the sunlight. Some day the wonderful, the inexpressible, arrives and shines upon him, and he is there to welcome it."
It is my earnest wish that each of you will fully experience days of youth free from all regret; that you will live out your lives with strength, wisdom and high spirits in your chosen place of mission, filled with the burning vitality of a fighting optimism. With light and cheerful step, continue to extend the human solidarity of Soka humanism and Soka pacifism into the world and the future.
May my dear friends, the graduates of SUA, emerge bravely dancing on the world's stage. May each of you be a leader for the 21st century! May you all be great victors in life!
With these heartfelt wishes and encouragement, I conclude my message. Let us meet again soon, without fail!
Congratulations on today! Please take care and be well.
May the golden members of the first graduating class enjoy health, glory, and happiness!
Daisaku Ikeda
Founder