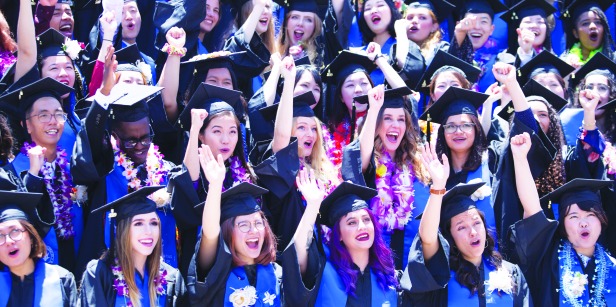 Commencement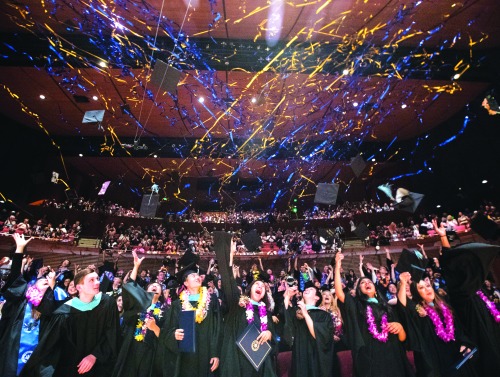 Ticket Information
Guest admission to the Commencement Ceremony is by ticket only. Other than graduating students, no other members of the SUA community can request tickets for their own guests.
Graduating students may request up to a maximum of five (5) tickets for their guests (the graduate does not need a ticket for admission) through the Commencement Ticket Request Survey. Any special seating request such as wheelchair access or seating for children under the age of five must be made at the time of ticket request. Tickets can be either picked up by the graduating student at the Soka Performing Arts Center Box Office during the week of Commencement or be picked up by invited guests at Will-Call under the graduate's name on the day of the ceremony. We strongly encourage students to use Will-Call to ensure guests receive their tickets.
Those wishing to attend can request one (1) ticket for themselves. Directions on how to request the ticket are forthcoming. Due to limited seating, there may be a lottery if the total number of requests exceeds the allotted seat number.
Alumni should make their request to Sohokai Alumni Association or Soseikai Graduate School Alumni Association.
Family-Friendly Seating Option
For younger guests who will not be comfortable sitting through a two-hour ceremony, family-friendly seating is offered in the Black Box Theatre with big screen projection and plenty of room for children to play. Food and drinks are also permitted in the Black Box Theatre. Tickets are not necessary to enter the Black Box Theatre, so guests who chose to view the entire ceremony in the Black Box Theatre should inform their graduating student. Allotted Commencement tickets are only for guests who will be seated in the Soka Performing Arts Center.
Diplomas
Graduating students will not receive the actual diploma on Commencement day. They will only receive their diploma cover. Once a final degree check has been completed, the diploma will be printed and mailed to the student. Students should be sure to update their home/mailing address information in Learning Solutions before they leave.
Schedule of Events
Event

Time

Location

Commencement Rehearsal for All Graduating Students

May 20
9:30 a.m. 

Peace Lake

 

Alumni – Student Exchange

May 20
Time TBA

TBA

Campus Tour

May 20 & 21
10:00 a.m. & 2:00 p.m.

Founders Hall Atrium

Undergraduate Appreciation Reception

May 21
6:30 p.m. – 8:00 p.m. 

Black Box Theatre

Commencement Ceremony

May 22
2:00 p.m. 

Soka Performing Arts Center

Soseikai Graduate School Alumni Luncheon

May 22
11:30 a.m. – 1:30 p.m. 

Ikeda 104-D (Graduate School Office)

Graduate School Friends and Family Reception

May 22
5:00 p.m. – 7:00 p.m. 

2nd Floor Founders Hall Art Gallery

Sohokai Undergraduate Alumni Annual Meeting

May 23
2:00 p.m. 

Soka Performing Arts Center
Inviting Guests and B-2 Tourist Visas
Many international students wish to invite family members for a short visit to the United States for their commencement ceremony. The B-2 visitor visa allows for visits of 6 months or fewer in duration for family members such as parents and siblings who do not qualify for an F-2 or J-2 dependent visa. The most important part of the B-2 visa application at the U.S. Embassy or Consulate abroad will be the applicant's demonstration of ties to the home country (List B below), the short duration of the trip, planned return to the home country, and ability to cover expenses. However, as a student, you can provide supporting documents for the B-2 visa application (List A below). This is not a comprehensive list of all documents required for the B-2 visa. Comprehensive information can be found on the website of the U.S. Embassy or Consulate where the visa application will be made.
To invite your family members to the U.S., you may send the following to the person(s) invited:
A letter of invitation written by YOU in English, stating that you would like to invite the person for a visit for your graduation celebrations. The letter should include:

Name and relationship to you of the visitor(s)
The length of the visit
Who will provide financial support for the visit
The purpose of the visit, which is to attend graduation

Verification of Enrollment form from Registrar's office which includes expected completion date.
A letter from the Dean of Students verifying your academic status and reinforcing that you want to invite your family (limited to parents and/or siblings). 
A copy of your I-20.
Commencement Guide (if available before the interview) 
If you will support the person's visit financially, you should provide evidence of financial support (a bank statement, your assistantship letter, your sponsor's letter, etc.).
Your family members or friends should also bring "proof of ties" to home country with them when they apply for the visa stamp at the U.S. consulate, such as:
copies of deeds to any property (land, house, apartment) they own in their home country,
bank statements of any accounts they maintain at home,
if they are employed, they could bring a letter from the employer stating they will return to the job after the U.S. visit,
all other documentation as specifically required by the Embassy or Consulate (check website for the necessary documentation)
Visitors in B-2 status may have a difficult time changing status in the U.S. to a different visa category.
B-2 visitors are advised NOT to enroll in classes at a U.S. university or college.
B-2 visitors may apply for an extension of stay with U.S. Citizenship and Immigration Services by filing an I-539 and demonstrating finances and purpose of the extension.
Note: The length of the visa does not equate to the length of stay. When visitors enter the U.S., their documents will be inspected by a U.S. border official. The officer will determine the amount of time the visitor will be permitted to remain in the U.S. and write that date on the I-94 Arrival/Departure record. The maximum period of admission for a regular B-2 visitor is 6 months.
For detailed information about the B-2 nonimmigrant visa, go to the US Department of State page.