Celebrating a Vision of Peace
WISDOM – COURAGE – COMPASSION
These are the hallmarks of our 20 years of educating global citizens.
Please join us for Soka's first online Peace Gala. Your participation will fund student scholarships. This is an opportunity to invite anyone you want to learn more about Soka University at no cost to them or you.
Saturday, October 10, 2020
5 to 6 p.m. PST
Entertainment
Paul Williams
Composer-singer-songwriter
Master of Ceremonies
DawnMarie Kotsonis
Silent Auction
Online beginning Friday, October 2, at noon
Ends Saturday, October 10, at midnight
Cost to Attend
$0, but donations are gratefully accepted
Gala Entertainment: Paul Williams
Paul Williams is one of the most beloved and respected music creators in the world today. A lyricist and composer who has won an Oscar Award, three Grammy Awards, two Golden Globe Awards, an Ivor Novello International Award, and earned induction into the Songwriters Hall of Fame. His songs, from "We've Only Just Begun" and "You and Me Against the World" to "An Old Fashioned Love Song" and "The Rainbow Connection," have touched millions of people for generations. As President and Chairman of the Board of the American Society of Composers, Authors and Publishers (ASCAP), he is also a leading spokesperson for music creators in the digital age.
To Join the Celebration
Register online. Two weeks before the Peace Gala we will contact you (either via email or traditional USPS) with instructions on how to join the Peace Gala.
Beginning October 1, register with your credit card at the gala website to bid on silent auction items and/or donate online during the event. Live help available via telephone on October 10 from 3:30 to 6:30 p.m. PST. (Phone number will be provided along with instructions for watching the Peace Gala following registration)
Your support is appreciated even if you are unable to attend the live event. If you prefer, donate in advance and simply enjoy the program.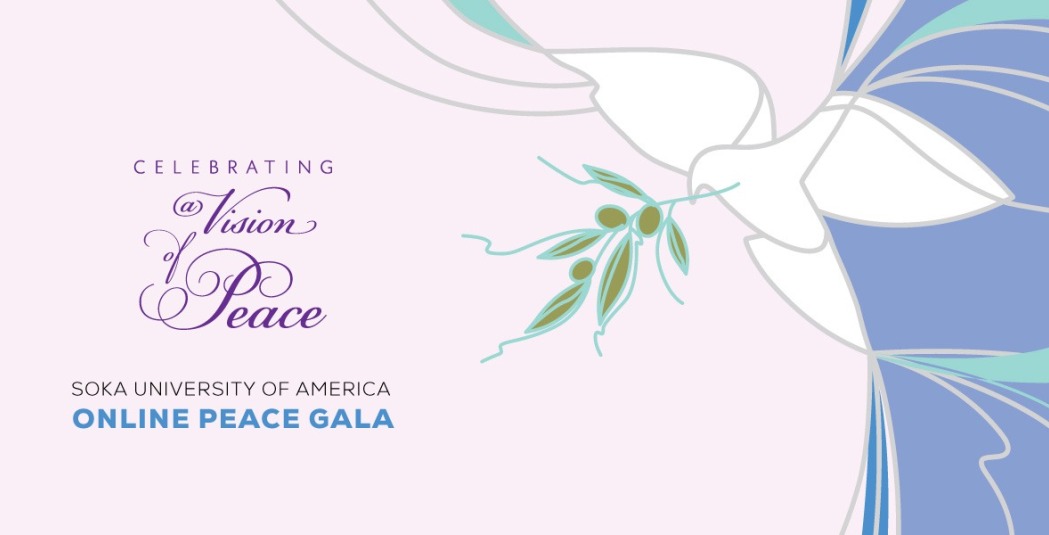 More information
Please contact the Office of Development at 949-480-4072 or Linda Kennedy at lkennedy@soka.edu
1 University Drive, Aliso Viejo, CA 92656
Tax ID: 95-3909672
Celebrating 20 Years of Soka Education
Daisaku Ikeda, the founder of Soka University of America, stated in an address at Teachers College, Columbia University, on June 13, 1996:
"I think I can state with confidence that the following are essential elements of global citizenship:
The wisdom to perceive the interconnectedness of all life and living.
The courage not to fear or deny difference, but to respect and strive to understand people of different cultures, and to grow from encounters with them.
The compassion to maintain an imaginative empathy that reaches beyond one's immediate surroundings and extends to those suffering in distant places."
Soka University of America started with a bold ideal to make the world smarter. More compassionate, peaceful, and sustainable. It envisioned a campus that produces global citizens imbued with wisdom, courage and compassion.
Twenty years on, our vision has come to fruition.
We improve the world with every graduate because we admit top students from around the world who share our ideals, regardless of their ability to pay. Then we challenge them intellectually. Send them abroad. Provide them with a global campus community where they discover who they are. The result is a lived wisdom, a unique perspective, a well of knowledge that few universities can match.
One hundred percent of our students receive financial aid. We could not offer this if not for generous souls like you who support our vision of peace: Soka graduates. We are deeply grateful for your gifts that allow us to continue turning our bold ideals into courageous global citizens using their wisdom to compassionately improve society.
Celebrating a Vision of Peace Sponsors
| | |
| --- | --- |
| Arch and Paige Asawa | Asia Alternatives Management |
| Matilda Buck | Max and Alexis Byfuglin |
| Chris Chen | Jenny Chen |
| Andy Cheong, Joyce Cheong & Teresa Fu | Dave Colebank & Miki Singer |
| Teiko Cooper | George and Kazue Elliot |
| Facility Services Partners LLC | Richard and Misty Fisher |
| Daniel and Hiroko Habuki | Kyoko Kraft |
| Maple Lee & Dennis Liu | Steve Chi Kong Lee & Judy Chao Di Chow |
| MUFG Union Bank, N.A. | In Memory of Tomoko and Louis Negron |
| Joe and Junko Perez | Jim and Sheila Peterson |
| Gloria Richardson-Davis | Sequoia Environmental Services |
| SGI-USA | In Memory of Ann Orlando Shankar |
| South Coast Plaza | Sayoko Tenny |
| Joyce An Thomas | Herbert Thomson and Harumi Shimamoto |
| Olive Wang | Emiko Yamagishi |
| Masayo Yoshida |   |
2020 Gala Committee
Event Co-Chairs: Joan May, Chair & Misty Fisher, Honorary Chair
| | | |
| --- | --- | --- |
| Arch Asawa | Teresa Fu | Diane Pritchett |
| Norah Broillet | Debra Gunn-Downing | Coleen Scherf-Ghara |
| Matilda Buck | Eileen Hayden | Dita Shemke |
| Chris Chen | Cloey Hewlett | Harumi Shimamoto |
| Gerald Chew | Mahtab Jafari | Carolina Shorter |
| Judy Chow | Mary Patrick Kavanaugh | Miki Singer |
| Grace Christianson | Linda Kennedy | Dinia Takacs |
| Dana Collins | John Marzullo | Megumi Tanaka |
| Bethany Colman | Nicky Mimuro | Emiko Yamagishi |
| Kathy Crilly | Terry Mitchell | Masayo Yoshida |
| Clarissa Douglass | Sheila Peterson |   |