Alan Broadbent Trio
Sat, Oct 21, 2023 |
Venue: Concert Hall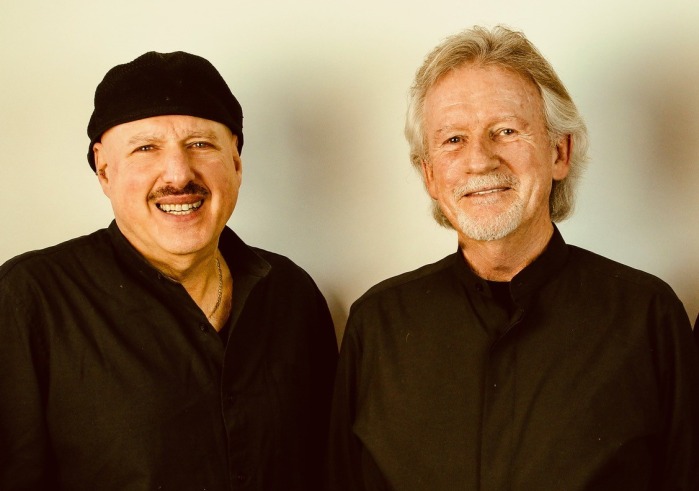 Add to Calendar
2023-10-21 8:00 PM
America/Los_Angeles
Alan Broadbent Trio

"Alan Broadbent has been a creative force to reckon with since the 1970s"
DownBeat
FEATURED ARTISTS:

Alan Broadbent, jazz pianist, composer, arranger
Harvie S, bassist, composer, arranger, producer, educator
Kendall Kay, drummer


Alan Broadbent
Alan Broadbent was born in Auckland, New Zealand and in 1966, at the age of 19, received a Downbeat Magazine scholarship to attend Berklee College of Music in Boston. In 1969 he was asked to join Woody Herman's band as his pianist and arranger for 3 years. In 1972 he settled in Los Angeles, beginning a musical relationship with the legendary singer Irene Kral (no relation to Diana Krall). Soon he was also invited into the studio scene as a pianist for the great Nelson Riddle, David Rose, Barbara Streisand and Johnny Mandel. In the early 90s he was asked to be a part of Natalie Cole's famous "Unforgettable" CD, at which time he toured as her pianist and, a little while later, as her conductor. At this time he wrote an orchestral arrangement for her second video with her dad, "When I Fall In Love", which won him his first Grammy Award for "Best Orchestral Arrangement Accompanying a Vocal".

Shortly after, he became a member of Charlie Haden's Quartet West, touring the festivals of Europe, UK and the USA. It was while with this group that he won his second Grammy, an orchestral accompaniment written for Shirley Horn of Leonard Bernstein's "Lonely Town". During the 1990s, Broadbent recorded on Natalie Cole's album Unforgettable… with Love, then became her pianist and conductor for the tour. His arrangement for her video "When I Fall in Love" won the Grammy Award for Best Orchestral Arrangement Accompanying a Vocal.

In 2008 at The Queen's Birthday Honours, Mr. Broadbent was appointed a Member of the New Zealand Order of Merit, for services to jazz. In the November 2013 issue of Down Beat magazine, his solo piano album "Heart to Heart" received a five-star rating. As a soloist and with his jazz trio, Broadbent has been nominated for Grammys twice for best instrumental performance, in the company of such artists as Herbie Hancock, Sonny Rollins and Keith Jarrett.

Broadbent is Diana Krall's conductor for her occasional orchestra concerts and is the conductor on her "Live in Paris" DVD. Recently he has been the arranger on Glenn Frey's CD with strings, "After Hours", and wrote six string arrangements for Sir Paul McCartney's "Kisses On The Bottom" with the London Symphony. He has just returned from solo piano concerts in the UK, Poland and France.

It has been Alan's lifelong goal, through his orchestral arrangements and jazz improvisations, to discover, in popular music and standard songs, deeper feelings of communication and love.

Harvie S
Harvie S, award winning bassist, educator, composer, arranger, and producer, is continually challenging himself and his peers, expanding the borders of musical direction.

His last Recording with Alan Broadbent Trio "New York Notes" on High Note Savant Records was on the Jazz Week Charts for 4 months and garnered rave reviews. In Sept 2020 the follow-up "Trio in Motion" was released on High Note Savant. Both CDs were produced by Harvie and he was also recording engineer and co mixed it with Dave Kowalski. They have a new project scheduled for a release in early 2022 Called "Like Minds" on High Note Savant.

A legendary bassist, he has performed and recorded with Stan Getz, Chet Baker, Dexter Gordon, Tony Bennett, Ray Baretto, Michael Brecker, Jean Pierre Rampal, Paquito D'Rivera, Gil Evans, Art Farmer, Mark Turner, Jim Hall, Billy Hart, Lee Konitz, Yusef Lateef, Dave Leibman, Joe Lovano, Pat Metheny, Paul Motion, Chico O'Farrill, Danilo Perez, Maria Schneider, Zoot Sims, Toots Thielemans, Ray Vega, James Williams, Phil Woods, Louie Bellson James Brown, Kenny Barron, Chick Corea, Tom Harrell, Sheila Jordan, Steve Kuhn, Pat Martino, Manhattan Transfer, Wycliff Gordon, David Mathews, Ingrid Jenson, James Weidman, Eddie Henderson, James Moody, Danilo Perez, Anat Cohen, James Weidman, Jim Hall, Mike Stern, Dave Leibman, John Scofield, Dr. Billy Taylor, Dave Liebman, Yusef Lateef and Grover Washington Jr. and countless others. He can be heard on twenty albums as a leader, fifteen as a co-leader, and over four hundred albums as a sideman.

Harvie's album with the legendary Sheila Jordan Harvie S duo is a magical live performance released on High Note Records in 2012 called "Yesterdays". Jazz times included it in the best 100 recordings of 2012. Harvie and Sheila recorded 10 CDs together some with Kenny Barron, Frank Wess, and Ben Riley.

In January 2013, "Witchcraft" was released on High Note Savant with Jazz master Kenny Barron. It was #1 on Jazz Week national radio charts. This is a follow up to the previous 2009 duo recording with Kenny Barron, Now Was the Time, also on High Note/Savant Records.

Harvie S was selected a Jazz Ambassador for the United States and toured throughout Europe and Southeast Asia in this honored capacity. He has been a guest on NPRs All Things Considered and Fresh Air. His career is documented in Leonard Feather's Encyclopedia of Jazz, the Grove Dictionary of Jazz and the All Music Guide. Mr. S composed the musical themes for the documentaries The Trumpet Kings, The Piano Legends and John Coltrane.

Harvie S has been featured in print and internet articles in The New York Times, The New York Post, The Daily News, Japan Times, USA Today, Downbeat, All About Jazz, Jazziz, Cadence , Jazz Improv, Coda(Canada), Jazztimes, Swing Journal(Japan), Jazz Life(Japan), Jazz Forum(Poland), Jazz Hot (France), Hot House, Jazz Improv, The Los Angeles Times, Jazz Podium and Jazz-it (Italy).

Harvie S has performed at The Blue Note, The Iridium, The Kennedy Center, Montreal Jazz Festival, JVC Jazz Festival, Monterey Jazz Festival, Detroit Jazz Festival, Berlin Jazz Festival, Molde Jazz Festival, Moscow Jazz Festival and countless other venues worldwide.

In addition to his performance career, Harvie S is an active educator. He is a Professor of Jazz Bass and Jazz Ensemble at Manhattan School of Music, in both Undergraduate and Graduate divisions.Currently developing new music for a variety of musical ensembles and recordings, Harvie S is integrating his lifetime of musical experience and research into opening doors to new and exciting pathways of creative expression. He has also written a series of bass duets that are revolutionary in their concept for teaching and performing. Harvie has also been a recording engineer and also has mixed many current Cds.

Check out the Upshot Bass (and keyboard amplifier) which he invented along with Acoustic Image. It is becoming the standard bass amp for the working and traveling musician.

Kendall Kay
Born in Durban, South Africa, Kendall showed an interest in the drums at an early age. He pursued this interest, eventually playing and recording with most of the major artists in his home country, including Steve Kekana, Mike Makelemele, Johnny Fourie, Alan Kwela and Izzio Gross.

In 1983 Kendall moved to Texas, and studied at the University of North Texas, graduating with a degree in Jazz Studies. Kendall arrived in Los Angeles in 1987 and has been playing and recording here ever since.

Kendall's credits include performing or recording with hundreds of artists including Kiki Ebsen, Cecilia Coleman, Steve Hufstetter, Andy Suzuki, Nick Manson, Dean Taba, Sal Cracchiolo & Melanie Jackson Sextet, Phil Upchurch, Bob Sheppard, Jeff Beale, Dan St Marseille, Dave Ferris, Theo Saunders, Bobby Shew, Allan Broadbent, Putter Smith, Kyle Eastwood, Frank Strazzeri, Jeff Colella, Ron Eschete, John Pisano, Bill Perkins, Clare Fischer, The Larry Karush Ensemble, Jack Jones, Rickie Lee Jones, Mark Murphy, Mary Wilson, Diane Schuur, Mike Renzi, Antonia Bennett, John Proulx, Chuck Berghofer, and Terry Trotter.