Love, Betrayal and Vengeance
Sun, Mar 27, 2022 |
Venue: Concert Hall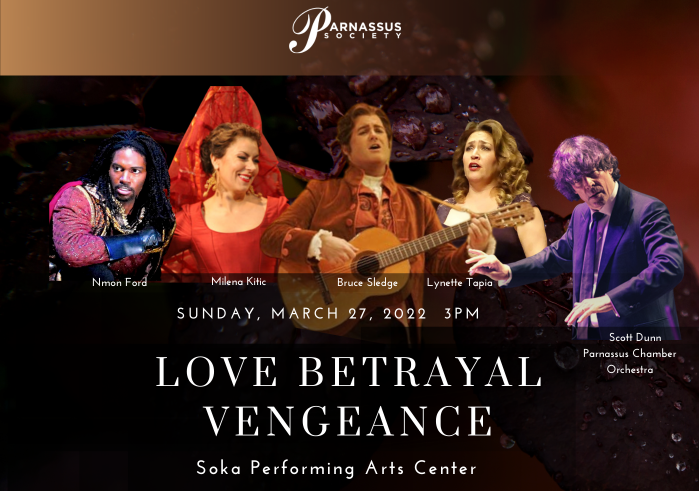 Add to Calendar
2022-03-27 3:00 PM
America/Los_Angeles
Love, Betrayal and Vengeance
Soloists:
Lynette Tapia, Soprano
Alexandra Rodrick, Mezzo-Soprano
Bruce Sledge, Tenor
Nmon Ford, Baritone
Scott Dunn, Conductor
Parnassus Chamber Orchestra
Mezzo-Soprano Alexandra Rodrick will be performing this afternoon for Milena Kitic, who unexpectedly is unable to appear. We thank Alexandra for stepping in at the eleventh hour, and wish Milena well.
Opera returns to Orange County as Parnassus Society presents another spectacular concert featuring internationally-acclaimed opera stars and the Parnassus Chamber Orchestra led by maestro Scott Dunn. Scenes from the greatest of grand operas are strung together to tell one story of devotion and betrayal, including Carmen, Rigoletto, Faust, Don Carlos, Il Trovatore and more. Our star-studded cast includes Grammy Award-winning operatic baritone Nmon Ford, mezzo-soprano Milena Kitic "vocally resplendent," tenor Bruce Sledge "voluminous and radiant," and soprano Lynette Tapia "exquisite…vibrant." This is a concert you don't want to miss.


PROGRAM:
Overture – "March of the Toreadors" from Carmen - Georges Bizet
"Viens, Mallika…Dôme épais le jasmin" from Lakmé - Léo Delibes
"Au fond du temple saint" from Les Pêcheurs de Perles - Georges Bizet
"Il se fait tard" from Faust - Charles Gounod
Seguidilla: "Près des remparts de Séville" from Carmen - Georges Bizet
"Je vais danser…La fleur que tu m'avais jetée" from Carmen - Georges Bizet
"Caro nome" from Rigoletto - Giuseppe Verdi
"Un di, se ben rammentomi…Bella figlia dell' amore" from Rigoletto - Giuseppe Verdi
-intermission-

Act III Entr'acte from Carmen - Georges Bizet
"Questa o quella" from Rigoletto - Giuseppe Verdi
"O Don Fatale" from Don Carlo - Giuseppe Verdi
"Di Provenza il mar" from La Traviata - Giuseppe Verdi
"Ch'ella mi creda" from La Fanciulla del West - Giacomo Puccini
"Parla…siam soli….Si, la vendetta" from Rigoletto - Giuseppe Verdi
Final quartet "Prima che d'altri vivere" from Il Trovatore - Giuseppe Verdi