Love, Betrayal and Vengeance
Sun, Mar 27, 2022 |
Venue: Concert Hall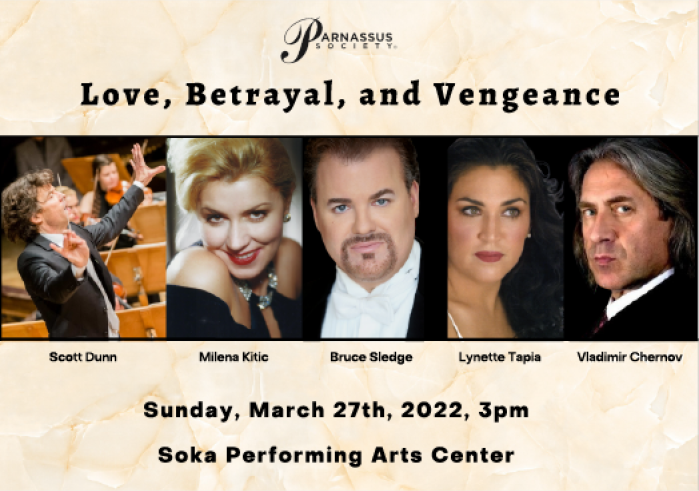 Add to Calendar
2022-03-27 3:00 PM
America/Los_Angeles
Love, Betrayal and Vengeance
Soloists:
Lynette Tapia, soprano
Milena Kitic, Mezzo-Soprano
Bruce Sledge, Tenor
Vladimir Chernov, Baritone
Scott Dunn, Conductor
Parnassus Chamber Orchestra
Opera returns to Orange County as Parnassus Society presents another spectacular concert featuring internationally-acclaimed opera stars and the Parnassus Chamber Orchestra led by maestro Scott Dunn. Scenes from the greatest of grand operas are strung together to tell one story of devotion and betrayal, including Carmen, Rigoletto, Faust, Don Carlos, Il Trovatore and more. Our star-studded cast includes baritone Vladimir Chernov "a great star on the operatic firmament," mezzo-soprano Milena Kitic "vocally resplendent," tenor Bruce Sledge "voluminous and radiant," and soprano Lynette Tapia "exquisite…vibrant." This is a concert you don't want to miss.