Mike Garson with Hubert Laws
Sat, Apr 30, 2022 |
Venue: Concert Hall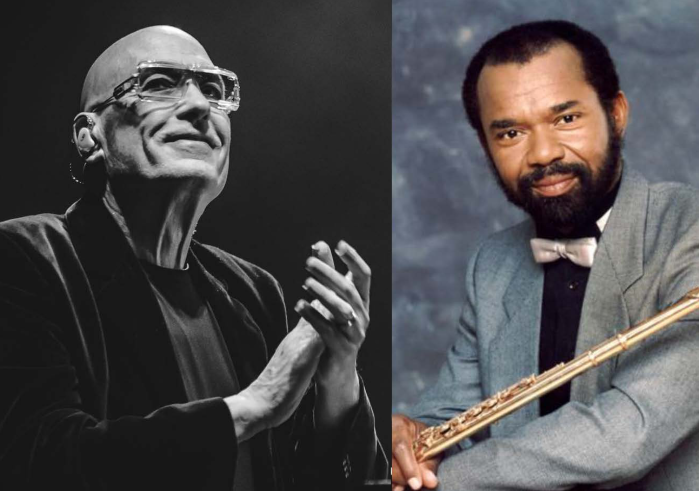 Add to Calendar
2022-04-30 8:00 PM
America/Los_Angeles
Mike Garson with Hubert Laws
** THIS SHOW WAS POSTPONED FROM ITS ORIGINAL DATE OF JAN 23. ALL TICKETS WITH THE SAME SEATS WILL BE AUTOMATICALLY TRANSFERRED TO THE NEW DATE. PLEASE CONTACT THE BOX OFFICE FOR ANY QUESTIONS OR TO REQUEST A REFUND OR ACCOUNT CREDIT AT TICKETS@SOKA.EDU OR 949.480.4278.
Mike Garson:
"It is pointless to talk about his ability as a pianist. He is exceptional. However, there are very, very few musicians, let alone pianists, who naturally understand the movement and free thinking necessary to hurl themselves into experimental or traditional areas of music, sometimes, ironically, at the same time. Mike does this with such enthusiasm that it makes my heart glad just to be in the same room with him." - DAVID BOWIE
Garson is perhaps best known for his relationship with David Bowie, which began in late 1971. He made his mark on numerous Bowie albums and has traveled thousands of miles on Bowie tours, including his 2003-2004 A Reality Tour, Bowie's first world tour in 20 years. In November 2006, Mike accompanied Bowie and Alicia Keys during a unique performance of "Changes" at an AIDS benefit in New York City which ended up being Bowie's final public U.S. performance. He has also been invited to play on albums by Billy Corgan, Smashing Pumpkins, No Doubt, Seal, and Trent Reznor. Garson and Corgan collaborated in 1999, co-composing the score of the film Stigmata.
From Bach to Bowie, east coast to west coast, piano keyboards to computer keyboards, Mike Garson has worked to make the world a more creative, compassionate and compelling place. Best known for his impressive skills as a pianist, he is a respected composer and an evolving computer artist. To date, Garson has composed over 4000 pieces of music.
Hubert Laws:
Triple Grammy-nominated, internationally renowned flutist Hubert Laws is one of the few classical artists who has also mastered jazz, pop, and rhythm-and-blues genres; moving effortlessly from one repertory to another. He has appeared as a soloist with the New York Philharmonic under Zubin Mehta, with the orchestras of Los Angeles, Dallas, Chicago, Cleveland, Amsterdam, Japan, Detroit and with the Stanford String Quartet. He has given annual performances at Carnegie Hall, and has performed sold-out performances in the Hollywood Bowl with fellow flutist Jean-Pierre Rampal and was a member of the New York Philharmonic and Metropolitan Opera Orchestras. In addition, he has appeared at the Montreux, Playboy, and Kool Jazz festivals; he performed with the Modern Jazz Quartet at the Hollywood Bowl in 1982 and with the Detroit Symphony in 1994. His recordings have won three Grammy nominations.