Sonia De Los Santos & The Okee Dokee Brothers
Sat, Jul 1, 2023 |
Campus Green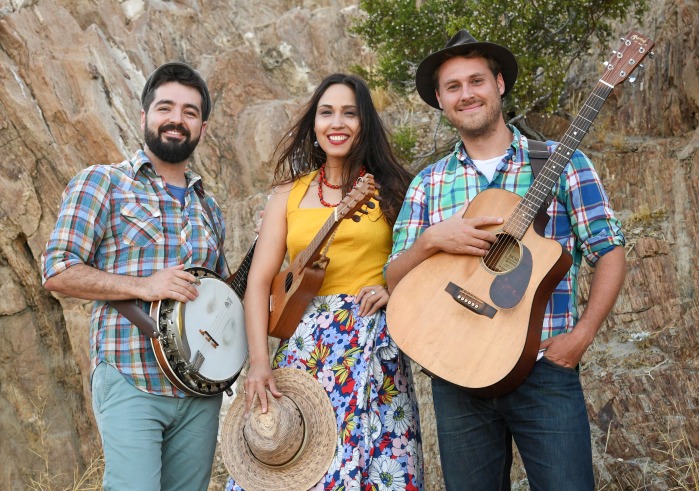 Add to Calendar
2023-07-01 3:00 PM
America/Los_Angeles
Sonia De Los Santos & The Okee Dokee Brothers



Free Outdoor Children's Concert
Pre-show activities begin at 2PM and will include a balloon artist and face painting
Sonia De Los Santos, guitar, jarana
Justin Lansing, banjo
Joe Mailander, guitar
Summer at Soka is here! We are pleased to welcome you to the first of a series of outdoor events on the Campus Green.
Get ready to embark on an unforgettable musical experience especially for children and families! Enter a world bursting with vibrant melodies and captivating rhythms as two musical powerhouses join forces to create an unforgettable concert specifically designed to captivate young hearts and minds.

Friendship is at the heart of this joyful collaboration between Mexican songstress, Sonia De Los Santos, and the Americana folk duo, The Okee Dokee Brothers. This bilingual program includes both old and new songs that span the musical traditions of North America and illustrate the collective power of singing together and learning from each other. With an adventurous spirit and a common vision of peace and understanding, Somos Amigos encourages young and old to explore, dance, sing and laugh together, hand-in-hand.

Don't miss this golden opportunity to witness the magic of music and inspire young minds to embrace the beauty of diversity through the universal language of songs. Get ready to dance, sing, and celebrate as we embark on an extraordinary musical adventure with Sonia De Los Santos and The Okee Dokee Brothers!

This is a free community concert for children and families with the aim to further engage the local community. Pre-show activities will include a balloon artist and face painting for kids so come early! Concessions/treats will be available for purchase. Bring picnics, blankets, and low-backed beach chairs along with your friends and family.

Coming soon: Details about Shakespeare by the Sea on August 3 and Pacific Symphony on the Go on August 11.


¡El verano ya llegó a Soka! Nos complace darle la bienvenida al primer evento de nuestras series al aire libre en el Campus Green.

¡Prepárate para embarcarte en una experiencia musical inolvidable, especialmente para niños y familias! Adéntrate en un mundo rebosante de melodías vibrantes y ritmos cautivadores en el que dos gigantes de la música se unen para crear un concierto inolvidable diseñado específicamente para cautivar los corazones y las mentes de los más pequeños.

Esta alegre colaboración musical nace de la amistad entre la cantante mexicana, Sonia De Los Santos, y el dúo de folk estadounidense, The Okee Dokee Brothers. Un programa bilingüe que incluye canciones antiguas y nuevas que abarcan las tradiciones musicales de América del Norte, ilustrando el poder colectivo de cantar juntos y aprender unos de otros. Con un espíritu aventurero y una visión en común de paz y aceptación, Somos Amigos anima a personas de todas las edades a explorar, bailar, cantar y reír juntos.

¡No te pierdas esta oportunidad única donde prodrás presenciar la magia de la música e inspirar a las mentes jóvenes a abrazar la belleza de la diversidad a través del lenguaje universal de las canciones! ¡Prepárate para bailar, cantar y celebrar mientras nos embarcamos en una aventura musical extraordinaria con Sonia De Los Santos y The Okee Dokee Brothers!

Este es un concierto comunitario gratuito para niños y familias con el objetivo de fomentar la participación de la comunidad local. Las actividades previas al espectáculo incluirán un artista de globos y pintura facial para niños, ¡así que ven temprano! Habrá alimentos y golosinas disponibles para su compra. Traiga sus mantas, picnics, sillas de playa de respaldo bajo y a sus familiares y amigos!

Próximamente más detalles sobre "Shakespeare by the Sea" que será el 3 de agosto y "Pacific Symphony on the Go" que será el 11 de agosto.