Chamber Music Society of Lincoln Center: The Complete Brandenburg Concertos
Sat, Dec 9, 2023 |
Venue: Concert Hall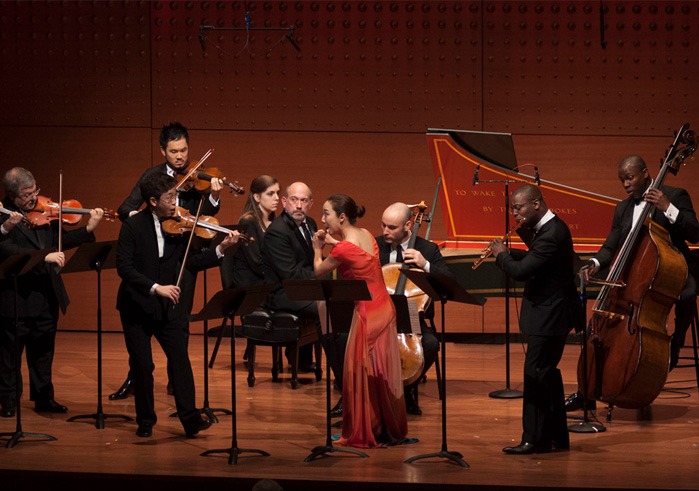 Add to Calendar
2023-12-09 8:00 PM
America/Los_Angeles
Chamber Music Society of Lincoln Center: The Complete Brandenburg Concertos

Co-presented with Philharmonic Society of Orange County

"The Chamber Music Society of Lincoln Center is prestigious beyond belief."
BBC Radio 3
"A New York powerhouse."
Chicago Magazine

Pre-concert lecture by Classical California KUSC's Brian Lauritzen at 7pm


FEATURED ARTISTS:

HYEYEON PARK, harpsichord
STELLA CHEN, violin
ANI KAVAFIAN, violin
RICHARD LIN, violin
DANIEL PHILLIPS, violin/piccolo violin
ARNAUD SUSSMANN, violin/viola
LAWRENCE DUTTON, viola
MATTHEW LIPMAN, viola
TIMOTHY EDDY, cello
MIHAI MARICA, cello
KEITH ROBINSON, cello
ANTHONY MANZO, double bass
DEMARRE MCGILL, flute
TARA HELEN O'CONNOR, flute
RANDALL ELLIS, oboe
JAMES AUSTIN SMITH, oboe
STEPHEN TAYLOR, oboe
PETER KOLKAY, bassoon
DAVID BYRD-MARROW, horn
TANNER WEST, horn
DAVID WASHBURN, trumpet
PROGRAM:
BACH Brandenburg Concerto No. 1 in F major, BWV 1046
BACH Brandenburg Concerto No. 2 in F major, BWV 1047
BACH Brandenburg Concerto No. 3 in G major, BWV 1048
INTERMISSION
BACH Brandenburg Concerto No. 4 in G major, BWV 1049
BACH Brandenburg Concerto No. 5 in D major, BWV 1050
BACH Brandenburg Concerto No. 6 in B-flat major, BWV 1051
Click here for the concert brochure and full program notes

Arguably the greatest of all baroque concertos, Bach's six masterpieces have delighted audiences for centuries with their timeless creativity, lively instrumentation, and technical mastery. Bach's Brandenburg Concertos gave each instrumental family solo opportunities and created unusual combinations. Each of the six concertos differs, from the galumphing first, the more stately second, the homely third, the lofty fourth and the galloping fifth right through to the joyous sixth.
The Chamber Music Society of Lincoln Center, (CMS) is one of eleven constituents of the largest performing arts complex in the world, Lincoln Center for the Performing Arts. Through its many performance, education, recording, and broadcast activities, it brings the exhilarating experience of great chamber music to more people than any other organization of its kind. Under the inspired leadership of Co-Artistic Directors David Finckel and Wu Han, CMS presents a wide variety of concert series and educational events for listeners of all ages, appealing to both connoisseurs and newcomers.

For our December performances, we're partnering with the Laguna Food Pantry and will have donation bins for highly requested food items to go to the most vulnerable in our community. Consider bringing a can (or two!) for donation.