The Dover Quartet and Escher String Quartet
Sun, Feb 27, 2022 |
Venue: Concert Hall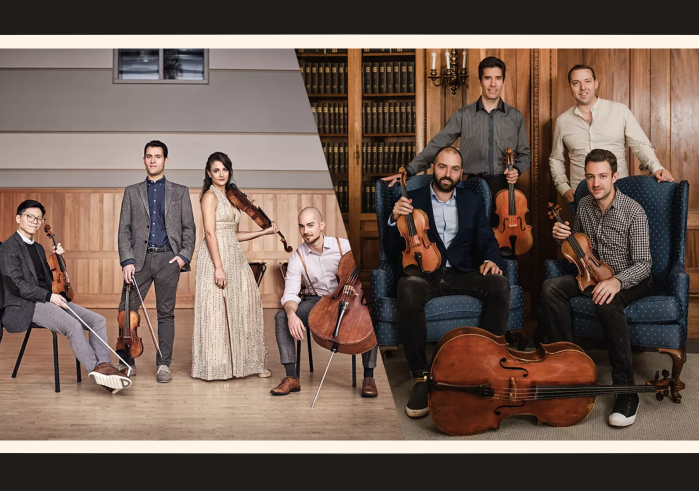 Add to Calendar
2022-02-27 3:00 PM
America/Los_Angeles
The Dover Quartet and Escher String Quartet
The Dover Quartet joins forces with the Escher String Quartet for a unique concert experience.
The Dover Quartet
Joel Link, violin
Bryan Lee, violin
Milena Pajaro-van de Stadt, viola
Camden Shaw, cello
Escher String Quartet
Adam Barnett-Hart, violin
Brendan Speltz, violin
Pierre Lapointe, viola
Brook Speltz, cello
Program:
Shostakovich: Two Pieces for String Octet, Op. 11
I. Prelude
II. Scherzo
Mendelssohn: Octet in E-flat Major, Op. 20
-intermission-
Enescu: Octet in C Major, Op. 7
The Dover Quartet joins forces with the Escher Quartet, both winners of the coveted Avery Fisher Career Grant. They have made waves in the chamber music field and together return to show off their distinct styles and explore the depths of music composed for octets. The Escher's capacity to play with a "penetrating intelligence" (The New York Times) blends powerfully with the Dover's "deep musical feeling" (The Chicago Tribune).
A NOTE FROM ARTISTIC DIRECTOR JOSEPH KALICHSTEIN
"The power of youth can be overwhelming! Even by the beginning of their composing careers, these early 20th century-giants were already in full emotional and imaginative throttle. The passion is Romantic, but the language is that of the future… And, of course, 17-year-old Mendelssohns's Octet is a perfect miracle!"