Garrick Ohlsson & Kirill Gerstein
Fri, Mar 4, 2022 |
Venue: Concert Hall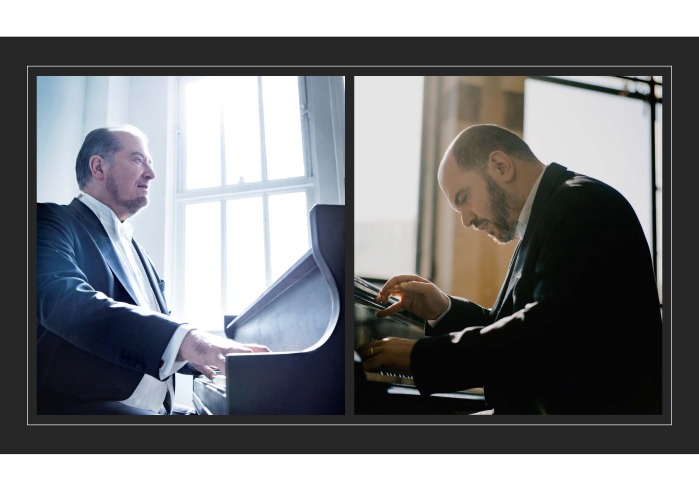 Add to Calendar
2022-03-04 8:00 PM
America/Los_Angeles
Garrick Ohlsson & Kirill Gerstein
In this rare duo recital by two of today's finest pianists, Garrick Ohlsson and Russian American master Kirill Gerstein team up to perform a program of Rachmaninoff, Ravel, and Busoni, including one of Busoni's imaginative two-keyboard arrangements of music by Mozart.
OHLSSON:
"Few pianists on Earth have the desire, talent, and sheer fortitude to perform the Busoni, a titanic, grandly virtuosic work from 1904 spanning some 70 minutes and concluding with an ode for male chorus. Ohlsson, though, is in that elite group… Ohlsson's virtually peerless keyboard muscle was another asset in Busoni. To each of the concerto's many varied peaks, he brought a level of thunder few pianists can conjure, yielding high points that almost literally rocked the house."- Cleveland.com
"[…] Listening to Ohlsson's playing, one is struck by its resemblance to the style attributed to Busoni himself, one of superlative technique tempered by emotional restraint and attention to large-scale structure."- The New York Review of Books
Since his triumph as winner of the 1970 Chopin International Piano Competition, pianist Garrick Ohlsson has established himself worldwide as a musician of magisterial interpretive and technical prowess. Although long regarded as one of the world's leading exponents of the music of Frédéric Chopin, Mr. Ohlsson commands an enormous repertoire, which ranges over the entire piano literature. A student of the late Claudio Arrau, Mr. Ohlsson has come to be noted for his masterly performances of the works of Mozart, Beethoven and Schubert, as well as the Romantic repertoire. To date he has at his command more than 80 concertos, ranging from Haydn and Mozart to works of the 21st century, many commissioned for him.
GERSTEIN:
"This is the kind of serious, intelligent and virtuosic music-making that keeps classical music alive."- The Observer
Pianist Kirill Gerstein's heritage combines the traditions of Russian, American and Central European music-making with an insatiable curiosity. These qualities and the relationships that he has developed with orchestras, conductors, instrumentalists, singers and composers, have led him to explore a huge spectrum of repertoire both new and old. From Bach to Adès, Gerstein's playing is distinguished by a ferocious technique and discerning intelligence, matched with an energetic, imaginative musical presence that places him at the top of his profession.


Program:
Busoni: Duettino Concertante
Rachmaninoff: Symphonic Dances
-intermission-
Busoni: Fantasia Contrappuntistica, K 256
Ravel: La Valse