North American Premiere: Percussion Concerto composed by Danny Elfman featuring Scottish percussionist Colin Currie
Sun, Apr 24, 2022 |
Venue: Concert Hall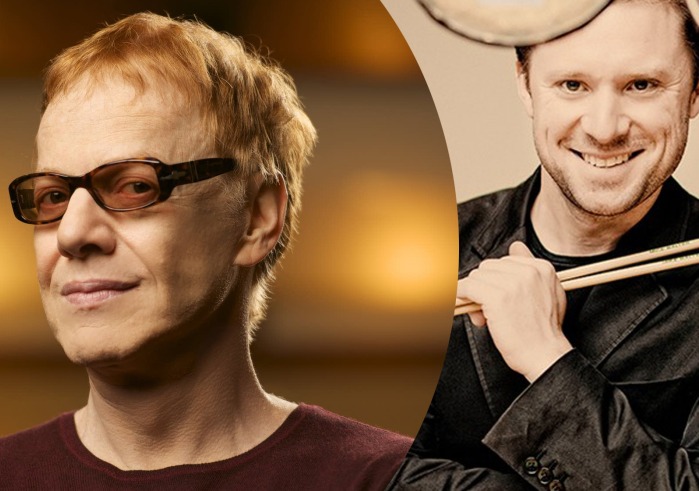 Add to Calendar
2022-04-24 3:00 PM
America/Los_Angeles
North American Premiere: Percussion Concerto composed by Danny Elfman featuring Scottish percussionist Colin Currie
A new Concerto for Percussion and Orchestra composed by Danny Elfman for acclaimed Scottish percussionist Colin Currie, premiering with the Pacific Symphony Chamber Orchestra, Carl St. Clair conducting.
**CO-COMMISSIONED BY SOKA UNIVERSITY AND THE LONDON PHILHARMONIC
"I need to push myself into new territory with fresh challenges as much as I can and whenever I can. I am told I have a recognizable style but my greatest pleasure is when I can surprise the audience with my music." – Danny Elfman
Danny Elfman
Danny Elfman brings to Aliso Viejo the United States premiere of a brand new percussion concerto, co-commissioned by Soka Performing Arts Center at Soka University and the London Philharmonic, performed by Colin Currie – as one critic put it, 'surely the world's finest and most daring percussionist'. The concerto will be performed with Pacific Symphony, under the baton of maestro Carl St. Clair.
Danny Elfman is a legend of contemporary film music, a four-time Oscar nominee, whose scores for Alice in Wonderland, Batman and Edward Scissorhands fused pop culture with the Romantic tradition, to dazzling effect. Elfman has established himself as one of the most versatile and accomplished film composers in the industry, collaborating with directors such as Tim Burton, Gus Van Sant, Sam Raimi, Peter Jackson and more, and scoring over 100 films, including: Milk (Oscar nominated), Good Will Hunting (Oscar nominated), Big Fish (Oscar nominated), Men in Black (Oscar nominated), Edward Scissorhands, Batman, To Die For, The Nightmare Before Christmas, and Alice in Wonderland, and writing the iconic theme music for the television series The Simpsons and Desperate Housewives.
Elfman is now establishing himself in the concert hall, expanding to compose orchestral concert works which include an ongoing series of acclaimed 'classical' works (Serenada Schizophrana, a symphony commissioned by the American Composers Orchestra, which premiered at Carnegie Hall in 2005, Rabbit and Rogue, for the American Ballet Theater choreographed by Twyla Tharp, performed at The Metropolitan Opera house in 2008, and Iris for Cirque du Soleil directed by French choreographer Philippe Decouflé). In 2011, Danny Elfman's Music from the Films of Tim Burton live orchestral concert, premiered at the Royal Albert Hall, and has since toured around the world and won two Emmys. In 2017 Elfman premiered his first Violin Concerto in Prague, which was performed by Sandy Cameron with John Mauceri and the Czech National Symphony Orchestra. In 2018, his first Piano Quartet commissioned by the Berlin Philharmonic Piano Quartet premiered as part of a US tour by the group. A Percussion Quartet for Third Coast Percussion premiered at Philip Glass' Days and Nights Festival in Big Sur, California in October 2019.
Colin Currie
"The world's finest and most daring percussionist" — The Spectator
Described by Steve Reich as "one of the greatest musicians in the world today," Colin is at the zenith of his career. The soloist of choice for many of today's foremost conductors, he performs regularly with the world's leading orchestras and ensembles including the London Philharmonic, Royal Concertgebouw Orchestra, New York Philharmonic and The Cleveland Orchestra. With a particular focus on contemporary compositions, Colin has developed a close working relationship with many of today's most renowned composers. He has premiered works by Steve Reich, Elliott Carter, Louis Andriessen, HK Gruber, Sir James MacMillan, Einojuhani Rautavaara, Helen Grime, Jennifer Higdon, Rolf Wallin, Julia Wolfe and Kalevi Aho. Solo performances also occupy a good portion of his calendar - including during the 2020 lockdown - when he released his project Home Recital.

Program:
Osvaldo Golijov - Last Round
John Wineglass - Alone Together
I - Strange Pandemic Times
II - A Ray of Hope
-intermission-
Danny Elfman - Percussion Concerto
I - Triangle
II - D.S.C.H.
III - Down
IV - Syncopate