Pacific Symphony plays Mozart and Beethoven with Drew Petersen
Sun, Apr 23, 2023 |
Venue: Concert Hall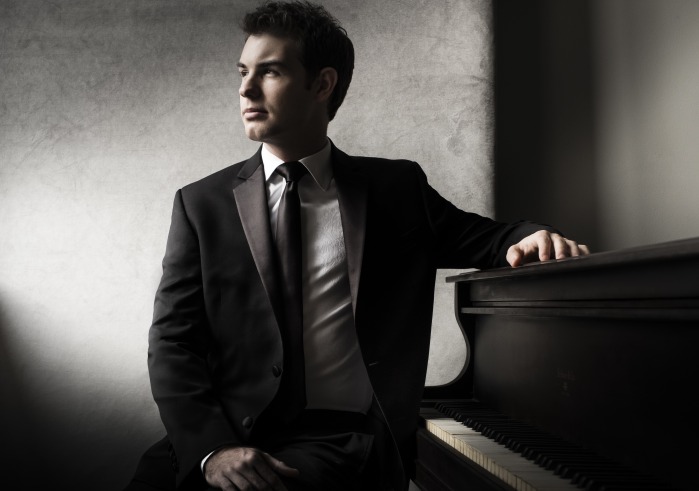 Add to Calendar
2023-04-23 3:00 PM
America/Los_Angeles
Pacific Symphony plays Mozart and Beethoven with Drew Petersen

"confident and assured" - Arizona Daily Star
"That is what is so astonishing about Drew…that he feels the music, he can make it come alive again, make you touched by it… That's what is unusual. That's what I like about him. He is not just a child prodigy but is a brilliant musician." - Lukas Foss, composer, conductor, pianist
Carl St.Clair, conductor
Drew Petersen, piano

Pacific Symphony
Pacific Symphony, led by Music Director Carl St.Clair for the last 32 years, is currently in its 43rd season. The Symphony is the largest orchestra formed in the U.S. in the last 50 years and is recognized as an outstanding ensemble making strides on both the national and international scene, as well as in its own community of Orange County. In April 2018, Pacific Symphony made its debut at Carnegie Hall as one of two orchestras invited to perform during a yearlong celebration of composer Philip Glass' 80th birthday, and the following month the orchestra toured China. The orchestra made its national PBS debut in June 2018 on Great Performances with Peter Boyer's "Ellis Island: The Dream of America," conducted by St.Clair. Presenting more than 100 concerts and events a year, and a rich array of education and community engagement programs, the Symphony reaches more than 300,000 residents—from school children to senior citizens.

The Symphony offers repertoire ranging from great orchestral masterworks to music from today's most prominent composers. Nine seasons ago, the Symphony launched the highly successful opera initiative, "Symphonic Voices." It also offers a popular Pops season, enhanced by state-of-the-art video and sound, led by Principal Pops Conductor Richard Kaufman. Each Symphony season also includes Café Ludwig, a chamber music series; an educational Family Musical Mornings series; and Sunday Matinées, an orchestral matinée series offering rich explorations of selected works led by St.Clair.

Founded in 1978 as a collaboration between California State University, Fullerton (CSUF), and North Orange County community leaders led by Marcy Mulville, the Symphony performed its first concerts at Fullerton's Plummer Auditorium as the Pacific Chamber Orchestra, under the baton of then-CSUF orchestra conductor Keith Clark. Two seasons later, the Symphony expanded its size and changed its name to Pacific Symphony Orchestra. Then in 1981-82, the orchestra moved to Knott's Berry Farm for one year. The subsequent four seasons, led by Clark, took place at Santa Ana High School auditorium where the Symphony also made its first six acclaimed recordings. In September 1986, the Symphony moved to the new Orange County Performing Arts Center, and from 1987-2016, the orchestra additionally presented a Summer Festival at Irvine Meadows Amphitheatre. In 2006, the Symphony moved into the Renée and Henry Segerstrom Concert Hall and two years later, inaugurated the Hall's critically acclaimed 4,322-pipe William J. Gillespie Concert Organ. The orchestra embarked on its first European tour in 2006, performing in nine cities in three countries.

Drew Petersen
Acclaimed young American pianist Drew Petersen is a sought-after soloist, recitalist, and chamber musician. He has been praised for his commanding and poetic performances of repertoire ranging from Bach to Zaimont, and is the recipient of the 2018 Avery Fisher Career Grant, 2017 American Pianists Award, and the Christel DeHaan Fellow of the American Pianists Association.
With the resumption of live concerts his 21/22 season will include orchestras in Cincinnati, Santa Fe, Buffalo, Delaware, Columbus and Indianapolis and recitals in San Francisco, Madison and Sanibel, FL. Recent highlights have included debuts with the Sarasota, Houston, Phoenix, Pacific, Milwaukee, Fort Smith, Buffalo, Waco and Allentown symphonies as well as his recital debut at the Kennedy Center. In solo recital Petersen has appeared at the Gilmore International Keyboard Festival, University of Indianapolis, Williams College Concert Series, Dame Myra Hess Concerts in Chicago, Lincoln Center's Mostly Mozart Festival, Brevard Music Center's Summer Festival and Chicago's Ravinia Festival. 2018 marked the release of his first solo recording of music by Barber, Carter, and other American composers on the Steinway & Sons label for which BBC Music Magazine acknowledged his presence as a rising star.
A frequent radio contributor, Petersen has performed on McGraw-Hill Young Artists Showcase, From the Top, and Performance Today. Profiles include The New York Times, New York Magazine, and the documentary "just normal" by award-winning director Kim A. Snyder. A champion of chamber music, Petersen has appeared on French radio's France Musique while a member of a Verbier Festival piano trio.
Drew Petersen's firm belief in the importance of music in contemporary society led to collaborations with Young Audiences NY that presents performances in New York City's public schools. His appearance in Andrew Solomon's New York Times bestselling book, Far From the Tree, sparked a nation-wide conversation on raising extraordinary and different children who test the willpower and capabilities of their families and society. Petersen continually advocates for the necessity of classical music and other arts in society, and was named a 2006 Davidson Fellow for his portfolio entitled Keeping Classical Music Alive.

PROGRAM:
MOZART Symphony No. 34

BEETHOVEN Piano Concerto No. 3