Shunta Morimoto plays Beethoven's 'Emperor' Concerto with Scott Dunn and the Four Seasons Orchestra
Sat, Jan 20, 2024 |
Venue: Concert Hall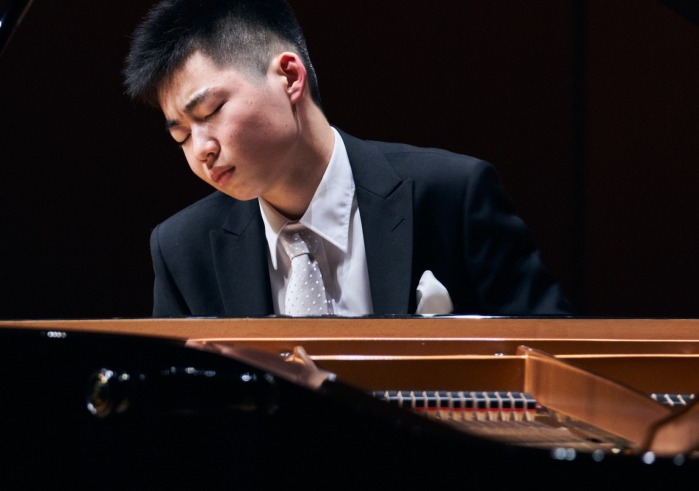 Add to Calendar
2024-01-20 3:00 PM
America/Los_Angeles
Shunta Morimoto plays Beethoven's 'Emperor' Concerto with Scott Dunn and the Four Seasons Orchestra

FEATURED ARTISTS:

Shunta Morimoto, piano
Scott Dunn, conductor
Four Seasons Orchestra

PROGRAM:

MOZART Symphony No. 40 in G minor, K. 550
BEETHOVEN Piano "Emperor" Concerto No. 5 in E-flat Major, Op. 73

Parnassus Society proudly presents Shunta Morimoto, the Grand Prize winner of the 2022 Hastings International Piano Competition, and the 2023 Parnassus Award. Acclaimed as possessing the 'sensibilities and artistry of a true virtuoso', Shunta Morimoto took London by storm at age 18 with his debut performance with the Royal Philharmonic last year. Don't miss this rare chance to see Shunta perform Beethoven's Emperor Piano concerto with conductor Scott Dunn (Hollywood Bowl Orchestra) and the Four Seasons Orchestra.
Shunta Morimoto was born in Kyoto, Japan, in December 2004. From a very early age he showed remarkable pianistic gifts. At the age of twelve, he won the prestigious first prize of the Piano Teachers Association of Japan, as well as the Fukuda Scholarship Award, one of the most important prizes for a Japanese musician today. This scholarship allowed him to study with some of the leading pianists and pedagogues in the world. He took part in the Van Cliburn Junior Competition in Dallas, Texas, in May 2019 to much public acclaim and his extraordinary performances went viral on the internet, gaining him a large global following of admirers, musicians and critics.

Since then he has performed with leading chamber ensembles, musicians and orchestras in Japan and abroad. In November 2021, the phenomenal success of his recital in the historic hall of Santa Cecilia Conservatory in Rome was one of the highlights of his early career. In February 2022, at the age of 17, amongst over 300 competitors, he was awarded unanimously the first prize in the Hastings International Piano Concerto Competition playing the Schumann Piano Concerto with the Royal Philharmonic Orchestra.

He currently studies with Maestro William Grant Naboré at the world famous International Piano Academy Lake Como and participates in the Masterclasses of the Academy as the youngest student in the history of this venerable institution. He has since been awarded the Yamaha Scholarship for his studies at Santa Cecilia Conservatory in Rome, where he is enrolled in the class of Piano Accompaniment with Maestro Giovanni Velluti.