Vital Sounds: The Intersection of Art & Healing - Can Music Make You Well?
Fri, Oct 21, 2022 |
Venue: Concert Hall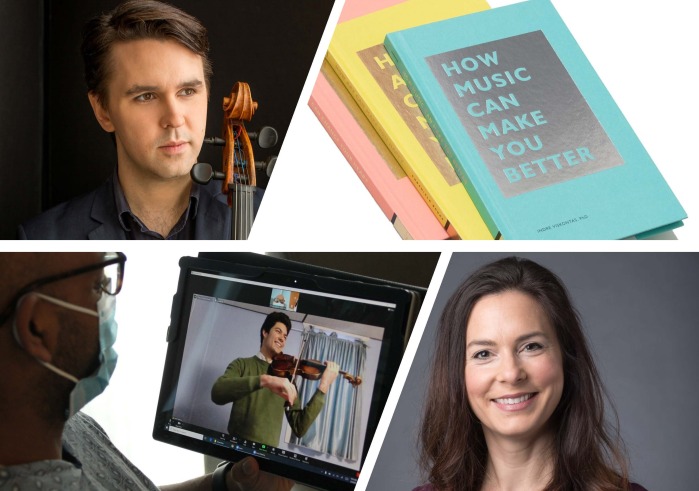 Add to Calendar
2022-10-21 8:00 PM
America/Los_Angeles
Vital Sounds: The Intersection of Art & Healing - Can Music Make You Well?

"I can personally testify that when we're looking for meaning and purpose at a time when many of the usual avenues of expression are not open for us to explore. Working one on one takes us to the very fundamentals of what music means to another individual and to an individual in need… […] this is actually one of the best things one can do as a musician during this crucial time when people need you." - YO-YO MA

This event will be LIVESTREAMED


This is a joint presentation with:
Project: Music Heals Us (PMHU)
Andrew Janss, Executive Director of Project Music Heals Us
Molly Carr - Violist, Juilliard String Quartet; PMHU Founder & Co-Artistic Director
Anna Petrova – Award-Winning pianist and PMHU Program Coordinator
Dr. Indre Viskontas - Neuroscientist (PhD – UCLA) and Classical Soprano/Opera Director
How can music help connect us to our humanity? How can music act as a salve, a balm when a person is literally or figuratively confined in a correctional facility, a refugee camp or an ICU hospital bed? Can music heal our bodies and our minds?
Cellist Andrew Janss returns to Soka Performing Arts Center with Dr. Indre Viskontas, author of How Music Can Make You Better, and the Project: Music Heals Us (PMHU) team to expand on the Intersection of Art and Healing, a conversation we began when we interviewed him as part of our Virtual Expanding Horizons Series.
Since the beginning of the pandemic, PMHU's Vital Sounds Initiative branch (covered by The New York Times, BBC, and CNN) has provided live, one-on-one virtual bedside concerts for over 12,000 individual patients in isolated hospital settings, including artists such as Yo-Yo Ma and Emanuel Ax. PMHU's Music For the Future branch, providing music composition programs for incarcerated students, was recently featured in the Cannes Film Festival-award winning documentary The Sound of Us. Their newest branch, Novel Voices, is providing free virtual lessons and workshops to community music organizations around the world who don't have local access to the teachers they need on the ground.
When world-renowned cellist Yo-Yo Ma began working with Project: Music Heals Us, he said, "The idea of reaching into hospital rooms to reach health workers, patients, some who can talk back, and some who can't – but to hear music like this, songs of comfort, is part of the healing process in the midst of worries, inaccessibility to family and friends, all the masks and the fears of getting infected or dying. Music is one of the best medicines one could offer to highly stressed people." He gave over 400 individual concerts of comfort to individuals through Project Music Heals Us.
PMHU's team is joined by Indre Viskontas, a neuroscientist, opera stage director and science communicator across all mediums. Combining a passion for music with scientific curiosity, she is an Associate Professor of Psychology at the University of San Francisco where she runs The Creative Brain Lab, and the Creative Director of Pasadena Opera. She leads the Communications Core at the Sound Health Network, promoting research and public awareness of the impact music can have on our health and well-being.

Dr. Viskontas and the PMHU team will share personal stories about the power of musical connection from their work in hospital and prison settings, perform music that has taken on significant meaning for the both musicians and listeners, and offer scientifically-informed discussion on the topic of just "How Music Can Make You Better."
This presentation will feature the music of Bach, Beethoven, Brahms, Bernstein & Beyoncé.
Read about the Vital Sounds initiative in The New York Times.