Pacific Symphony plays Beethoven and Mendelssohn with Aubree Oliverson, Violin
Sun, Mar 24, 2024 |
Venue: Concert Hall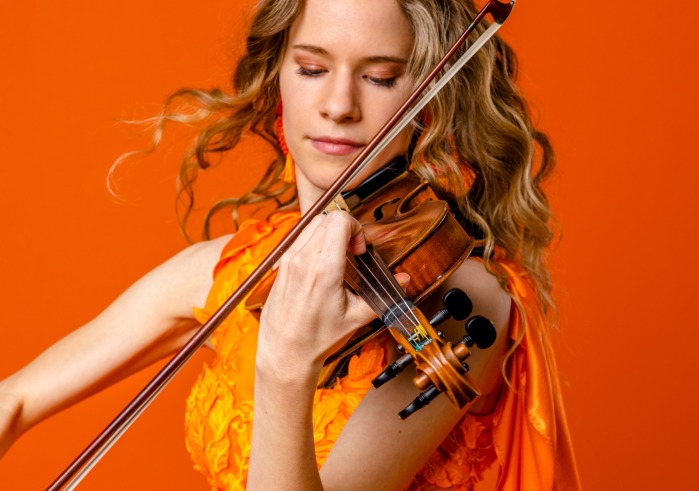 Add to Calendar
2024-03-24 3:00 PM
America/Los_Angeles
Pacific Symphony plays Beethoven and Mendelssohn with Aubree Oliverson, Violin

"Aubree Oliverson played the Concertino for all it is worth, capturing its varied moods with passion, fire, tenderness and sorrow."
New York Classical Review
"[Aubree Oliverson is] powerful… brimming with confidence and joy"
Miami New Times

FEATURED ARTISTS:

Aubree Oliverson, violin
Carl St.Clair, conductor

PROGRAM:

BEETHOVEN Symphony No. 1 in C major, Op. 21
Adagio molto – Allegro con brio
Andante cantabile con moto
Minuet. Allegro molto e vivace - Trio
Finale. Adagio – Allegro molto e vivace

MENDELSSOHN Violin Concerto in E minor, Op. 64
Allegro molto appassionato
Andante
Allegretto non troppo – Allegro molto vivace


Praised for her evocative lyricism and joyful, genuine approach, young American violinist Aubree Oliverson is proving to be one of most compelling artists of her generation, distinguishing herself with clear, honest, and colourful performances, which have been described as "powerful… brimming with confidence and joy" (Miami New Times) and "masterful" (San Diego Story).

In demand as a concerto soloist, recent and forthcoming highlights include performances with the San Diego Symphony (under Edo de Waart), Utah Symphony (Conner Gray Covington), Puerto Rico Symphony (Maximiano Valdés), Pacific Symphony, Columbus and Des Moines Symphonies (Carl St. Clair), New Haven Symphony, Roma Tre Orchestra, Brno Philharmonic (František Macek), and the Pasadena Symphony (Nic McGegan), in works by Bach, Mendelssohn, Bruch, Haydn, Saint-Saens, Dvorak and Barber. In 2021, she joined the Louisiana Philharmonic for a two-week residency during which she performed Beethoven's Violin Concerto (under Carlos Miguel Prieto) as well as chamber music.

Elsewhere, she has worked with the Aspen Philharmonic, Redlands Bowl Orchestra, Boca del Río Philharmonic, National Symphony Orchestra of Costa Rica, Cappella Istropolitana in Vienna, Kontrapunktus Baroque Ensemble, and the Orchestra of Americas (Carlos Miguel Prieto and Paolo Bortolameolli).

In recital, having made her Carnegie Hall Weill Hall recital debut at age twelve, she has gone to perform to sold out audiences at the Grand Teton Music Festival, SOKA Performing Arts Centre, and the SCERA Centre for the Performing Arts, and has upcoming recitals in Rome, Los Angeles, and in Ridgecrest, California as part of Midori's Partners in Performance Recital Series. She has featured on NPR's From The Top numerous times.

Aubree graduated from the Colburn Music Academy in Los Angeles in 2016 and is a former student of Debbie Moench, Eugene Watanabe, Danielle Belen, and Boris Kuschnir at the Musik und Kunst Privatuniversität der Stadt Wien. She currently studies with Robert Lipsett, the Jascha Heifetz Distinguished Violin Chair, at the Colburn Conservatory of Music in Los Angeles. Ms. Oliverson plays a very fine Giovanni Battista Guadagnini violin kindly loaned to her by Irene R. Miler through the Beare's International Violin Society, and a Jean "Grand" Adam bow on loan from the Metzler Violin Shop.


Pacific Symphony, led by Music Director Carl St.Clair for the last 34 years, has been the resident orchestra of the Renée and Henry Segerstrom Concert Hall since 2006. Currently in its 45th season, the Symphony is the largest orchestra formed in the U.S. in the last 50 years and is recognized as an outstanding ensemble making strides on both the national and international scene, as well as in its own community of Orange County. In April 2018, Pacific Symphony made its debut at Carnegie Hall as one of two orchestras invited to perform during a yearlong celebration of composer Philip Glass' 80th birthday, and the following month the orchestra toured China. The orchestra made its national PBS debut in June 2018 on Great Performances with Peter Boyer's Ellis Island: The Dream of America, conducted by St.Clair. Presenting more than 100 concerts and events each year and a rich array of education and community engagement programs, the Symphony reaches more than 300,000 residents—from school children to senior citizens.

The Symphony offers repertoire ranging from the great orchestral masterworks to music from today's most prominent composers. Just over a decade ago, the Symphony launched the highly successful opera initiative, "Symphonic Voices," which continues in April 2024 with Puccini's La Bohème. It also offers an in-demand Pops season, enhanced by state-of-the-art video and sound, led by celebrated pops conductors. Each season also includes Café Ludwig, a chamber music series; an educational Family Musical Mornings series; and Sunday Matinees, an orchestral matinée series offering rich explorations of selected works led by St.Clair.

Founded in 1978 as a collaboration between California State University, Fullerton (CSUF) and North Orange County community leaders led by Marcy Mulville, the Symphony performed its first concerts at Fullerton's Plummer Auditorium as the Pacific Chamber Orchestra, under the baton of then-CSUF orchestra conductor Keith Clark. Two seasons later, the Symphony expanded its size and changed its name to Pacific Symphony Orchestra. Then, in 1981-82, the orchestra moved to Knott's Berry Farm for one year. The subsequent four seasons, led by Clark, took place at Santa Ana High School auditorium where the Symphony also made its first six acclaimed recordings. In September 1986, the Symphony moved to the new Orange County Performing Arts Center, and from 1987-2016, the orchestra additionally presented a Summer Festival at Irvine Meadows Amphitheatre. In 2006, the Symphony moved into the Renée and Henry Segerstrom Concert Hall, with striking architecture by Cesar Pelli and acoustics by Russell Johnson. In 2008, the Symphony inaugurated the hall's critically acclaimed 4,322-pipe William J. Gillespie Concert Organ. The orchestra embarked on its first European tour in 2006, performing in nine cities in three countries.

Recordings commissioned and performed by the Symphony include the release of William Bolcom's Songs of Lorca and Prometheus (2015-16), Richard Danielpour's Toward a Season of Peace, Philip Glass' The Passion of Ramakrishna (2013-14), as well as Michael Daugherty's Mount Rushmore and The Gospel According to Sister Aimee (2012-13). In 2014-15, Elliot Goldenthal released a recording of his Symphony in G-sharp Minor, written for and performed by the Symphony. The Symphony has also commissioned and recorded An American Requiem by Danielpour and Fire Water Paper: A Vietnam Oratorio by Goldenthal featuring Yo-Yo Ma. Other recordings have included collaborations with such composers as Lukas Foss and Toru Takemitsu. Other leading composers commissioned by the Symphony include Paul Chihara, Daniel Catán, James Newton Howard, William Kraft, Ana Lara, Tobias Picker, Christopher Theofanidis, Frank Ticheli, John Wineglass, Sir James Macmillan, and Chen Yi.

In both 2005 and 2010, the Symphony received the prestigious ASCAP Award for Adventurous Programming. Also in 2010, a study by the League of American Orchestras, Fearless Journeys, included the Symphony as one of the country's five most innovative orchestras. The Symphony's award-winning education and community engagement programs benefit from the vision of St.Clair and are designed to integrate the orchestra and its music into the community in ways that stimulate all ages. The Symphony's Class Act program has been honored as one of nine exemplary orchestra education programs by the National Endowment for the Arts and the League of American Orchestras. The list of instrumental training initiatives includes Pacific Symphony Youth Orchestra, Pacific Symphony Youth Wind Ensemble, Pacific Symphony Santiago Strings, and new this season, Pacific Symphony Youth Concert Band. The Symphony also spreads the joy of music through arts-X-press, Class Act, Heartstrings, OC Can You Play With Us?, Santa Ana Strings, Strings for Generations, Symphony on the Go!, and Symphony in the Cities.