Pinchas Zukerman Trio with Shai Wosner and Amanda Forsyth
Sun, Oct 1, 2023 |
Venue: Concert Hall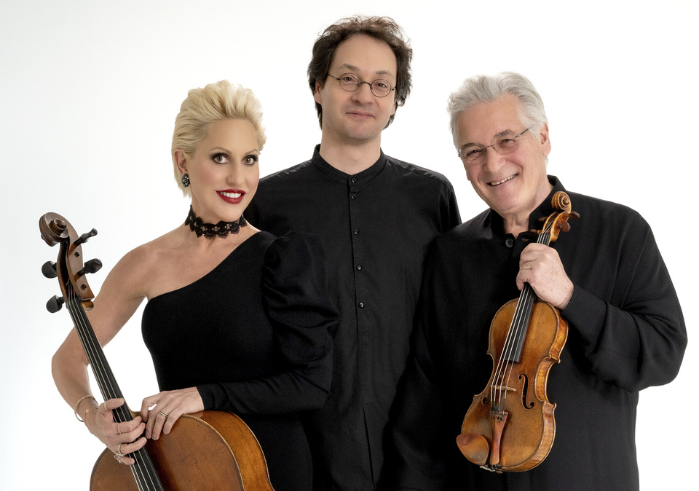 Add to Calendar
2023-10-01 3:00 PM
America/Los_Angeles
Pinchas Zukerman Trio with Shai Wosner and Amanda Forsyth

"The cleanly articulate performance was elevated by an uncommon passion, both in the tender Adagio and in the finale that shifts abruptly from sadness to joy."
The Chicago Tribune

"With Pinchas Zukerman's matchless musicianship and charisma at its core, this is a trio made in heaven."
Limelight

FEATURED ARTISTS:

Pinchas Zukerman, violin
Shai Wosner, piano
Amanda Forsyth, cello

PROGRAM:

SCHUMANN Phantasiestücke for Piano Trio, Op. 88
SAINT-SAËNS Piano Trio No. 1 in F Major, Op. 18
INTERMISSION
BEETHOVEN Piano Trio in D Major, Op. 70, No. 1, "Ghost"


With a celebrated career encompassing five decades, Pinchas Zukerman reigns as one of today's most sought after and versatile musicians.  A prodigious talent recognized worldwide for his artistry, Zukerman has been an inspiration to young musicians throughout his adult life. In a continuing effort to motivate future generations through education and outreach, the renowned violin and viola soloist, conductor, and chamber musician teamed up in 2002 with four protégés to form a string quintet called the Zukerman Chamber Players. The quintet amassed an impressive international touring schedule with close to two hundred concerts and four discs on the CBC, Altara and Sony labels. 
The Zukerman Trio emerged out of the Zukerman Chamber Players with an official launch in 2013. Since then, the ensemble has performed globally in Japan, China, Australia, Spain, Italy, France, Hungary, Canada, South Africa, Istanbul, Russia and Germany. The Trio has appeared at major North American festivals, including Ravinia, Tanglewood, Aspen, Bravo! Vail and Banff and European festivals in Edinburgh, Verbier and Schleswig Holstein. In 2020, pianist Shai Wosner joined Zukerman and cellist Amanda Forsyth, and the three continue to find joy and inspiration performing the classical trio and duo literature. 
In the 2023-24 season, the Zuckerman Trio can be seen in Taormina, Sicily; Stockholm, Sweden; Edmonton, Alberta, Canada; and in the US in El Paso, Aliso Viejo and Phoenix. They embark on a European Tour in summer of 2024, including stops in Berlin, Germany; Concabella, Alicante, and Valencia, Spain; and Geneva and Lausanne, Switzerland.
Born in Tel Aviv, Pinchas Zukerman came to America in 1962, where he studied at The Juilliard School with Ivan Galamian. The renowned virtuoso has long been admired for the expressive lyricism of his playing, singular beauty of tone, and impeccable musicianship, which can be heard throughout his discography of over 100 albums for which he earned two GRAMMY® awards and 21 nominations. Zukerman has been awarded a Medal of Arts, the Isaac Stern Award for Artistic Excellence, and was appointed as the Rolex Mentor and Protégé Arts Initiative's first instrumentalist mentor in the music discipline. A devoted and innovative pedagogue, Mr. Zukerman chairs the Pinchas Zukerman Performance Program at the Manhattan School of Music, where he has pioneered the use of distance-learning technology in the arts.  He proudly joined the Dallas Symphony Orchestra as an Artistic & Principal Education Partner for their 2021/22 and 2022/23 seasons. He currently serves as Conductor Emeritus of the National Arts Centre Orchestra of Canada, as well as Artistic Director of its Young Artist Program.
Canadian Juno Award-winning Amanda Forsyth is considered one of North America's most dynamic cellists. Her intense richness of tone, remarkable technique and exceptional musicality combine to enthrall audiences and critics alike. From 1999-2015, Amanda Forsyth was principal cellist of the National Arts Centre Orchestra, where she appeared regularly as soloist and in chamber ensembles. She is recognized as an eminent recitalist, soloist and chamber musician appearing with leading orchestras in Canada, the United States, Europe, Asia and Australia. As a recording artist she appears on the Fanfare, Marquis, Pro Arte and CBC labels.
Pianist Shai Wosner has attracted international recognition for his exceptional artistry, musical integrity, and creative insight. His performances of a broad range of repertoire—from Beethoven and Schubert to Ligeti and the music of today—reflect a degree of virtuosity and intellectual curiosity that has made him a favorite among audiences and critics, who note his "keen musical mind and deep musical soul" (NPR's All Things Considered). Mr. Wosner is a recipient of Lincoln Center's Martin E. Segal Award, an Avery Fisher Career Grant, and a Borletti-Buitoni Trust Award. He is on the faculty at the Longy School of Music in Boston.