A Thousand Thoughts: Kronos Quartet and Live Documentary Film Narrated by Sam Green
Sat, Mar 9, 2024 |
Venue: Concert Hall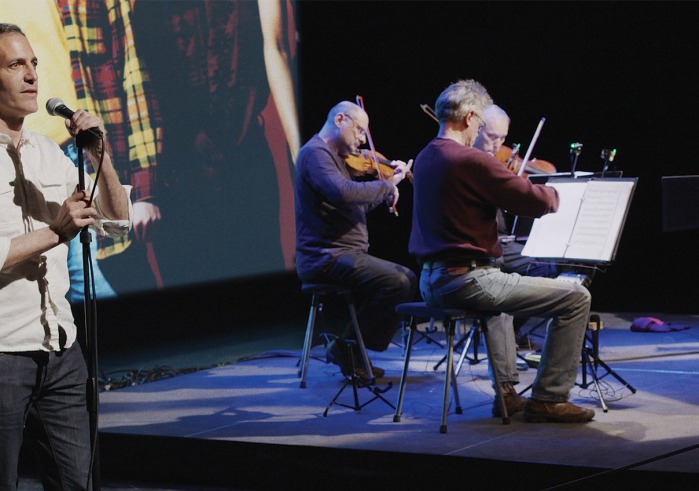 Add to Calendar
2024-03-09 8:00 PM
America/Los_Angeles
A Thousand Thoughts: Kronos Quartet and Live Documentary Film Narrated by Sam Green

A Thousand Thoughts: A Live Documentary with the Kronos Quartet, Written and Directed by Sam Green and Joe Bini

Celebrating Kronos Five Decades - The Quartet's 50th Anniversary

"It's as magical an amalgamation as anything you can imagine."
LA Times

"That sought-for concert high, the blissful moment when everyone in the hall is rapt and breathing seemingly in sync, seemed to last through the work's entirety, as the edges between the various media components melted to reveal its whole … There was huge applause at the end, a standing ovation that began before the credits were done"
San Francisco Chronicle

"The Kronos Quartet has broken the boundaries of what string quartets do."
The New York Times
FEATURED ARTISTS:

David Harrington, violin
John Sherba, violin
Hank Dutt, viola
Paul Wiancko, cello

Sam Green, filmmaker
Joe Bini, editor


For nearly 50 years, San Francisco's Kronos Quartet - David Harrington (violin), John Sherba (violin), Hank Dutt (viola), and Paul Wiancko (cello)—has challenged and reimagined what a string quartet can be. Founded at a time when the form was largely centered on long-established, Western European traditions, Kronos has been at the forefront of revolutionizing the string quartet into a living art form that responds to the people and issues of our time.
Academy Award®-nominated filmmaker Sam Green (The Weather Underground), in collaboration with Emmy Award®-winning writer and editor Joe Bini (Roman Polanski: Wanted and Desired, Grizzly Man), takes the stage with the legendary classical-music group Kronos Quartet to create a "live documentary" that chronologically unfolds the quartet's groundbreaking, continent-spanning, multi-decade career. Wildly creative and experimental in form, A Thousand Thoughts is a meditation on music itself-the act of listening closely to music, the experience of feeling music deeply, and the power that music has to change the world.

Green will narrate the piece live onstage while the Kronos Quartet performs the score, and a rich blend of archival footage, photos, and interviews with members of the Kronos Quartet-as well as longtime collaborators like Philip Glass, Laurie Anderson, Terry Riley, Tanya Tagaq, Steve Reich-unspools on screen. The magic of cinema combines with the energy and urgency of live performance to create incredibly rich moments that remind us of the value in the unique, the handcrafted, the ephemeral, and something that is never experienced the same way twice.