B2B Impactathon: Incubating Ideas to Change the World
Cotton is one of the least environmentally harmful sources of fiber used to make fabric. But every year, farming cotton releases 220 million tons of carbon dioxide into the atmosphere, and 132 million metric tons of coal and up to nine trillion liters of water are used manufacturing cotton fabrics. With climate change contributing to an increasing number of natural disasters every year, better options are urgently needed.
A team of four Soka University students has a potential solution. The idea by Anthea Mudanye '23, Anthony Eduafo '23, Emmanuel Fiagbe '24, and Hamza Ibrahim '23 won top prize at this year's Bridges to Business Impactathon for their proposal to replace cotton fiber with the stems of banana plants. Banana plants require less water, are grown without chemical fertilizers, and emit much less carbon dioxide. The Tooke Project, named for the Luganda word for banana, would employ Ugandan women to make the more sustainable fabric.
The fourth annual Impactathon, an entrepreneurial workshop and business pitch competition, was held from January 8-10 over Zoom, allowing participants and judges from around the world to connect. Hosted by Soka's Bridges to Business program, Impactathon brought together nine teams, each including at least one SUA student or alumnus, to develop their ideas and business models.
Led by Neetal Parekh, founder and CEO of Innov8social, the workshop pushed participants to map social problems, brainstorm impact-driven solutions, and design business plans. Participants also attended "impact talks" by successful social entrepreneurs in the areas of diversity, equity, and inclusion (DEI) and public health in addition to working on their own projects. At the end of the weekend, ideas were pitched to potential investors, advisors, and mentors who provided feedback and awarded cash prizes.
Judges included Walt Disney's DEI Manager Brian Walker, DEI workshop facilitator and career coach Corbin Picket, skritswap founder & CEO Melissa Kargiannakis, public health professional Ramon Llamas, and serial entrepreneur Shayan Mashatian. They evaluated each of the ideas based on problem identification, potential for social impact, and inclusivity.
Bringing Diverse Perspectives Together
The Tooke Project hit all those marks. The students, who are concentrating in Social and Behavioral Sciences and International Studies at Soka, each brought a different perspective to the table. Eduafo is passionate about alleviating environmental pollution in the world and volunteers for LDG Ghana, a non-profit in his home country that seeks to achieve the United Nations' Sustainable Development Goals.
As a woman growing up in Uganda, Mudanye has seen how women, particularly widows, are treated differently and not able to achieve economic stability or financial literacy. Ibrahim, who is from Ghana, has also personally witnessed how widows are mistreated and dehumanized after their husbands die, and is motivated to help fight against this cruel inequity.
Fiagbe also grew up in Ghana and loves fashion but when he learned that the industry is the second-largest global polluter he was determined to address the issue. "With my team, we came up with a business plan that would make fast fashion sustainable," Fiagbe said. "The Impactathon gave me the avenue to look within and ask myself a very important question: How will I create actionable change doing something I love?"
The group brainstormed solutions that appealed to each of their interests and came up with the proposed project to employ widowed Ugandan women to create sustainable fabric. Uganda is currently the second-biggest producer of banana fiber, after India. While some companies already make banana fiber textiles, primarily in India, the Tooke Project's solution would bring down costs of production.
The team has not yet decided how to spend its $1,000 prize, but they are participating in UC Irvine's New Venture competition this semester to continue developing the idea.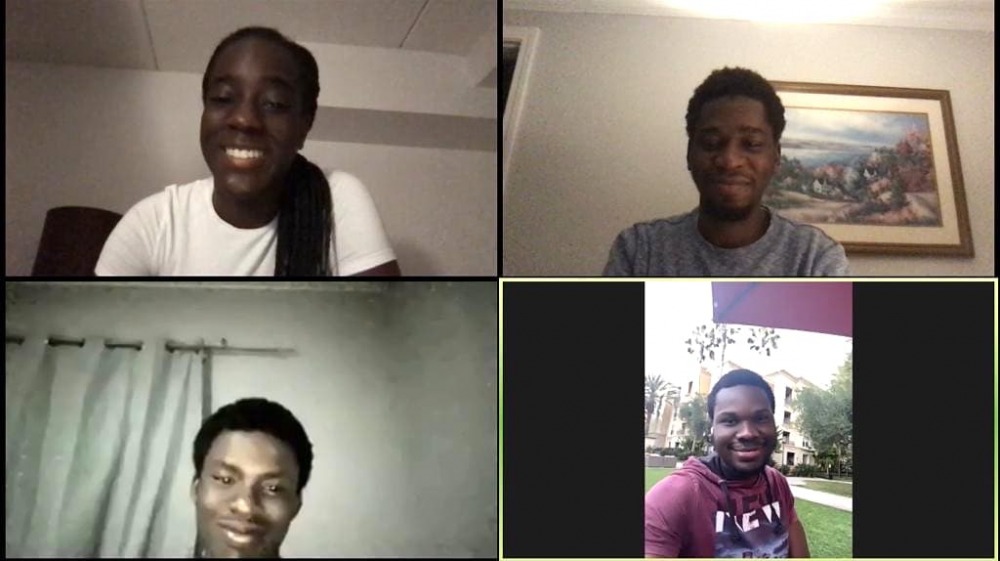 2021 Impactathon award winners
—Nagisa Smalheiser '21