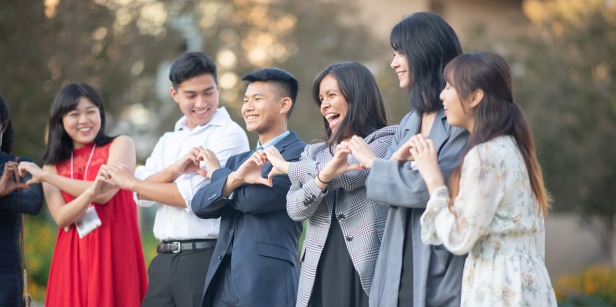 General Orientation Information
Welcome to Soka
Welcome to the first part of your New Student Orientation! There is much to learn as you begin your transition into college, and the staff and faculty here at Soka want to support you each step of the way.
As students return to campus for the Fall 2022 semester, Soka will be hosting a variety of in-person events and activities for new student orientation. Students can look forward to building relationships and developing community while exploring topics such as the university's founding principles, academic life, support services, and diversity, equity, and inclusion. Some orientation elements will be available to students in an online format beginning in July.
Arriving to Campus
Arrival Dates
August 7-8, 2022. Students who have received a COVID-19 vaccine and are fully immunized will arrive to campus on Sunday, August 7, 2022, or Monday, August 8, 2022, between 9 am - 5 pm. Upon arrival to campus, students will be tested for COVID-19 and then begin to move into their housing assignment.
Residence Hall Questionnaire
Students will be matched with a roommate and assigned to a residence hall via the online SUA Residence Hall Questionnaire. Online access to the housing questionnaire will be available from June 6, 2022 to July 3, 2022 at http://housing.soka.edu. Students will need to use their Soka username and password.
If students are unable to complete an online form and wish to have a paper copy of the questionnaire mailed, a request can be made by emailing housing@soka.edu.
Housing placement details will be available to view online on July 18, 2022 after 5 pm. In addition to viewing housing details, students will have the opportunity to begin communicating with their future roommate.
New Student Orientation Online Brightspace Course
Open only to incoming students, Brightspace is the learning management system used by Soka University of America. A "New Student Orientation 2022" course will be available to students in the coming months. Students will be able to access recorded presentations, handouts, and readings on this platform through the SUA Portal. Information on how to access course contents will be sent to students' @soka.edu email address.
The Brightspace course contains a mix of readings, videos, and modules on the following topics:
Founding Principles of SUA. Learn about the university's background, engage others in a discussion of global citizenship, and discover what 'value creation' means to you.
Diversity and Inclusion. Build on your understanding of different people and different cultures, explore how identity and background impact how people experience the world, discuss actions and behaviors that support inclusivity and equity, and how they connect to becoming a global citizen.
Academic Life. Gather in-depth descriptions about different concentrations and academic programs, find degree requirements and class schedules, and walk through the process to register for semester classes.
Student Life. Get to know Student Affairs staff members, including the Student Orientation Leaders who will support your social and educational transition to the college environment. Learn what it means to be a part of the Soka community and how to navigate challenges as you encounter them.
University Services. View the different support systems available to students and see how to utilize the services they provide. Areas include Counseling Services, Health Services, Disability Services, Library Services, Financial Aid, and Student Accounts.
All materials will be made available on Brightspace in mid July, 2022. Some materials may be posted earlier in July. Students should plan to review all information on Brightspace prior to the first day of Welcome Week (August 8).
Welcome Week, August 8-13
All first-year students are required to attend Welcome Week sessions, which begin one week prior to your first class, Core I. Each day during Welcome Week, students will engage in live sessions designed for discussion, interaction, and community building. Most days, sessions will be held between 9 am - 5 pm with social activities held in the evening.
The full Welcome Week Schedule will be made available on the Online Brightspace Course in mid July.
Events for Parents
Parent Orientation
Tuesday, August 9, 2022
2:00pm - 3:30pm
Black Box Theater*
Presenters from various departments including academic affairs, campus security, residential life, and student services will provide parents and family members with an overview of the services and supports available from their offices.
Welcome Session with President Ed Feasel
Tuesday, August 9, 2022
4:30pm - 5:30pm
Performing Arts Center*
Official welcome ceremony featuring a welcome video from current Soka students and speeches from the Soka student government president, several members of the Class of 2026, and a formal address from President Ed Feasel.
*events held in the Performing Arts Center and Black Box Theater require safety protocols for all attendees. For more information on safety requirements including masking, vaccine, or testing requirements visit: https://www.soka.edu/soka-performing-arts-center/visit/safety-protocols
Welcome Reception Dinner
Tuesday, August 9, 2022
5:30pm - 7:30pm
Campus Green
Following the Welcome Session with President Ed Feasel, the Class of 2026 and their guests are invited to join a reception dinner and dessert on the Campus Green.
Frequently Asked Questions
Each student is placed in an Orientation Group alongside 10-12 classmates. The group is led by a Student Orientation Leader. These upper division Soka students lead ice breakers, organize hangouts, and foster community building. The SOL connects individually with each student in their group on a weekly basis and serves as a resource and guide to help new students navigate the college journey. 
 
The university plans a formal President's Welcome ceremony for incoming students and two guests. Following the ceremony, an outdoor reception dinner will be served to students and their guests. 
You will begin your first class called Core I: Enduring Questions of Humanity on Monday, August 15. This is an intensive three-and-a-half week course taken during the Fall Block and is required of all first year students. You will automatically be registered for this class. 
Students will meet a variety of academic resources during Welcome Week including the SUA Writing Center specialists, Library Staff, and IT staff who can all help students navigate in-person and virtual resources. In addition, professors host regular office hours to connect with students.
During Orientation you will receive academic advising and receive training on how to register for fall semester classes. 
Enrolled students will directly receive any updates via email and the Orientation Brightspace course. The soka.edu website is the primary source of updates for all other audiences.