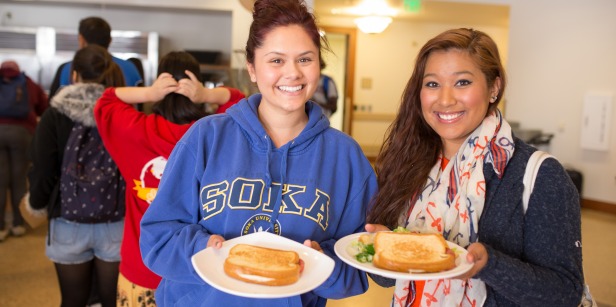 Dining
Soka understands the importance of dining as part of the total experience of living on campus.
Overview
We've partnered with Bon Appétit, the premier name in university dining, to create a custom dining experience. Our chefs cook from scratch using fresh seasonal ingredients. They take their role in the community seriously through socially-responsible purchasing decisions and a commitment to serving great tasting, authentic, nutritious foods.
Note: The Soka Bistro is only open to SUA students until further notice due to COVID-19 safety protocols.   
Soka Bistro
Soka Bistro offers a variety of foods, from fresh cuisine to delicious house-made desserts. You'll find a custom deli and extensive salad bar selections as well as soups made from scratch daily. Students can even send requests, suggestions, or personal recipes to the chef.
Bistro Hours
| Meal | Monday-Friday | Saturday-Sunday |
| --- | --- | --- |
| Breakfast | 7:30 a.m. - 9:30 a.m. |   |
| Brunch |   | 10:30 a.m. - 12:30 p.m. |
| Lunch | 11:30 a.m. - 1:30 p.m. |   |
| Dinner  | 5:30 p.m. - 7:30 p.m. | 5:00 p.m. - 7:00 p.m. |
Sokafé Hours
| Monday-Thursday | Friday | Sunday |
| --- | --- | --- |
| 2:00 p.m. - 5:00 p.m. | 2:00 p.m. - 5:00 p.m. | 4:00 p.m. - 11:00 p.m. |
| 7:00 p.m. - 12:00 a.m. | 7:00 p.m. - 9:00 p.m.  |   |