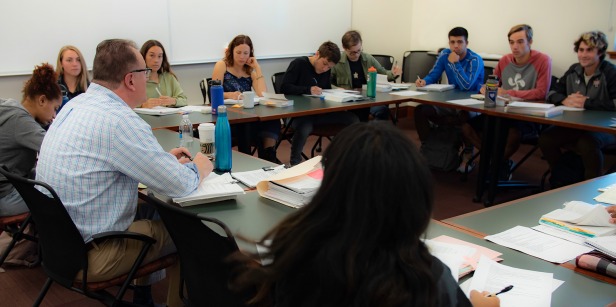 Support SUA
On behalf of the students, faculty and staff at Soka University of America, we extend our most sincere appreciation for your gifts to the 20th anniversary campaign. Your generosity is truly humbling and inspires us to do our very best to make you proud of SUA.
The wall honoring those who donated to the campaign has been installed in Curie Hall. It will be our honor to share it with you when you visit the campus. Please contact us if you would like help finding your name.
Soka University of America does not conduct any official fundraising efforts through social media or crowdfunding sites. Tax-deductible donations using credit cards can only be made on this website or via phone.
SUA students thank you for your support!
Soka University of America educates students to develop wisdom, courage, compassion, and skills for peaceful dialogue. This positive impact ripples outward to benefit lives and communities around the globe.
Soka's unusual "need blind" acceptance policy allows us to admit the most keen-minded young people from around the world without concern for finances. This policy works because Soka is endowment-dependent: it relies on the returns from the investment to cover costs, not tuition fees. To continue to enroll and support the most qualified students, Soka must maintain robust growth of our endowment.
With your generosity, we can continue to admit top students and send them out into the world as leaders to contribute to its betterment.
Tax ID Information
Soka University of America is a 501(c)(3) charity as defined by the IRS. Contributions to the university are tax-deductible under IRS rules.

Our Tax ID number (TIN) is 95-3909672.

Save the Date: 2023 Peace Gala
The next Peace Gala will be held on Saturday, October 14, 2023
About Soka's Endowment
Generous donations from benefactors help us accomplish our mission of educating the next generation of global citizens. In line with the tenets of Soka Education, the ability of a prospective student to pay for a private university education is not a determining factor for admission. Our need-blind admissions process enables all applicants to be considered regardless of their ability to pay. As a result, we can consider applicants from around the globe with richly varied life experiences who have a passion to give back to their home communities and societies.
A Very Different Operating Model
Typically, student tuition is the primary income source that covers most universities' operating expenses. The number of enrolled students is critical to the financial well-being of the tuition-dependent institution. At the same time, tuition alone rarely covers the true cost of a student's education. Soka University is unique–we rely primarily on endowment income to cover the majority of our operating expenses.
Soka has been fortunate over these last 20 years to have generous donors who continue to believe in our university's mission. Even as a relatively young university, Soka's endowment has grown over time through generous gifts from our benefactors, enabling us to provide a world-class education to our students. These funds are prudently invested to generate income used for financial aid and university operating expenses. The endowment's goal is to produce a consistent income in perpetuity.
What the Endowment Provides Students
We invest heavily in the education and development of each individual student, one of the core principles of Soka Education. We have developed excellent facilities, academic curriculum, international educational opportunities, residential life system, athletic programs, and extracurricular activities. We provide students with access to top faculty and encourage them to foster strong personal relationships. The endowment is integral to our ability to provide numerous scholarships, including the Soka Opportunity Grant, among others.
What the Endowment Means to SUA
We are actively expanding and developing the campus for the future with our Life Sciences concentration, which will increase the size of our student body.
To meet these new needs and continue offering excellence in higher education, we are working to grow our endowment with added support from our donors. That way, we can guarantee financial aid to the best and brightest students whose life plans resonate with our mission.
Our endowment enables qualified students to focus on their studies and formulate their plans to change the world. You are crucial to this blueprint for the betterment of the planet. Your gift is not only deeply appreciated–it is vital to the future of Soka University of America.