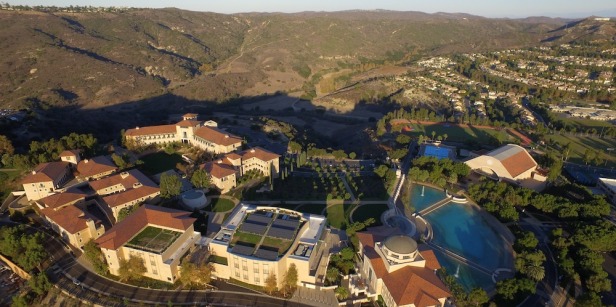 A Proud Heritage
A Brief History of Soka Education
Soka ("to create value") education has its origins in the work of Tsunesaburo Makiguchi, a Japanese educator and Buddhist leader. During World War II, Makiguchi was arrested as a "thought criminal" by Japanese military authorities for his opposition to the war and for his defense of religious freedom. He died in prison in 1944. The small education society that Makiguchi founded in 1930 has since grown to become one of the world's largest lay Buddhist organizations.
Soka schools range from kindergartens to the 8,800-student Soka University in Japan. These schools have established a tradition of humanistic learning and scholarship where the focus is on each student's growth and development.
Timeline of Soka University of America
In February 1987 Soka University of America (SUA), an independent, not-for-profit organization incorporated in the state of California, dedicated its first campus in Calabasas. 
The Graduate School opened in 1994, offering a Master of Arts degree in Second and Foreign Language Education with a concentration in Teaching English to Speakers of Other Languages (TESOL). 
In 1995 Soka University acquired a 103-acre site in Aliso Viejo, California, for a private, nonprofit, four-year liberal arts college. 
The Aliso Viejo campus opened May 3, 2001, with its first entrance ceremony for a first-year class of 120 students from 18 countries and 18 states. 
On May 22, 2005, the undergraduate program held its first commencement and Soka University received its accreditation from the Accrediting Commission for Senior Colleges and Universities of the Western Association of Schools and Colleges. 
In April 2007 the Graduate School was transferred to the Aliso Viejo campus. 
In 2009 the Graduate School added a new concentration in Teaching Japanese as a Foreign Language to the MA program in Second and Foreign Language Education.
In 2013 the Graduate School announced a new MA program in Educational Leadership and Societal Change.