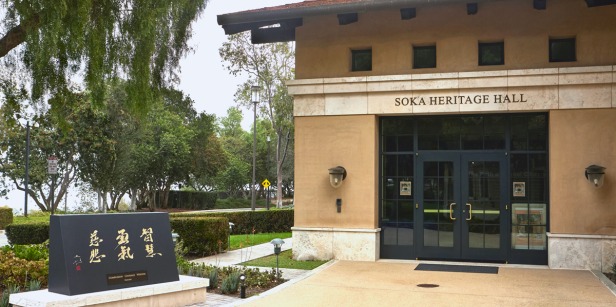 Soka Heritage Hall
Soka Heritage Hall chronicles SUA's history and the heritage and founders of Soka education.
Soka Heritage Hall offers visitors a chance to learn about the heritage and vision of Soka education founders, Tsunesaburo Makiguchi, Josei Toda, and Daisaku Ikeda. We hope that all who visit the hall will gain a deeper understanding of SUA's founding spirit and mission. The hall is located near the Athenaeum on the southwestern edge of the campus and was developed as part of the 20th anniversary project, "Soka Global Citizens: Embodying Wisdom, Courage, and Compassion" with the help of SUA's staff, alumni, and donors.
The exhibit rooms showcase Mr. Ikeda's efforts in promoting peace, education, and intercultural dialogue, as well as the global efforts of SUA students and alumni. The Dialogue Room features a large map highlighting SUA students' countries of origin and locations where they have studied abroad or traveled to during Learning Clusters. Several rooms showcase the founding and origins of Soka education and there is a room dedicated to the personal exchanges between Soka students and Mr. Ikeda.
The hall is open Tuesdays and Thursdays, from 10 a.m. to 4 p.m. Visitors must register in advance; walk-in visits are not available.