The Renaissance Begins: A Critical Conversation with Simon Mainwaring
To anyone feeling hopeless about the many crises facing humanity, brand futurist and author Simon Mainwaring believes that taking intentional, collective action is the antidote. In "Rewiring Capitalism," the first lecture in the Critical Conversations series held on campus in more than two years, Mainwaring sounded a call for individuals, leaders, and businesses to come together to transform capitalism and tackle environmental destruction.
Despite the seriousness of the topic, Mainwaring left the audience gathered in the Black Box Theatre at Soka Performing Arts Center on March 16 with a sense of hope as well as steps they can begin taking in their daily lives to create change.
"I deeply believe in the innate goodness of humanity and I don't think we're going to allow ourselves to go out of business," Mainwaring said. "We had to get to this acute moment of urgency before we were going to pay attention."
Changemakers on Campus
The evening's theme of reimagining capitalism was well suited to Critical Conversations, a lecture series designed to bring changemakers to campus "to ignite conversation," said Director of Special Projects Mary Patrick Kavanaugh, who founded Critical Conversations in 2014.
"We invite thought leaders from around the world, from across sectors and perspectives, who want to solve issues through dialogue," Kavanaugh said. Those speakers have included Mohamed El-Erian, Henry Rollins, Anna Deavere Smith, Brian Greene, and Karamo Brown.
The series is also an opportunity for Soka to expand its presence in the community and to partner with organizations addressing the social issues raised by speakers. The Daisaku and Kaneko Ikeda Library also builds a resource guide for many of the Critical Conversations events, allowing students to do a deeper dive into the issues.
With Soka students interested in both global citizenship and mission-driven organizations, Kavanaugh wanted to bring two leaders in purpose-driven businesses to campus for the spring 2022 event. Mainwaring is the founder of We First, a creative consulting company that works with CEOs, CMOs, and entrepreneurs, and the author of Lead with We and We First, a NY Times bestseller. Following his talk, Mainwaring was joined on stage by Gail Becker, the founder of Cailipower, which makes affordable, gluten-free cauliflower-based foods.
Creating a Virtuous Spiral
Although purpose-driven companies—those with a social or environmental mission built into their business model—have become more common in the last decade and traditional businesses are increasingly examining their impact on the climate and social good, Mainwaring noted that the vast majority of business is unchanged.
"While those points of light are increasing, what's missing is the connective tissue between those efforts so that they compound," he said.
Mainwaring detailed the idea of a virtuous spiral in which the actions taken by everyone in society—individuals, companies, and leaders—combine to create enough of an impact that transformation can occur. That spiral begins with recognizing that each person has contributed to the problems society must solve, and then changing mindsets, processes, and aspirations.
Mainwaring urged audience members "to be much more intentional" as consumers and pay attention to what they buy, where they bank and invest, and where they work. Every employee in every business must also ask what they can do through their work to create change.
In turn, that shift in consumer behavior and expectations will force companies to make changes if they want to survive. "The luxury of choosing how far and how fast you are going to change," he said, "and what you are going to do, is over as people aren't going to buy from, work for, or invest in companies that are not solving our problems."
The Coming Renaissance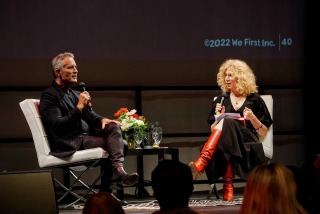 Becker, who was a broadcast journalist and a communications strategist before starting her company in 2016, noted that people sometimes misunderstand the goals of companies that put building social and environmentality responsibility in the forefront. Leading with purpose is not a threat to capitalism or a dismissal of it, but its next phase.
"It is really the belief that capitalism needs to evolve," Becker said, "because the conditions we've created by the practice of capitalism up until now are threatening our survival, and we need to do something different."
Noting that Mainwaring had ended his talk on a hopeful note, Becker asked him how he stayed optimistic.
On the other side of the pain and uncertainty, he said, is a world in which capitalism works with the natural world instead of destroying it, and regenerates itself through the abundance inherent in the environment.
"I don't actually see this as the end of something," Mainwaring said. "I see this as the beginning of the most miraculous renaissance of business that we've ever seen."