Soka's Isolde Pierce and Trey Carlisle Awarded Fulbright Fellowships
Two students in Soka's Class of 2020—Isolde Pierce and Trey Carlisle—have received Fulbright fellowships to continue their studies and contributions abroad.
Carlisle has accepted a research fellowship in Nanjing, China, and Pierce will be an English teaching assistant in the Canary Islands of Spain. The fellowships, which will start in January, are part of the Fulbright US Student Program.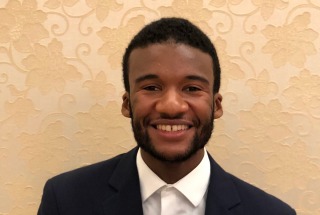 The program, administered by the US State Department, is designed to build lasting connections between the people of the United States and other countries, which makes Soka students natural candidates. Two years ago Soka created a Fulbright Advising Program to help students navigate the rigorous application process. And now the program, led by anthropology professor Sarah England, has helped SUA students receive two Fulbright grants two years in a row.
Carlisle, whose Soka concentration is Social and Behavioral Sciences, will be looking into how Black and Latinx music and dance, such as Hip Hop and Zumba dance, can be used to foster appreciation for and understanding of the histories and cultures of the US and China. Carlisle, from Los Angeles, was inspired by his semester studying abroad in China.
"Even though Black and Latinx art forms are popular in China, there is still a lack of awareness toward the history and experiences of Black and Latinx people," Carlisle said. "Similarly, although Chinese cultural expression, for example Tai Chi and Kung Fu, are extremely popular in the US, there is a great ignorance among Americans toward the history and the experiences of Chinese people.
"The goal of my research is to explore how both Chinese and Afro-diasporic art forms can be used as bridges to enhance cultural appreciation, rather than perpetuate cultural appropriation."
Pierce, from Davis, California, said three international travel and education experiences at Soka sparked her interest in teaching abroad. As a freshman she was in Peru with biology professor Anthony Mazeroll's Amazon research center. Before her junior year, she taught English to children in a service learning program in Chile. During her semester abroad in the Dominican Republic, she continued to hone her Spanish language skills and her awareness of Spain's influence over Latin American culture.
In addition to teaching English on the Canary Islands, Pierce, whose Soka concentration is Environmental Studies, will work on a community project involving conservation in marine ecosystems.
"I hope to connect with the students in a way that inspires them to appreciate the environment and take care of nature," Pierce said.