With each graduating class, the SUA Graduate School is fostering individuals who contribute to society. As Mary K. Norton said in her 1999 speech to the graduates, SUA graduate students are determined to "have a profound impact on the quality of humanity in the next century" and to "bring about opportunities for humankind to settle its differences through dialogue and discussion rather than destruction."
Amidst cultural, political and economic changes, Founder Daisaku Ikeda's speeches to the SUA Graduate School express the founding spirit of Soka University of America. In his words, the founding spirit is this:  
About Soseikai
The alumni group name "Soseikai" was designated by the Founder on May 3, 2001. 
So is from Soka ("value creation"), Sei means "pledge" or "vow" and Kai means "group" in Japanese. The name itself as well as the Founder's speeches show his hopes and expectations for SUA graduates as they continue to work toward actualizing Soka Education in the world. 
The mission of SUA Soseikai association is to unite and expand the alumni network in our shared commitment to Soka Education through appreciation, contribution, and friendship, and hereby foster continuous societal change and global citizenship.
The Association shall be committed to the following principles: 
1. Be global citizens committed to living a contributive life. Live up to our mission as leaders of our times for the sake of the people. 
2. Be proud supporters of SUA, build networks or friendship for the sake of Soka Education. Our greatest honor to repay our debt of gratitude to our alma mater. 
3. Be forever Young Founders. Protect and preserve SUA's founding spirit. 
The Association shall be committed to the following mottos: 
1. Contribute to the development of SUA and proliferation of Soka Education, embracing the university's mottos and principles. 
2. Create great value in all aspects of our lives for the sake of humanity and society. 
3. Foster true camaraderie among Soka students and alumni. 
4. Be life-long learners that reveal our true potential.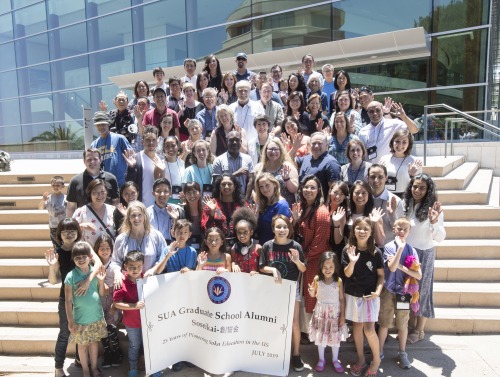 Contact Us
The Graduate Alumni Board members are Junior Menezes, Hiroko Tomono Furniss, Vicki Mokuria, Paula Pereira, and Luci Goshima.  
Email us at Soseikai@soka.edu.