Soka Alumni Isolde Pierce and Trey Carlisle Receive a Second Fulbright Fellowship
Last year, two Soka students–Trey Carlisle '20 and Isolde Pierce '20–were awarded Fulbright fellowships to conduct research and teach English abroad for a year. The pandemic disrupted their plans. But for the first time in the prestigious program's history, it has offered appointments in consecutive years and Pierce and Carlisle have each received a second appointment.
The Fulbright program, established in 1946, annually offers about 1,200 fellowships to US students, aiming to facilitate cultural exchange between US citizens and those in other countries.
Pierce, whose concentration was Environmental Studies, was offered a fellowship to teach English in Spain and Carlisle, whose concentration was Social and Behavioral Sciences, was awarded a fellowship to conduct research in Nanjing, China.
The programs typically last a full academic year, from September until June. When the pandemic hit in early 2020, the US State Department, which administers the program, postponed or canceled fellowships depending on the COVID-19 conditions in countries.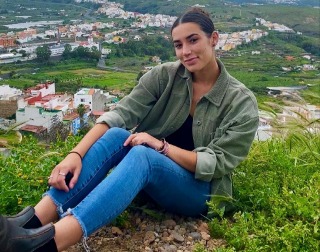 In Spain, Fulbright postponed its start until January 2021, reducing the program to five months. Pierce was assigned to the Canary Islands, teaching English to children from 3 years old to sixth grade.
In April, Pierce learned she was awarded a second fellowship and will return to Spain this fall to complete a full-length teaching assistant program.
"I'm looking forward to working with the kids again," she said. "This experience made me realize that teaching is my calling and it is what I want to do for the rest of my life. It was really great to have that affirmation–that I'm doing what I'm meant to be doing and I love it."
After the conclusion of next year's program, she hopes to teach either in Spain or the US.
Carlisle headed to China to research how music can enhance peacebuilding and reconciliation efforts, a subject he began investigating during his capstone project and his study abroad experience in China.
When Carlisle's program in Nanjing was cut short due to COVID-19, he reached out to an author he'd cited in his capstone, Lesley Pruitt, a political science lecturer at University of Melbourne. By connecting with Pruitt via Zoom, he gained her support for his proposed research.
Carlisle said he's excited to continue his research in February 2022 and expects to work with Gillian Howell, dean's research fellow at the University of Melbourne's Faculty of Fine Arts and Music in Australia.
"I am most looking forward to conducting research about how music and dance can enhance peacebuilding and truth and reconciliation efforts, in a country where truth, reconciliation, diversity and inclusion, are national initiatives supported by the government," Carlisle said. "Unlike the United States, the Australian government has made it a national priority to advance truth and reconciliation between it's aboriginal communities and the descendants of European settlers.
"And furthermore, with there being growing immigration to Australia from East Asia, South East Asia, Africa, and the Middle East, there are a growing number of organizations doing work in the field of anti-racism. Therefore, I am curious to see if and how peacebuilding and truth and reconciliation initiatives in Australia may differ from those in the United States."
US citizens, current Soka students or alumni, interested in applying for the Fulbright program in the future can contact Prof. Sarah England, director of the Soka Fulbright advising program for more information.
—Nagisa Smalheiser '21