Celebrating a Vision of Peace
Christelle Inema, Class of 2021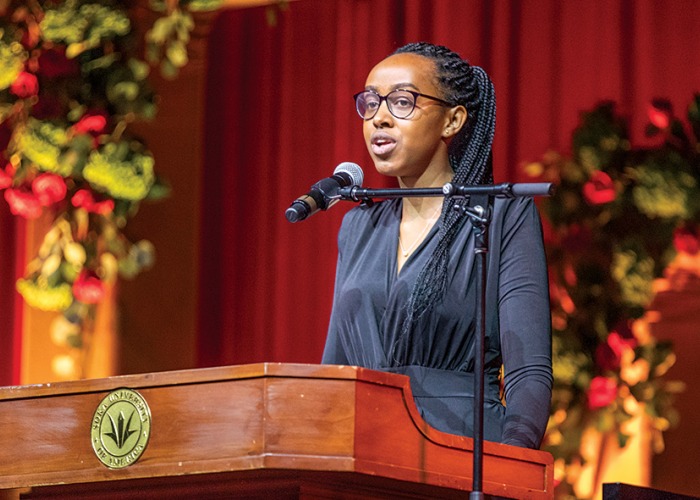 I vow to take everything I've learned at Soka and bring it to fruition in the world. I extend my deepest appreciation to all of you.
Good evening everyone, I'm Christelle Inema. I am from the small landlocked country of Rwanda in the heart of Africa. I often reminisce about my morning there.
The smells of dry heat and desert dust, coffee and hot black tea and especially the taste of semi-burnt chapatis, a flatbread sold in stands right in front of my house.
Throughout my life, my parents Gakuba and Kantengwa, who got married in 1984, encouraged my siblings and I that ultimate freedom comes with a great education. My parents didn't have that option. My dad was a self-taught mechanic and my mom, because of circumstances in our country, never made it passed the 10th grade. My dad had a saying in Kinyarwanda, "ntawutanga icyo adafite." This means you cannot give what you do not have.
I can't talk about my family without talking about the 1994 genocide against the Tutsi that tore apart my country. Over 1 million people were killed and half a million young girls and women were raped. My older brothers, who were only 5 and 6 years old, can still remember seeing people dying in the streets while nearly starving to death themselves. All of my extended family, grandparents, aunts and uncles, cousins and friends were all murdered. When I was five, my parents brought us back to see where they grew up. There was nothing left, everything burnt to the ground with only trees and ravens circling the sky. This atrocity would become known as the Rwandan genocide. All of my relatives exist only in the stories my parents tell us. I will not let their stories die.
Just a few months before I was born in 1998, my dad stepped on a land mine and lost his leg and ability to support my family. After the accident, financial responsibilities fell on my mother. Money was tight. Although she had a good job, her salary was less than $350 a month. While my dad stayed at home to care for us, my mom was working tirelessly from 6:30 a.m. to 10:00 p.m. every day. I hardly saw her. Despite all the obstacles, she was able to finish high school while paying all the bills and paying for me and my siblings' education. With my mom's example of dedication and achievement, I have no excuse but to emulate her great example.
Education was at the forefront of my goals, first receiving a scholarship in elementary school which led to one of the best scholarships for the prestigious Rwanda, Gashora Girls Academy of Science and Technology. I was then awarded a scholarship to the Washington State: Spring Street International High School. Unbeknownst to me, every step of the way was leading me here to Soka University.
I have always wanted to help build a healthy and stable East Africa. I would wrack my brain trying to understand how we develop policies that represent the needs of "all" and how do "we reduce the number of children who die of curable diseases?" Moreover, given the regional difficulty with peaceful successions to power, we also need to prepare better for refugees.
The complexity of the situation cannot be understated. I realize that given the complexities of all the issues in East Africa, it will take teams of people with great character, personal commitment, intelligence and practical skills to proceed wisely. My dream in obtaining an education in the USA has always been to return to Rwanda with the gift of knowledge. That's why Soka University's generous scholarship offers the most direct path home for me. Other schools waitlisted me because of insufficient funds, but not Soka. Because of all of you, I have the ability to develop into a person who is able to give fully. I have been able to learn beyond the walls of my classroom.
Last summer, I travelled to Uganda for a conference by the organization Global Action Against Mass Atrocity on prevention of genocide and mass atrocities. I have also been sponsored by Soka to intern with two different organizations in Rwanda. I could not have designed a more perfect college education. At Soka, I am constantly bridging my in-class experiences with the real world. Soka is the right environment for me to become the leader I intend to be, because it has allowed me to be proximate to my community.
I want to dedicate this to my loving parents and family who propelled me beyond any of their wildest dreams. To all my mentors, educators and all of you here this evening whose dedication in helping to support Soka students to realize our dreams by opening the doors to a first class education. I vow to take everything I've learned at Soka and bring it to fruition in the world. I extend my deepest appreciation to all of you.
A version of this article appeared in the Fall 2019 Edition of SUA Founders magazine.