Founder's Message - Fifth Undergraduate Commencement Ceremony
Aliso Viejo, California | May 22, 2009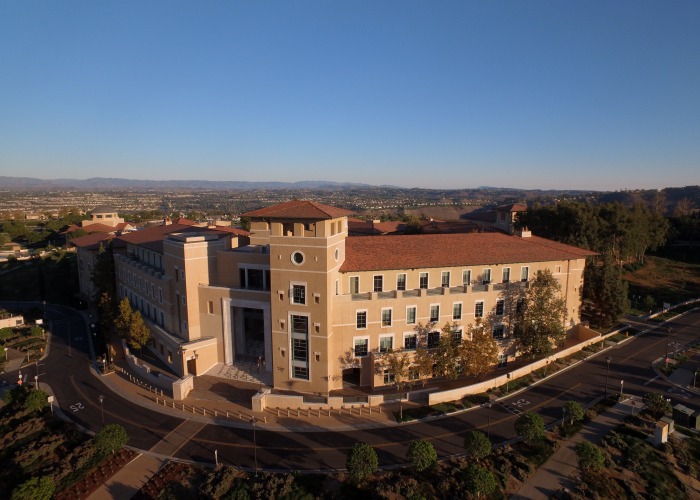 Your unwavering commitment to learning becomes the basis of your successive victories in life.
Message from SUA Founder Daisaku Ikeda
To the 2009 Commencement Ceremony, Soka University of America
To the accomplished members of Soka University of America's undergraduate class of 2009, who I treasure so dearly!
To the brilliant members of our graduate school class of 2009, who I am so proud of!
I express my heartfelt congratulations on your graduation, an occasion that shines in glory and triumph.
For you have all indeed prevailed! Having devoted your days as a youth to study and self-improvement, your victory has been impressive.
I, too, would have loved to be there at the Aliso Viejo campus, to clasp the hands of every graduate on this historic moment and crown you with the laurel of champions.
Allow me to offer my felicitations and gratitude to the graduates' families as well, for having so warmly watched over your children and offering the utmost support during this time of profound purpose.
My appreciation further extends to the members of the SUA faculty and staff; to the many guests who have gathered to express your best wishes; and to our illustrious alumni and students who are here to partake in this ceremony.
On behalf of SUA and its students, I had the privilege of receiving on the 18th of May an honorary doctor of laws from the prestigious Queen's University of Belfast, Northern Ireland. I longed to share this peerless academic honor most with those of you who are about to embark anew. No matter where my wife, Kaneko, and I may be, the students of SUA, your noble appearance, will always occupy a very special place in our hearts.
One of the many outstanding alumni of Queen's University of Belfast is Seamus Heaney, who is a master bard and winner of the Nobel Prize in Literature. Let me offer this passage of his to you:
"Getting started, keeping going, getting started again—in art and in life, it seems to me this is the essential rhythm not only of achievement but of survival, the ground of convinced action, the basis of self-esteem and the guarantee of credibility in your lives, credibility to yourselves as well as to others."
Every member of the Class of 2009, without exception, should be proud in having mastered this rhythm of success, progress, creativity, and victory at SUA, so that you may scale with unwavering poise, new peaks in your life's purpose from this day.
You have contributed immensely to the proud, prestigious legacy of your alma mater, which the foremost minds of our world have acknowledged as an institution promoting dialogue transcending cultural and civilizational differences. You have done this together with your gifted friends and fellow students who have gathered from around the world, striving to inspire one another.
As SUA approaches its tenth anniversary, leaders of wisdom of the world are watching with great anticipation the resounding progress of this institution of hope.
Acclaimed Brazilian astronomer Dr. Ronaldo Rogério de Freitas Mourão and I recently co-authored a dialogue, in which he described SUA in the following manner:
"SUA is like the dawning sun, the brilliant orb that heralds a new day. It will stand as a new beacon of light and hope for education, an institution that unites and integrates knowledge, wisdom and compassion for the betterment of humanity."
This, then, is my entreaty to the undergraduate and graduate students of the class of 2009: Having basked in the light of wisdom as powerful as the rising sun, you must strive to brighten through courage, integrity and tenacity the many wondrous lands upon which you will make your mark.
The United Nations has endorsed 2009 as the International Year of Astronomy. While Dr. Mourão and I discussed its significance in our dialogue, the International Year came about because it commemorates the 400th anniversary of the invention of the telescope by Galileo Galilei, the father of modern science. And by conducting astronomical observations with the instrument, Galileo is credited for opening the door to the cosmos for all humankind.
Galileo's pioneering way of life was marked by a succession of struggles against oppression. He grieved over the abysmal reality of human nature, describing ignorance as "the mother of ill will, envy, anger and all other wicked and ugly vices and sins." Still, Galileo never faltered in his spiritual battle against tyranny. Nor was he ever intimidated.
He would ultimately declare in triumph, "We need fear darkness and adverse storms no longer." It was a declaration of a man proudly devoted to the pursuit of truth and justice, of a life of profound inner strength exploring the principles underlying humanity, society and the universe. He believed in the power of ceaseless effort.
Galileo also stated, "Among those who have trained themselves over the years to solve the most difficult problems of their craft, there are bound to be some of comprehensive knowledge and very strong intelligence." This surely applies to every constructive human endeavor.
Reflecting on a lifetime of intellectual inquiry and battling adversity, Galileo concluded: "I enlarged a hundred and a thousand times from what the wise men of all past ages had thought."
You are young. Imagine the limitless promise the future holds for each of you, the multitude of paths that you shall discover and spearhead, or broaden anew. Granted, the real world can be cruel and unrelenting—particularly the world mired in recession and a myriad of intractable issues that awaits you today.
Still, Dr. Mourão shared this insight on confronting challenges: "In our universe, the more hostile and trying the situation may be, the greater the courage and the stronger the will we must marshal to meet it."
I am proud to have been tutored by Josei Toda, who I cherish as my life's mentor, for he prepared me to rise up to adversity as intrepidly as a lion. And I prevailed; the more daunting the test and hardship, I drew upon an even greater strength, as does the lion, to overcome every plight. I ask this of you, my life's successors, as well. The power to triumph over any difficulty, remember, lies within.
Kaneko and I are delighted and grateful that a very dear friend of ours, Ms. Clothilde V. Hewlett, JD, will be addressing this ceremony today. What has inspired this distinguished advocate of justice and humanitarian leader in making so many invaluable contributions? One source for her drive and success, I learned, has been her mother's encouragement to harbor great aspirations. Ms. Hewlett lived up to her mother's heartwarming confidence to the utmost, sparing no effort in the task of realizing, one after another, the dreams of her life.
Similarly, your life itself represents the many dreams of your respective families. You are my most precious dream as well; your aspirations are the aspirations of people the world over.
Ever fond of young people, my mentor, Mr. Toda, often told them, "Even if you've been defeated nine times out of ten, just make sure you win the last final time! Such a person is a true victor."
Your unwavering commitment to learning becomes the basis of your successive victories in life. It will serve you like an eternally radiant gem. I hope all of you will continue to hone your character with honor and dignity, stoking the flames of Soka's indomitable spirit within as you adorn your lives with victory. Do so, so that you may declare that you lived a life without regret.
In closing, allow me to dedicate a passage from the illustrious American poet laureate, Langston Hughes, to you, my most cherished members of the class of 2009:
We have tomorrow Bright before us Like a flame.
Yesterday
A night-gone thing, a sun-down name.
And dawn-today
Broad arch above the road we came. We march!
I call upon my beloved protégés: Forge like young lions forever onward!
To you, the young leaders of tomorrow and my true successors in life: Stay sanguine and best challenge after challenge! I hail you and your brilliant future, time and time again! I pray from my heart that you will be blessed with good health, happiness and victory.
Daisaku Ikeda
Founder