Founder's Message - Fourth Undergraduate Commencement Ceremony
Aliso Viejo, California | May 23, 2008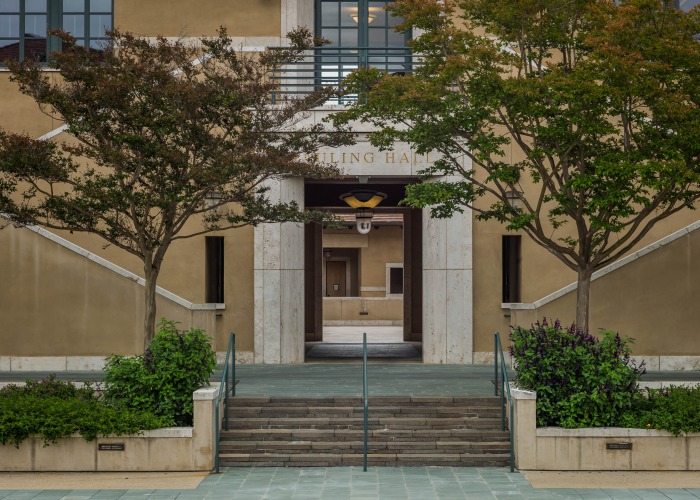 In the darkest of hours, it is true friendship that becomes the greatest source of strength.
Message from SUA Founder Daisaku Ikeda
To the Fourth Undergraduate Commencement Ceremony, Soka University of America
To the class of 2008, the young "champions of the world" of Soka University of America who shoulder the future of humanity in the 21st century: My heartfelt felicitations to you on this grand occasion of your graduation!
All of you, the members of the class of 2008 who bear such wondrous purpose in life, have succeeded in laying the flawless foundations of this university in its opening era, working together with the students of the first, second and third graduating classes. I have listened to "On the Path of Peace" time after time, knowing that our new student song is a crystallization of the extraordinary efforts that you have made.
Through President Daniel Habuki and many others, I have been made fully aware of the dedication with which you have pursued your studies and the trails you have blazed for Soka. As its founder, nothing makes me happier. My heart is filled with gratitude. I will always cherish what you have done.
Four years ago, in way of celebrating your enrollment in SUA, I presented you with a photograph of the Himalayas that I took in Nepal and offered the following words: "[W]ith prayers that you will become world-class scholars of truly towering stature."
You have met my expectations in the most impressive manner. While surging ahead upon the path of your life's purpose, you have scaled the highest peaks of world scholarship; as "scholars firm in action," you have forged bonds of profound friendship and solidarity that can never be severed. And for all that you have achieved, your friends of the Soka network in 192 countries and regions throughout the world and I offer our heartiest applause.
I also wish to extend my warmest congratulations to the families of the graduates, for you, more than anyone, must surely be rejoicing over the remarkable growth and development of the graduates and their joyous departure.
I remain forever grateful to the members of the SUA faculty and staff who stood by the class of 2008 through night and day. Your inspiring counsel and warm encouragement has meant so much to the students here.
Allow me to extend my warmest greetings and gratitude to Professor Ved P. Nanda, vice provost of the University of Denver whom I hold in the highest esteem, and to the many distinguished guests who have joined us today despite their demanding schedules.
Professor Nanda is an accomplished educator whose example we should all emulate, having nurtured so many of the world's brightest men and women. He is also a widely recognized authority on international law whose engagement in the struggle for peace and humanity has been as valorous as it has been insightful.
In a published dialogue that Professor Nanda and I co-authored, we examined a broad array of themes from the perspective of humanity's future, ranging from the manifold contributions made by the ancient civilization of India to human rights issues in the modern world. While discussing our respective visions of education and the roles and responsibilities that a university should assume, the class of 2008 entrance ceremony at SUA became a topic.
Professor Nanda has warmly watched over your growth and development ever since. In our dialogue, Professor Nanda described every student that he had reached out to during their time in college as a "friend." To this day, I remember him saying that, as an educator, nothing gives him greater joy and happiness than to see his precious "friends" actively participating in society. Captured in Professor Nanda's profound sentiments, I believe, is the very essence and life of humanistic education.
In any event, over the course of your long lives, you will come to know that the greater one's purpose in life, the greater obstacles one is bound to confront. You should also be aware, however, that the way to overcome such challenges, regardless of how trying or adverse they may be, will always be found.
I believe Professor Nanda and I have demonstrated the truth of these words, through the lifetime of challenges that we have prevailed over. What is important is to uphold throughout your lives the lofty principles that you have embraced, always stoking the flames of the "indomitable spirit" that underlies the tradition of value-creating education.
And for as long as I live, I will be watching over you, made proud by the sight of your composed and courageous lives. I will be praying for you to the very end, in the belief that you will all lead a life of triumph and distinction. That is my enduring vow and duty as the founder of this institution.
Shortly after the dedication of SUA, Sir Joseph Rotblat, the renowned Nobel peace laureate, visited our campus and delivered a commemorative address. On that occasion, he presented us with the first specially-bound reprint of the Russell-Einstein Manifesto, a historic document that called for the abolition of war and nuclear weapons.
Albert Einstein, of course, stands among the most monumental figures in scientific history who also devoted much of his life for the cause of peace. As a young man, however, life was hardly bereft of adversity and struggle.
At around the time Einstein entered the Swiss Federal Polytechnic School in Zurich, his father's business failed. It was a time of immense hardship for the young scientist, who had hoped to pursue his theoretical physics research. Einstein lived frugally while searching for full-time work, making ends meet as a private tutor. But the situation turned dire two years after he graduated from school, when he had spent the last of his savings.
Seeing Einstein's plight, a college friend helped him secure a position at the Swiss Patent Office as a technical assistant, thus enabling Einstein to carry on his scientific inquiry. Einstein was determined to reply to his friend's generosity, immersing himself in his physics research whenever he found time from work. Several years later, he proposed his famous special theory of relativity, which would lead to numerous other discoveries as well as the Nobel Prize in physics.
In the darkest of hours, it is true friendship that becomes the greatest source of strength. Simple words of encouragement from a friend can instill incalculable courage in our hearts.
Max Born, one of the 11 signatories of the Russell-Einstein Manifesto was a lifetime friend of Albert Einstein. The rise of Nazism in Germany had forced the two scientists to flee the country. While in exile, they remained in contact and encouraged one another. Their correspondence, which began in their youth, continued thereon for 40 years.
As the German philosopher Walter Benjamin—who for years following World War I warned that Europe would plunge into crisis—noted: "It has been my experience that it is not bridges and flying that help you get through the night, but only the fraternal step." No matter how far the world may slide into chaos and uncertainty, people can forge on, no matter how dire their plight, as long as they have real friends who share the same purpose and ideals in life.
I therefore ask you, the members of the Class of 2008, wherever and in whatever circumstances you may find yourself: Strive on with great pride, drawing from the cherished bonds of friendship culled at this Aliso Viejo campus as a lifetime treasure.
Share in and constantly reaffirm the ideals of Soka and the vows made in your youth. Do so while joyfully traversing "On the Path of Peace," your hearts united as one in the service of humanity and its collective future.
Professor Nanda described the world today, ridden as it is by so much suffering brought on through repeated conflict, poverty and environmental destruction, as one locked "in a mortal struggle for hope."
It is my most cherished wish that all of you who have studied at Soka, a university born from the heartfelt prayers of and many contributions from ordinary people around the world, will cast the light of hope upon a world so desperately in need of it.
SUA stands tall as a beacon of hope that brightens the future of humankind. We live in an era that yearns for the day that you assume the lead on the grand stage of the world.
My wife, Kaneko, and I will be offering our most sincere prayers for the continued good health and future success of the "young founders" of Soka, for you are my greatest pride in life and priceless treasures for all humanity.
In wishing for a life shining in glory and triumph for all of you in the Class of 2008, allow me to close my words by dedicating the following passage from the great Indian poet, Rabindranath Tagore:
Be true in your belief in yourself. A world of unsurpassed success becomes apparent when you break through failure. The path to future success lies in everyday struggle.*
My heartiest cheers for the Class of 2008!
My warmest felicitations on your graduation today! May you all stand upon the highest peaks of triumph!
Daisaku Ikeda
Founder
*From Japanese translation of original Bengali. No published English translation available.