Founder's Message - Second Graduate Commencement Ceremony
Calabasas, California | December 18, 1996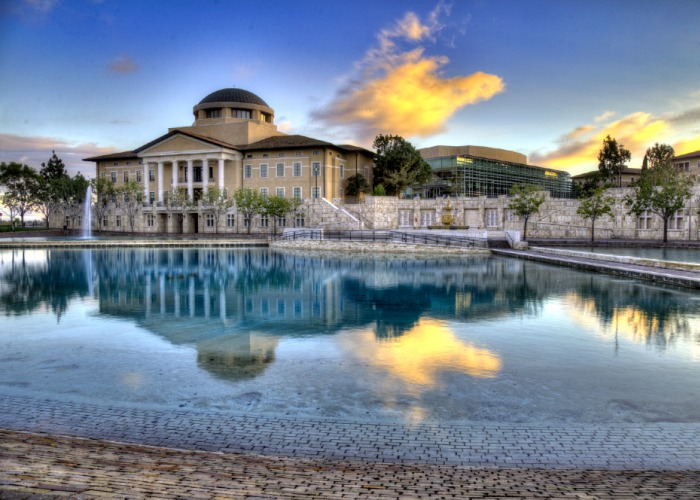 It is my heartfelt desire that each of you will continue to live out your lives as pioneers always engaged in the challenge of creating value.
Message from the Founder
On the Occasion of the Second Commencement Ceremony, Soka University of America, Graduate School
Calabasas Campus, Wednesday, December 18, 1996
I would like first of all to express my heartfelt thanks to Rabbi Hier, Dean of the Simon Wiesenthal Center, and to all of our distinguished guests who have made the time, despite the demands of your busy schedules, to join us in felicitating the youthful graduates.
To the members of the second graduating class, I offer my sincere congratulations on this glorious and brilliant departure. At the same time, I would like to share in the profound joy which I know fills the hearts of your families today. I would also like to express my profound gratitude to all of the members of the faculty for their efforts. The members of this graduating class are youthful comrades and partners in the task of constructing Soka University of America, an undertaking to which I have and will continue to devote my life.
That which is created with little effort crumbles easily. Only things that have been built though great effort, into which heart and soul have been poured, can withstand the trials of time and will continue to shine far into the future. Therefore, I will never, for all eternity, forget your precious struggles through which the foundations of a magnificent tradition have been laid. It is my heartfelt desire that each of you will continue to live out your lives as pioneers always engaged in the challenge of creating value.
The wisdom that well forth from a sense of deeply-held commitment and responsibility has the power to change history. The roots of Soka, or value-creating, Education can be traced to young Tsunesaburo Makiguchi's earliest experiences as a student-teacher. It seems that even this man, who was later to develop into a master educator, was at first panicked and confused, his days spent in a continual cold sweat. He had particular difficulty teaching composition and, despite his best efforts to follow the traditional methods of teaching this subject, his students showed virtually no improvement.
After intently pondering and struggling with this question, he came to the conclusion that if no effective teaching methods were presently available, he would take it upon himself to develop new ones. Thus he began proposing and applying creative new methods that transformed the teaching of composition. The students' response to this new approach showed a similarly dramatic transformation.
It was in the midst of his desperate seeking for a solution to a problem that the freshman teacher won the honors of his first victory as an educator. In later years, he looked back to his experience as the source and origin of his philosophy of value-creating education.
It is my hope that you will take on the challenge of creating value, advancing one step at a time, always resisting the currents of inertia, refusing to passively accept reality. In this way I hope you will cultivate, with courage and vigor, new realms of humanism in the 21st century.
In memoirs written 45 years after this experience, President Makiguchi recalls, with appreciation and gratitude, the teacher who encouraged him during his days as a student-teacher. I hope that each of you will continue to enjoy beautiful meetings of the heart and mind throughout your lives.
I would like to conclude my message with these words, the youthful motto of Ben Yehuda, who made pivotal contributions to reviving Hebrew as a spoken, living language after a lapse of some 2,000 years: "The day is short: the work to be done is so great!"
To the members of the second graduating class: may your future be filled with health, friendship and victory!
Daisaku Ikeda
Founder