Founder's Message - Sixth Graduate Commencement Ceremony
Calabasas, California | December 13, 2000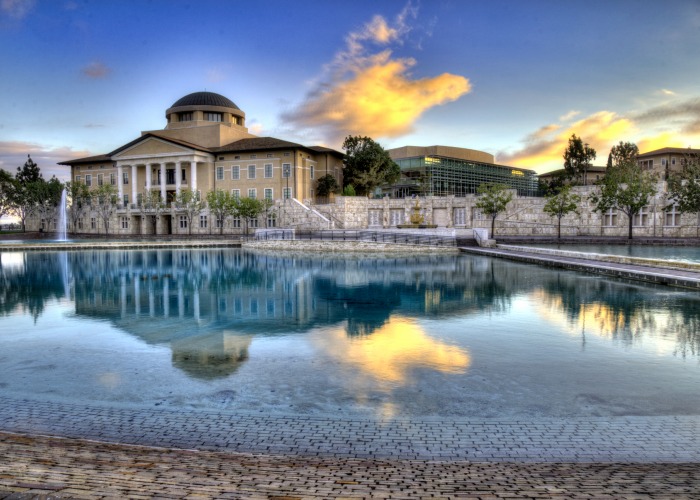 The truly wise is one who creates the highest value out of life, no matter what the circumstances or how daunting the adversity.
Message from the Founder
On the Occasion of the Sixth Commencement Ceremony, Soka University of America, Graduate School
Calabasas Campus, Wednesday, December 13, 2000
To all my beloved members of the sixth graduating class, who shall take flight into the dawn of a new century, a new era for humanity: Please accept my heartfelt felicitations on your challenge to complete this meaningful page in your youth. I congratulate you on your joyful new departure in life!
I would also like to extend my wholehearted gratitude to Dr. Hazel Henderson, whom I hold in great esteem, and the many distinguished guests who have so kindly joined us in celebrating this occasion despite the manifold demands on their time.
Allow me, as the founder of this institution, to further express my deepest appreciation to the Dean of the Graduate School Dr. Tomoko Takahashi and every member of the faculty. You have to this day warmly offered encouragement and direction to these graduates as though they were your own siblings, lavishing care and affection upon these young women and men of scholarship who willingly chose to pass through our gates of Value Creation.
And to all the families and friends of this graduating class, please accept my heartfelt congratulations as well.
Last month, I was granted the opportunity to attend a graduation ceremony in Singapore, one in which I was conferred a Doctor of Letters Honoris Causa from Australia's University of Sydney. That occasion remains vivid in my mind. Chancellor Dame Leonie Kramer greeted her students, one after another, as she presented them their diplomas on stage, her love and caring for them evident as she inquired about the lives and plans of each graduate, wishing every one a truly prosperous future. I was profoundly moved by that scene, seeing in those students the same boundless promise I see in all of you.
Although I am not present today to greet each member of the sixth graduating class in person, please know that wherever I may be, my heart is always with you. I shall always be praying for you, taking note from afar with great pride over the giant strides you make, the many successes you achieve.
Thoreau wrote: "As for the comparative demand which men make on life, it is an important difference between two, that the one is satisfied with a level success, that his marks can all be hit by point-blank shots, but the other, however low and unsuccessful his life may be, constantly elevates his aim, though at a very slight angle to the horizon. I should much rather be the last man."
The truly wise is one who creates the highest value out of life, no matter what the circumstances or how daunting the adversity. That person struggles ever onward, foothold after foothold, head held high and profound ideals firmly embraced in one's heart, as she or he scales the peaks of self-completion.
I therefore urge you to ascend this majestic mountain of life, towards the most sublime goal of bettering oneself, society, and humanity.
The focus of the 21st century will at last turn to education. It is a field that many SUA graduates are devoting themselves to, a task that is truly worthy and noble.
I have had the opportunity to engage in dialogue with Dr. Henderson, who so kindly joins us for this ceremony, in which we exchanged views on the importance of education.
We agreed that if the 21st century is to be a time when every member of humanity lives as global citizens, in harmony and in support of one another, a time when we all may manifest our boundless inner potential, then ordinary people must grow wiser and stronger. Therein lies the decisive key to the destiny of our species.
Tsunesaburo Makiguchi, the founding father of value creating education, clearly noted that the purpose of his educational theories was to educate people so that they may, as unique individuals, contribute to the flowering of culture within society. He further observed that people can only begin to create real value in their lives when they live in an environment in which nature and society are one, and all thrive together in harmony.
To the sixth graduating class, whose members shall now proudly step out into the world from this institution, the cradle of humanistic and value creating education: Hoist high the banner of these hallowed ideals! The outcome of our civilization in the 21st century rests upon your able shoulders. I ask you to stand tall on the stage that you have chosen, basked in courage and success, the history of your lives to be forever free of regret.
I wish to conclude my message with a passage from a poem that Dr. Henderson bequeathed in tribute to her mother: "This is true courage: To toil each day for others. This is true valor: To keep faith with the future, without compensation or recognition."
My young friends of Soka, may you be blessed with boundless glory! Blessed by ardent friendship! I close with these cherished thoughts for you.
Daisaku Ikeda
Founder