Hinako Irei in Valencia, Spain
Study Abroad Experience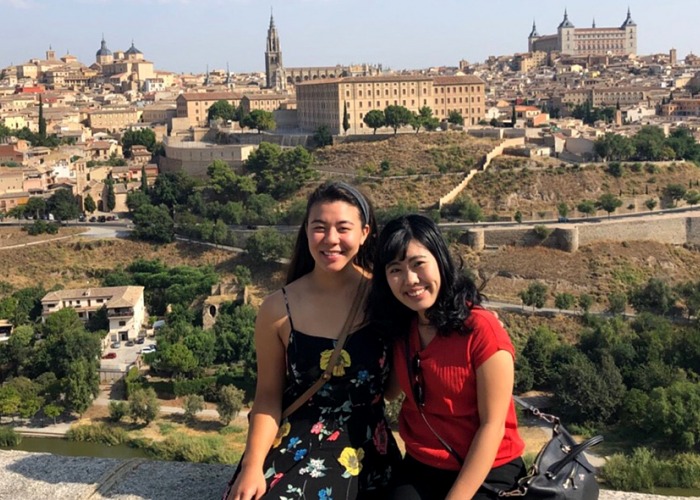 Aprovechar [to make the most of]. … By keeping this proactive attitude, I was able to make Valencia my home in ways that I had never imagined.
Aprovechar (v.)- To make the most of. This is my favorite Spanish word that I learned during my study abroad in Valencia, Spain. Aprovechar. I think this simple verb encompasses the very essence of study abroad. Don't expect everything to go perfectly fine, but rather accept every unplanned occurrence and make the most out of it. By keeping this proactive attitude, I was able to make Valencia my home in ways that I had never imagined before my program started.
My first week in Valencia was, well … a complete disaster. I had no idea what my host family was telling me so I just smiled and nodded, "Gracias." On the first day of class, I quickly learned that my Spanish was undoubtedly the worst in class since most of the students were majoring in Spanish or have been studying Spanish for about 10 years. My baby Spanish level was nowhere at the class average level. I was shocked when it took me two hours just to read and understand the course syllabus. "Oops. What have I got myself into?" I felt like the part of my brain that connects me to the outside world had been shattered by my Spanish inability.
Sad and devastated, I decided to get some to-do lists done and not worry about my Spanish skill for a moment. In Valencia, there is a bike rental service that you can use everywhere in the city. I knew about this service before study abroad so the dreamy image of riding a bike around the beautiful coastal town of Valencia was one of the things that I was looking forward to the most. My friend and I sat down together to register, but my credit card was having some trouble so my payment did not go through. My friend was able to register so I asked her if I can try riding on her registered bike and she happily agreed. However, I didn't realize how big the bicycle actually was. After all, it was made for tall Spanish people. For those of you who don't know me, I'm 4'10" (147 cm) tall so you can imagine how long my legs are. Yep, my little feet did not reach those damn pedals. Yikes. But what surprised me was that instead of being sad and devastated to see my dreamy wish of riding around Valencia collapsing in front of me, my friend and I burst out laughing. We were laughing till tears ran down our eyes, abdominal muscles aching. Then I realized, "Why don't I just do the same with my inability to speak Spanish?" The fact that I'm here in Valencia to study Spanish will not change. I'll have to deal with it for at least the next four months. Then why not laugh it off and find humor in my imperfection? I was glad that my credit card was not working because I did not have to pay the registration fee for a bike that I never would have been able to ride on. At this point, there was a greater chance for me to improve my Spanish skill than to grow tall enough to ride the bike.
From that day on, I approached my Spanish skill like a long lost friend. We were a bit awkward at the beginning but through daily conversation and consistent dedication to work together, I slowly came to terms with my Spanish skill. The highlight of my improved Spanish skill happened toward the end of my program when a Spanish lady, who is a Catholic missionary, asked me if I wanted to share a taxi ride with her. I answered without hesitation, "Yes, of course!" If this had happened in the beginning of the program, I would have been scared and said no, but I had grown and was glowing with confidence. We had a great conversation in the taxi and promised to meet the following week for lunch. This promise came true. She invited me to her house where two other missionaries lived together, and they performed a beautiful worship song along with a Spanish guitar for me. The wall of their worship room had a big wooden world map design, and they told me how they were working hard to make the world a more peaceful place. Although I am not Catholic, I was touched by their noble determination and realized how I, as a Buddhist, share a very common goal with them. They are coming to Japan this summer so I am planning to meet up with them when I go back home.
And just like that, the last day of my study abroad came. I knew it was going to happen, but it was still hard for me to say goodbye to the place that warmly embraced me during my journey of exploring my own vulnerability and strength. At the airport, I stood in line at the boarding gate with my passport in hand. After the lady checked my passport and handed it back to me, I told her, "Gracias." Right after I said that she replied, "Oh, were you studying in Spain for a while? Your Spanish sounds very good!" This took me by surprise. This basic vocabulary word that used to represent my inability to speak Spanish and acted as my last resort now became an indicator of my hard work and growth in Valencia. I never thought this would happen to me. As a fulfilled study abroad survivor, I want to tell the future study-abroaders that no matter how much you read about your study abroad location or talk to former Soka students who went there, you will never know what will happen to you. Be ready to be beautifully overwhelmed!