Study Abroad: Hideki Ohashi in Harbin, China
Class of 2020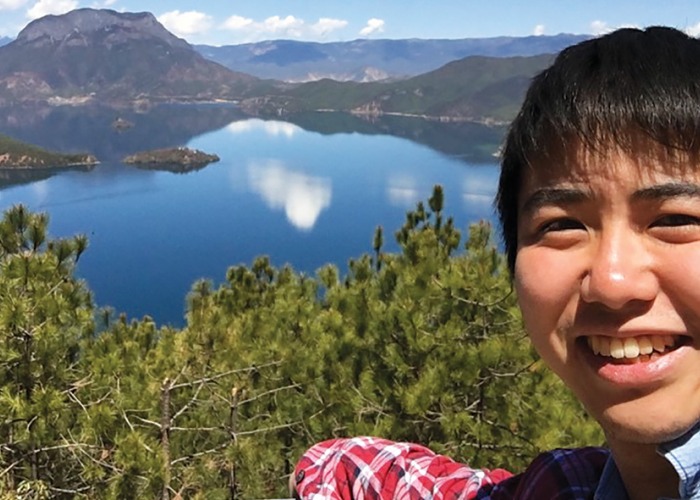 A former China Educational Tours (CET) Harbin student told me, 'Don't worry Hideki, 
you will probably cry.'
By Hideki Ohashi '20
A former China Educational Tours (CET) Harbin student told me, "Don't worry Hideki, you will probably cry."
This is because CET Harbin's study abroad program is known for its strict language pledge. If a student speaks English too many times, they will be dismissed from the program.
Before study abroad, I loved my Chinese classes and teachers at SUA, but I didn't like learning Chinese. However, I had a dream that I would help promote friendships between China and Japan, so Harbin felt like the right choice. However, I had to push myself to learn Chinese. I can say that it was the best decision for me.
During the first several weeks, all I could do was smile. I had no idea what my roommates and friends were talking about. All of my classes were one-on-one or one-on-two classes in which I was constantly conversing in Chinese. Even in my room, Chinese was the only language I could use. But I made the conscious decision that I needed to channel my frustration into value. Whenever I encountered unfamiliar words, I wrote them down in my notebook. It was embarrassing to stop a conversation, but I accumulated more and more words until my notebook was full. By the end of study abroad, I realized I had learned a lot from looking through the notebook and in the end, my frustrations motivated me to study.
Even though CET Harbin is a strict and demanding program, there was so much support for students. The small class size made it possible for us to ask questions whenever we wanted. Our very kind Residential Advisor would continually reach out to us and offer help. Every weekend, we went on excursions with our schoolmates. Having local Chinese roommates created an environment where we were able to practice real Chinese all the time. As a result of all this support, I was fortunate to make many local Chinese friends. They were especially patient and kind to me when listening to my awful Chinese. We went to K-TV (karaoke), bars, the night market, museums, movies, McDonald's, and so many other places!
​My friendships were definitely one of the best parts of study abroad, especially, my roommate who was my "real" brother! We had fun together every day. He loves Japanese anime, so we talked often about Japanese culture. I learned many anime words in Chinese. I taught him how to sing Japanese anime songs and we went to karaoke and sang Chinese songs together. On my birthday, he prepared gifts and a great cake with my Chinese nameplate. Overall, we had a great dialogue about life, capitalism, relations between China and Japan, Chinese culture, peace, and much more. He has become my lifelong friend.
With the support of teachers and friends, I significantly improved my Chinese. During my final exam research presentation, my one-on-one professor couldn't stop laughing because my Chinese was so different from when I started. She was so happy about the improvement I had made. My Chinese was the worst at the outset, but because of the constant effort, I was able to receive the "best effort" award in the end.
A version of this article appeared in the Fall 2019 Edition of SUA Founders magazine.