Founder's Message - 10th Graduate Commencement Ceremony
Calabasas, California | December 15, 2004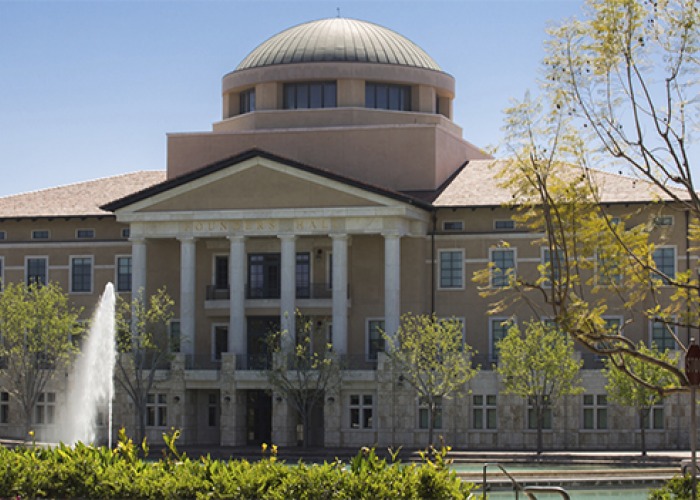 Always honor the vows you made in your youth and forever stay true to the path that you chose to set forth!
Message from the Founder
On the Occasion of the 10th Commencement Ceremony, Soka University of America, Graduate School
Calabasas Campus, Wednesday, December 15, 2004
On this commencement day, I wish to extend my heartfelt congratulations to my dear friends, the students of the 10th graduating class of Soka University of America, Calabasas. You are all priceless treasures of the 21st century!
I would like to offer my lasting gratitude to Dr. Larry Hickman, Director of the Center for Dewey Studies at Southern Illinois University, and the many equally distinguished guests who have taken time from their demanding schedules today to attend this ceremony.
Allow me also to extend my warmest appreciation to the families and friends of the graduating students, for having gathered to be with them on this most auspicious day. I further wish to thank Dr. Tomoko Takahashi, SUA Provost and Graduate School Dean; SUA President Daniel Habuki; and all the members of the SUA faculty and administration, for so warmly looking after the students in their care, which I recognize has been a full-time endeavor.
And finally, I would like to thank the students from both campuses of SUA, our young men and women whose hearts kindle with the commitment to advance their scholarship, here to celebrate this glorious day together with their departing friends.
Allow me now to share a few thoughts with you as if I am taking a stroll with all of you through the Calabasas campus, which for me is filled with fond memories. For those of you that are preparing to meet new challenges from this day, let me say this: always honor the vows you made in your youth and forever stay true to the path that you chose to set forth! Only those who prevail over every adversity and surmount every challenge to advance without cease upon this great path of conviction that you have chosen can enjoy the resplendent glory of a life crowned in victory.
As John Dewey, the great philosopher and educator whom I have held in the highest regard since the days of my youth, observed so succinctly: "Our net conclusion is that life is development, and that developing, growing, is life." Professor Dewey himself faced extraordinary trial and tribulation, yet he continued to persevere without end, forging ever onward. He traveled the world until the twilight years of his life, his dedication to the advancement of education both total and well known.
Even as World War II raged on, the professor, who was then 80 years old, made an impassioned plea against war in a paper he published, Creative Democracy: The Task Before Us. An open declaration for peace, it called on everyone who embraced the principles of democracy to stand together. Professor Dewey also took to the streets as a staunch advocate of the women's suffrage movement. He was a champion of justice and humanity, coming to the defense of friends in distress whose civil rights had been abused.
As we can see with the following observation, Professor Dewey's insight was as keen as it was profound: "Every expansive era in the history of mankind has coincided with the operation of factors which have tended to eliminate distance between peoples and classes previously hemmed off from one another."
Having ventured into the 21st century, the world is buffeted by storms of division and hatred, forced to set sail without a clear sense of direction. For humanity to enter a new era of expansion, it is now more crucial than ever for people to engage with dogged tenacity in dialogue, a process that bonds person to person, one heart to another, transcending all that divides us.
You are the very men and women that are destined to create this new era, champions of human spirituality invested with profound purpose. Of this, I am supremely confident. I ask you, as heirs to the spirit of Soka, to willfully confront the iniquities that rend people from one another, and lead a life of courage and commitment in the service of peace and happiness for all humankind, compelled out of your belief in the sanctity of life.
Tsunesaburo Makiguchi, the founder of Soka Education, declared: "To be people of great good, we must be strong. The unshakable strength to take a determined stand against evil will brighten both the lives of individuals and society as a whole." If you lack strength, then justice can never be served; for without strength, you cannot protect people from evil.
In any event, a university's worth and weight is determined by its alumni. It is my most cherished hope that you will go forth, bearing in your heart the pride of having graduated from SUA, to develop and succeed as global citizens, creating a legacy of triumph that only you can forge for yourselves. And in so doing, I ask that you boldly open even grander avenues of achievement upon which an endless procession of SUA graduates, the men and women who are to follow in your footsteps, may advance. What will determine SUA's success for the ages, then, is the success you achieve for yourselves.
In closing, allow me to dedicate to you the words of Mrs. Rosa Parks, the mother of the US civil rights movement who I am privileged to know as a friend and kind Soka supporter: "I have learned that in order to bring about change, you must not be afraid to take the first step. We will fail when we fail to try. Each and every one of us can make a difference."
I will always remain a faithful guardian, watching over each of you, who I treasure with my life, as you take step after step in prevailing over every challenge. I will continue to offer my devout prayers for your good health and security, and for your families to be blessed with happiness for all time.
I eagerly await the privilege of meeting with you in the near future.
Allow me then to part with these words: What one requires for victory and happiness in life is effort, effort and more effort!
Please take the utmost care of yourselves.
I applaud the 10th graduating class, who will grow into great leaders. You are our very hope.
Daisaku Ikeda
Founder