Founder's Message - 12th Undergraduate Commencement Ceremony
Aliso Viejo, California | May 27, 2016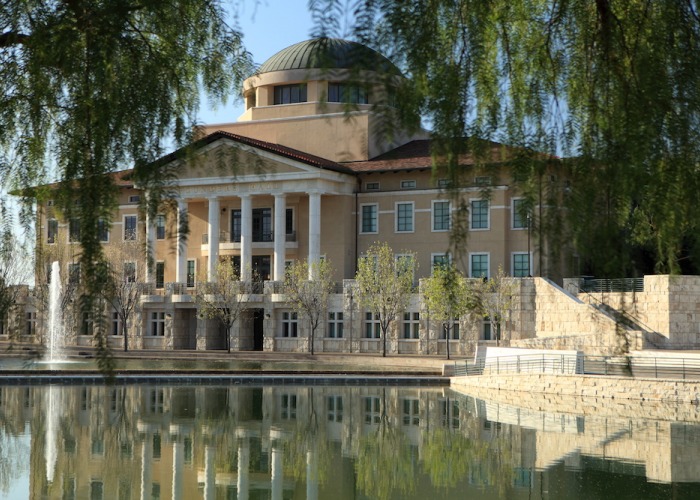 Like an eagle ruling the skies, dare to take flight; and like a lion ruling the earth, hurtle onward without fear or hesitation.
Message from SUA Founder Daisaku Ikeda
To the Class of 2016 Commencement Ceremony, Soka University of America
Fifteen years have passed since Soka University of America was dedicated. I wish to express my heartfelt congratulations to the undergraduate class of 2016, the proud movers and builders who represent this school's second act of pioneering advancement, and to the graduate class of 2016, the pioneer first class of the Master's Program in Educational Leadership and Societal Change. Thank you for adding a superlative new page to the annals of SUA on this milestone anniversary! Congratulations once again!
If circumstances would permit, I would be there to celebrate with you, hands firmly clasped and shoulders warmly embraced in way of expressing my appreciation and admiration for all that you have achieved.
Allow me also to offer my hearty felicitations to your families and friends, who shared in every ordeal and challenge you had to prevail over to reach this day.
I would also like to extend my warmest greetings and gratitude to all our attending guests and benefactors who have gathered here today for your abiding support and supervision over the years. Thank you very much indeed.
I remain equally indebted to the SUA faculty and staff for the care and counsel you have so tirelessly rendered to our students.
Today, we are privileged to have as our keynote speaker Dr. Oscar Arias Sánchez, whom I hold in the highest esteem. Nothing gives me greater joy and honor than to welcome Dr. Arias, one of the most distinguished champions of peace in our time, to SUA, an institution which was founded from the very outset to serve in advancing peace for all.
To celebrate this glorious day, allow me to share as a parting gift a few of my most unforgettable lessons that I learned from my discussions with Dr. Arias and present three points that I hope you will reflect on in the coming years.
The first is this: In tackling your dreams, unwavering optimism is essential.
Dr. Arias was 45 years old when he was inaugurated President of the Republic of Costa Rica in 1986. At the time, the world remained in the throes of the Cold War and neighboring Nicaragua and other Central American countries were mired in a bloody and protracted conflict. In a bid to resolve the region-wide crisis, then-President Arias put forth a new peace initiative and began engaging governments in Central America as well as in the United States and Europe in persistent dialogue. One by one, he cleared the obstacles that stood in the way of success, ultimately securing a peace accord that most believed forever elusive. It was indeed a signal undertaking that will endure throughout human history.
After years of longing for peace, citizens in the embattled countries rejoiced over the accord. Dr. Arias had this to say of the towering task he faced at the time: "For me to follow my dream in earnest was worth it. For the vast majority of people, what I aspired to achieve was nothing more than an impossible dream, a Don Quixote-like utopia and mere fantasy. But if you continue to work hard at realizing your dream, there will come a time when it comes true" [tentative translation].
All of you are also poised to tackle new challenges as you set forth toward the loftiest of dreams amidst a real world encumbered by an imposing range of difficulties that continue to elude convenient solutions. There will surely be times that you may falter before the sheer height of reality's precipices that loom before you. And yet, it is that moment in which you face the most trying ordeal that I urge you to recall the halcyon days you spent at SUA, where you and your classmates—those with whom you share profound karmic bonds—persisted in encouraging one another and devoted yourselves to scholarship. In doing so, rekindle the flames of sublime purpose in your hearts, enabling it to burn even brighter, then forge onward, ever onward, until you succeed.
Helen Keller, who not only overcame life's most arduous trials but was also an acclaimed social activist, once observed: "Optimism is the faith that leads to achievement; nothing can be done without hope."
Dawn is nearest when the night is darkest. My hope is that the thicker the pall of adversity the more your optimism will brighten, cresting mightily like the uplifting sun from within your lives to cast its light of hope far and wide.
The second point is my call to you to work in solidarity with your fellow citizens to open the portals of wisdom for all, and to engage in this with energy and enthusiasm.
Those who stand with the people are strong, as if rooted to the great earth. Those who remain together with and among common citizens, who strive in their service, will never find their lives at an impasse.
Among the most stirring events that helped cement Dr. Arias's resolve while negotiating an end to hostilities in Central America was the impassioned teary plea for peace made by a mother whose life was as ordinary as yours or mine.
In 1996, Dr. Arias and I took part in the opening ceremony of "Nuclear Arms: Threat to Humanity," an exhibition calling for the abolition of these weapons that was held in the Costa Rican capital of San José. The exhibition's venue was separated from an adjacent Children's Museum by a low partition, which in no way impeded the unabashed cries of joy of boys and girls at play.
When it was my time to speak, I could not help but point to their zest and revelry. That, I explained, is the very sight and sound of peace, the very force that can deter humanity from ever employing weapons of mass destruction again.
I remember the smiles of agreement among the dignitaries attending the ceremony that day, including Dr. Arias.
To establish an era of hope and serenity in which the bright laughter of a mother and her child resounds, wherever in the world they may be—the prime source of our struggle to advance peace may be found in that undying aspiration alone.
SUA has earned the heartfelt encouragement and expectations from people around the world who yearn deeply for peace. I thus urge you to take pride in this spiritual bond you share with them, using it to fire your enduring spirit to open ever wider the portals of wisdom I spoke of earlier, its riches never to be exhausted.
Thirdly, I call on each of you to engage people around the world in dialogue and expand our circle of friendship and, in so doing, create genuine value for the peace and wellbeing of all humanity.
Global society today is being rent by a concurrence of grave challenges, from the growing income disparity between rich and poor to the clash of opposing interests and different values. How do we transform this world of division and conflict to one of harmony and mutual understanding, and build a society based on coexistence and respect for humanity? The key, I believe, is to foster a culture of dialogue as exemplified by Costa Rica, a true republic of peace, and her citizens.
A high school student in Japan once asked Dr. Arias what was the most important factor to bear in mind when engaging in dialogue. His reply was unequivocal: It is the will to transcend one another's differences. One's resolve must be unwavering to discover the way forward without resorting to the use of violence.
SUA has been ranked first overall in the United States in terms of having the highest ratio of international students enrolled; it is, in many ways, a microcosm of the world. As such, you have experienced firsthand what it means to openly participate in a culture of dialogue. This is your greatest strength. Wherever you are, I hope that you will employ the power of dialogue with boundless verve and skill to expand circles upon circles of friendship as global citizens.
The British think tank New Economics Foundation recently reported that Costa Rica topped its Happy Planet Index, a global measure of sustainable wellbeing. According to this evaluation, Costa Ricans lead the most fulfilled lives when factoring in their success in coexisting harmoniously with their verdant natural environment.
SUA, which opened this campus in 2001, is an institution that aims to create value for the sake of peace and happiness of humankind in the 21st century. I firmly believe that the actions and efforts of our students who are graduating from our school today, through the struggles you wage with valor and honor, will lead directly to the improvement of any index measuring the peace and happiness of global society.
There is an Eastern proverb that states, "Spend ten years to hone one's swordcraft." Likewise, I believe the next ten years represents your first benchmark, one best spent by living each day to the utmost while forging a network of trust with those around you as you steadily build up your competence and hone your character even further.
The time has come for you to embark anew. The world is the stage upon which you will master the roles you were destined to fulfill. The opportunities the future promises are limitless.
Like an eagle ruling the skies, dare to take flight; and like a lion ruling the earth, hurtle onward without fear or hesitation. Never stop in doing so.
I will be following your progress closely, praying day after day that each of you, without fail, will enjoy the best of health and lasting peace in your time. May you all lead glorious lives free of regret that are filled with songs of triumph.
Three cheers to the Class of 2016 for forging on without retreat! Three cheers to the Class of 2016 for prevailing over every challenge!
My warmest congratulations to you all once again!
Daisaku Ikeda
Founder