Founders Hall Art Gallery
SUA's beautiful two-story, 8,000-square foot art gallery is located in Founders Hall. Hours are Monday through Friday from 9:00 a.m. until 5:00 p.m. Admission is free.
Open Through May 4, 2020
Farr Ligvani
Evolution: Noumenon to Phenomenon is a contemporary exploration of evolution through a study of obstacles and their transitional progression from two-dimensional codes to three-dimensional form.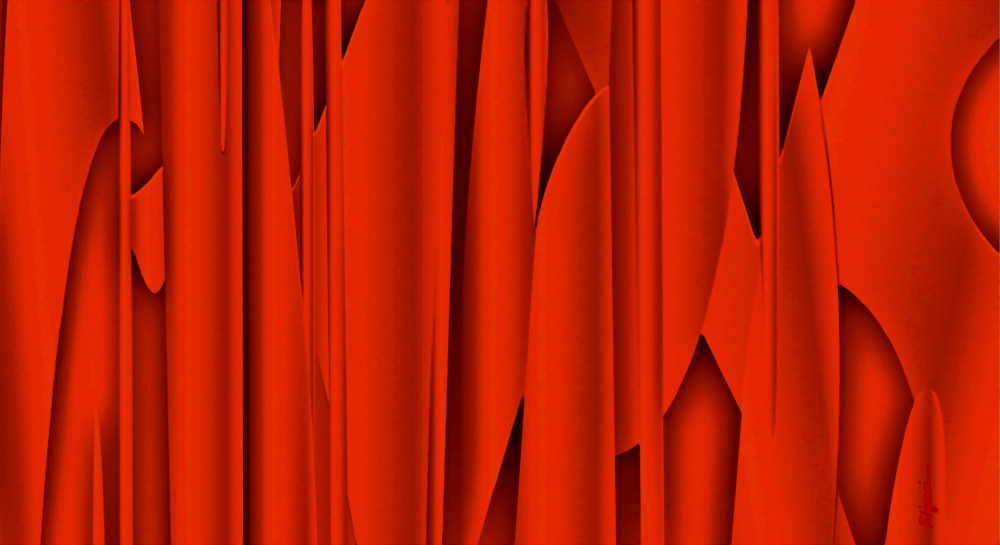 Coming Summer 2020
Lauren Mendelsohn Bass
Sugar Coated takes us on a journey through the world of superficial reality—where artificially alluring and nostalgically innocent context masks darker thoughts, ideas and actions.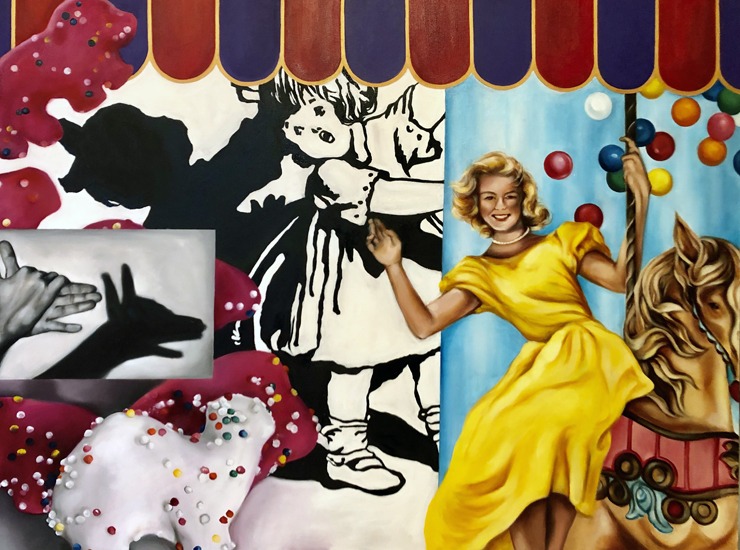 Upcoming Exhibitions
Evolution by Farr Ligvani
Thursday, January 17 through May 4, 2020
Opening Reception: Thursday, January 23; 5:30 p.m. – 9:00 p.m.
ClassWorks 2020, Artworks and Photography by Soka Students
May 15 through September 8, 2020; first floor
Opening Reception: Thursday, May 14, 2020; 5:30 p.m.–7:30 p.m.
Sugar Coated, Paintings by Lauren Mendelsohn Bass
May 15 – September 8, 2020; second floor
Opening Reception: Thursday, May 14, 2020; 5:30 p.m.–7:30 p.m.
Arie Galles: A Retrospective Exhibition
Opening Reception: Thursday, September 17, 2020; 5:30 p.m.–7:30 p.m.
A Celebration by Ed Moses
Opening Reception: Thursday, January 14 or 21, 2021; 5:30 p.m.–7:30 p.m.
ClassWorks 2021: Soka Student Art and Photography Exhibition
first floor
Opening Reception: Thursday, May 20, 2021; 5:30 p.m.–7:30 p.m.
Celebrate the Land Soka University is Built On: Soka's 20th Anniversary
Nellie Gail Moulton Ranch Exhibition (Moulton Foundation)
Opening Reception: Thursday, September 16, 2021; 5:30 p.m.–7:30 p.m.
Guidelines for Submitting Exhibition Proposals
The Soka University Art Gallery Committee reviews all exhibition proposals on the basis of theme, quality, size (number of works vs. space available and suitability to large wall spaces), media, uniqueness to SUA (have we done a similar exhibition in the recent past?) and proposed budget. Artists should be aware that the Gallery is also used for receptions and special events throughout the year that may include food in the Gallery.
Does the proposed exhibition relate to SUA's mission to foster a steady stream of global citizens committed to living a contributive life? Does the art relate to SUA's core values of peace, human rights, and the sanctity of life? Does it relate to topics SUA students are studying or will be studying? Does it offer a unique insight into another country or culture? 
Exhibitions are usually booked two to three years in advance. 
Proposals should include:
web links or digital or print images of works for committee review 
background of artist
description including size and number of works
theme and title
proposed dates of exhibition
detailed budget
These are some budget details you should consider:
Will the artist hang works? Do hangers need to be hired?
What is the shipping or transportation cost to the gallery? 
The gallery does not usually pay for the cost of making prints, canvas/paint/materials for creating art, or mounting/framing.
If shipping is involved, the gallery will pay the cost of shipping and shipping insurance to the gallery for an approved exhibition, but it will be your responsibility to provide shipping and insurance from the gallery to the next destination.
Art should arrive in a ready-to-hang condition. The gallery only accepts art that can be hung on walls. Art submitted for consideration MUST be available at the time of exhibition.
Founders Hall Art Gallery exhibitions usually run three to four months. Artists should be available to oversee their exhibit installation and attend the opening reception, which will be hosted by SUA on a Thursday evening. If transportation is needed, it should be included in the budget. The gallery will also pay for one night's hotel stay and will provide meal tickets for artists coming from out of town for an opening reception.
Proposals should be emailed or mailed to:
Michelle Martin, Gallery Liaison
Soka University Art Gallery Committee
1 University Drive, Aliso Viejo, CA 92656
mmartin@soka.edu
Past Exhibitions
Summer 2019
ClassWorks 2019: Soka Student Art Exhibition | May 31—August 31, 2019
Spring 2019
Chaos Theory by Sheryl Daane-Chesnut & Carol Pquetj | January 17—May 5, 2019
Earth, Air, Fire & Water | May 17–August 31, 2019
Fall 2018
California Fibers: A Matter of Time | September 17, 2018–January 7, 2019
Summer 2018
ClassWorks 2018: Soka Student Art Exhibition | May 21—August 31, 2018
Breaking Rules of the Past, A Retrospective by Mutlu Ertac | May 21–August 31, 2018
Spring 2018
Votive: Art of Frank Galuszka | January 25–May 7, 2018
100 Women and More by Red (Tracey Sagalow) | January 25–May 7, 2018
Fall 2017
Sleeping in the Forest: dreamscapes of nature and society by Sebastián Chillemi & Pablo Salvadó | September 14–January 7, 2018
Summer 2017
ClassWorks 2017: Student Art Exhibition | May 21–August 31, 2017
Spring 2017
Distant Visions: Digital images by Jay Gale | February 15–May 12, 2017 
Self-Motivated: Selected Paintings and Drawings by Soka Art Students | February 15–May 12, 2017