Delali Amoah in Quito, Ecuador
Study Abroad Experience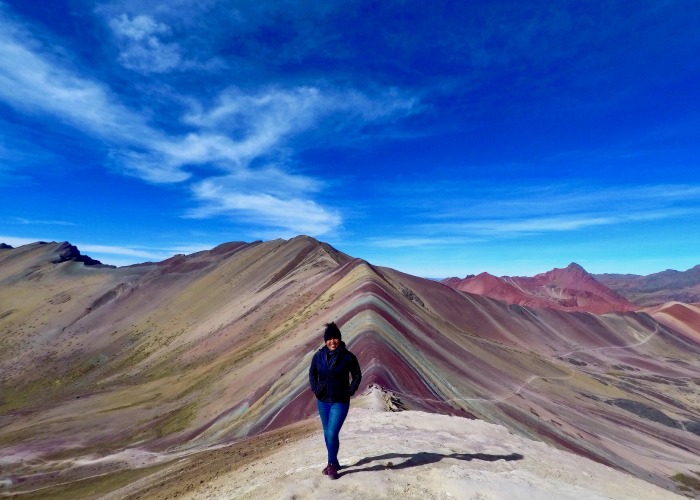 In order to 'ama la vida' [love life], I embraced all of the hardships that came my way and the memories I made are filled with inexplicable happiness.
As soon as I stepped off the plane in Quito, I was bombarded with the slogan ama la vida (love life). It was everywhere! It seemed like every other wall, shop, bus stop, and trinket had this slogan on it. But as I went through my study abroad, I ended up really taking this to heart and living this slogan through every odd, exciting, confusing, and spontaneous adventure.
I wasn't two weeks into my program before I started falling in love with not only Quito but all of Ecuador. With the friends I made while in Ecuador, I continually had something to do. We were constantly planning the next adventure or where to find the best almuerzo (lunch). I remember just a couple of weeks after we all landed in Quito, we decided it would be a great idea to go on a 10-km hike in Quilotoa. The hike was absolutely beautiful! It was around an active volcano whose top had become a lake! It was truly amazing, and we were all able to complete the hike with the constant encouragement that we gave one another. Through all the struggles: long hours of hiking, piecing together our combined Spanish, and laughing at the latest mishap on the way to school, we were able to build such incredible friendships that I would not trade for the world.
On top of making such great friends, I would have to say that I had the best host family! Calling them my host family feels so strange since they truly became mi familia ecuatoriana (my Ecuadorian family). If you asked me in the beginning of my program, I could not have predicted how close I would become with them. They truly were my dear, unexpected family. They were constantly there for me whenever I had questions. They put so much effort into making me feel included in their family. Almost every other day, I would get an Ecuadorian culture lesson or a suggestion on what kind of food I should try. Their suggestions led me to try cuy (guinea pig), locro de papas (potato soup), and all the different street food I encountered while walking around. After five months of living with my host family, leaving them was the hardest challenge I encountered during my entire study abroad experience. I truly feel like I have expanded my family and also solidified my second home in Ecuador.
My study abroad was truly beyond my expectations in all the best ways possible! I learned so much about myself. I have learned to go after my dreams. In order to ama la vida, I embraced all of the hardships that came my way and the memories I made are filled with inexplicable happiness. There is not a thing I would change—if anything, I would do it all over again!