Founder's Message - Dedication of Linus and Ava Helen Pauling Hall
May 2, 2001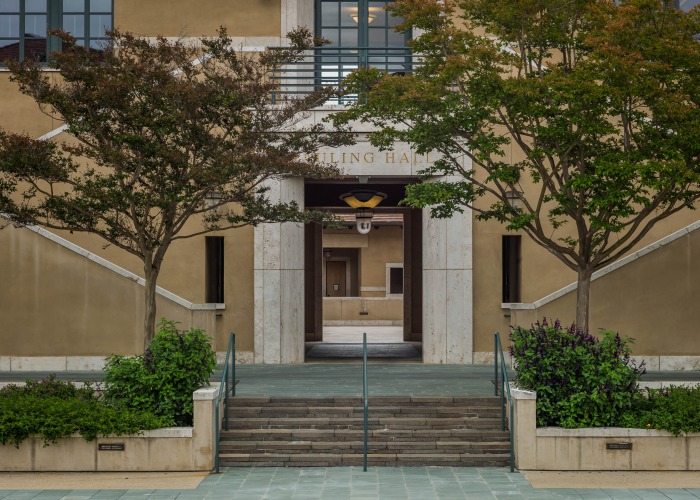 Dr. Pauling's commitment to peace and humanitarianism never faltered … pledging allegiance not to any nation but to humanity alone.
On the Opening of the Linus and Ava Helen Pauling Hall and the Linus Pauling and the Twentieth Century Exhibition
A Message of Felicitations
Esteemed members of the Pauling Family, led by Dr. Linus Pauling, Jr., and Mrs. Linus Pauling, Jr.; distinguished members of Oregon State University, California Institute of Technology and the Linus Pauling Exhibition Advisory Committee; Orange County Fifth District Supervisor Thomas W. Wilson and representatives of the many organizations whose support has been so valuable; members of the SGI-USA who have volunteered their service in support of today's exhibition; ladies and gentlemen:
Please accept my warmest welcome to all of you for joining us today at Soka University of America, whose gates open here in Aliso Viejo blessed by spring's verdure and a new century's dazzling sun.
I wish to express my heartfelt appreciation and felicitations to each of you on this most auspicious and joyful occasion, the opening of the Linus and Ava Helen Pauling Hall as well as the exhibition, Linus Pauling and the 20th Century.
They are the first in a four-day series of events commemorating the dedication of Soka University of America to be held tomorrow. And, as one who first proposed to the late Dr. Pauling an exhibit on his life some years ago, nothing fills me with greater joy than to know that this building and exhibition shall open here, at a university I have founded.
Dr. Linus Pauling—when I reminisce upon this man whose greatness time shall never erode, he towers like Everest, sovereign, serene and sublime, over a panorama of lesser peaks and dark valleys that marred the tumultuous 20th century. Peerless in wisdom and character, the warm, noble-hearted Dr. Pauling has stood among the greatest of all great men in my mind.
As our friendship grew over the years, Dr. Pauling graciously extended his support for the ideals of "Soka Education"—an educational process to foster individuals into global citizens working for the happiness of humanity—and harbored high hopes for Soka University of America and its future.
I first met Dr. Pauling in February 1987, at SUA's newly opened Calabasas campus in California, sister school to Aliso Viejo. Our meeting had taken place roughly a century after Tsunesaburo Makiguchi, father of Soka Education, embarked upon a life as an educator in Japan's northernmost island of Hokkaido. Makiguchi had long aspired to establish a university to put his theory into practice, a dream which Josei Toda, my own mentor in life, would carry forward. I too embraced this vision and, as had the two educators who preceded me, undertook the task to make it a reality.
Given its global calling, this dream would cross the Pacific, to the United States, where its first and tenuous roots were planted at Calabasas. And it was there that Dr. Pauling, one of the world's greatest intellects, had so kindly come to celebrate a new chapter in the annals of Soka Education.
I shall never forget that day, the debt of gratitude I owe to Dr. Pauling will remain with me for as long as I live.
And here we are today. I cannot help but feel that Dr. Pauling, with whom I have shared a profoundly mystic bond, has given SUA his blessings once again. I believe he would indeed be pleased to see that its story as a comprehensive liberal arts college is now about to unfold, at the dawn of the 21st century.
We are honored that Dr. Pauling, Jr., and the Pauling family have graciously consented in naming this academic hall after the late scientist and his beloved wife. An endless procession of young people, their hearts impassioned by a longing to learn, will come from around the world to pass through its doors. That is why the names of Linus and Ava Helen Pauling crown this hall—to forever instruct every SUA student, from this year onward, that they must learn from the best.
Do I say this because Dr. Pauling is the only person in history to win two unshared Nobel Prizes? Absolutely not. The awards and prominence the Paulings achieved are significant, but the lesson most relevant to us is the way they chose to live. No accolade or accusation ever affected Linus and Ava Helen Pauling, their true greatness lying in the quiet dignity and unshakable integrity they shared. Herein lies the lesson we must learn. Dr. Pauling's commitment to peace and humanitarianism never faltered, and he would advance onward with lifelong partner Ava Helen in times of trial as well as triumph, pledging allegiance not to any nation but to humanity alone.
Even in his 90s, Dr. Pauling stood at the forefront of modern medicine, looking less like an aged scholar than eager student, with rosy cheeks and radiant eyes—and a mind thirsting for discovery. During one of our meetings, which regrettably proved to be our last, he related his latest research on the efficacy of vitamins as a treatment for heart disease. I was stunned to learn that he had already seen three patients and had them treated before he came to see me that day.
His was a life of challenge, of deed and conviction. This is why Dr. Pauling stands as the best among the best.
In the book The System of Value-creating Pedagogy in which Tsunesaburo Makiguchi first advances his educational model, he describes the purpose of education as follows: "Life, ultimately, is a quest for value. Happiness is an ideal state of life in which value has been found and given expression. Thus, it is the duty of education, whose goal is to lead everyone to happiness, to empower people with a robust capacity to enjoy and create value."
To foster individuals that create genuine value under the severest circumstances for the sake of humanity—this was the uncompromising conviction of Makiguchi, who died in prison resisting Japanese militarism. His life shows an extended similarity to Dr. Pauling's, for the latter was also a constant creator of value through his peerless wisdom, resulting in remarkable contributions made in the fields of science, medicine, peace and humanitarianism.
If Dr. Pauling's life could be shared with as many people as possible, that itself would provide an ideal education on peace and humanism—that was what led me to propose the idea of holding this exhibit to Dr. Pauling in 1993.
Due to the warm support of so many people and organizations, the Pauling Exhibition, which first opened in San Francisco in 1998, has been a resounding success in the five cities that it toured to date. And now, to my sheer joy, it graces this new campus with its extraordinary message of hope.
I hope everyone in Orange County, especially its youth, may have the opportunity to view this exhibit and draw inspiration from it
I would like to close these words of gratitude with my very best wishes to each of you: may you enjoy the best of health and happiness. I also wish for the further success of all the concerned organizations whose support has been invaluable in making this splendid day a reality.
Daisaku Ikeda
Founder