Founder's Message - Third Undergraduate Commencement Ceremony
Aliso Viejo, California | May 27, 2007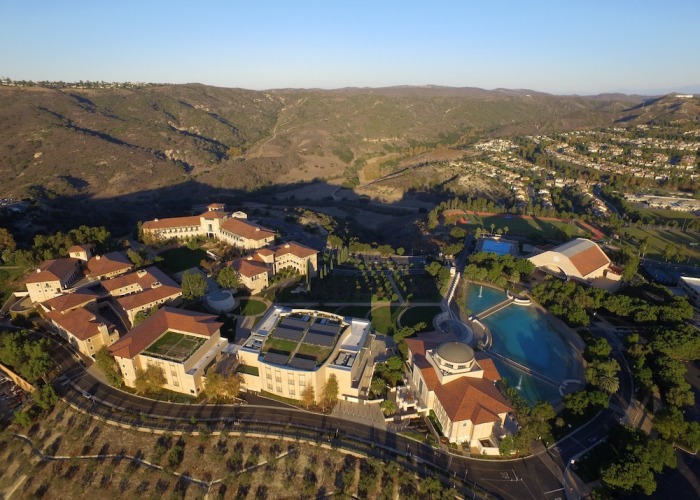 It has been through your efforts that the foundations of this institution have been completed, ensuring that it will stand for an eternity.
Message from the Founder
To the Third Undergraduate Commencement Ceremony, Soka University of America
To the third undergraduate class of Soka University of America, I offer my warmest felicitations on your graduation! You are all so dear and close to my heart.
You have accomplished so much over the past four years, having devoted yourselves to study. You tackled every challenge and matured as individuals! You have served SUA with great pride, striving forth with the spirit that you are its young founders, breaking new ground for the sake of not only those in the classes who are to follow but for the collective future of humankind, to add to the esteemed history and traditions of this institution.
Please know that as I am thinking of you at this ceremony of triumph and glory, I salute each of you. I long to take your hands firmly into mine, a clasp made in peerless joy and pride.
When two souls are profoundly united, that union can transcend any limitation. Nothing can stand in its way. That is how it is with us: No matter how far we may be apart physically, we are spiritually indivisible, for you are my very life.
Allow me also to extend my heartfelt gratitude to our many guests who have attended this ceremony despite your demanding schedules. You have been so generous with your support, both seen and unseen, to SUA. I thank you for the constant care and encouragement that you have provided our students over the years.
To the families and friends of the class of 2007, I share with you the great joy of this occasion. I remain profoundly appreciative of the faculty, administration and staff of SUA as well, the hard- working men and women who place the needs of our students above their own. My gratitude extends further to the alumni and undergraduates who also join us on this day.
To our great joy, we have with us today Ms. Carolyn McAskie, assistant secretary-general for peacebuilding support of the United Nations, as our commencement speaker.
Ms. McAskie is an authority on peacebuilding and a leading advocate of peace in the world. She has served with distinction in many of the UN's most difficult assignments, including in Burundi, where she helped oversee the African nation's postwar recovery and reconstruction as the special representative of the UN secretary-general and head of the UN Peacebuilding Support Office. A graduate of Canada's prestigious University of British Columbia, Ms. McAskie was conferred with an honorary degree from her alma mater in 2005.
I had the privilege of visiting the beautiful University of British Columbia campus in the fall of 1993. I fondly recall being welcomed by President David W. Strangway, who led me to a Japanese garden on campus dedicated to Dr. Inazo Nitobe, the Japanese thinker and educator who served as the under-secretary general of the League of Nations nearly 90 years ago. Dr. Nitobe passed away in 1933 in Victoria, a suburb of Vancouver.
Out of his desire to serve as a "bridge over the Pacific," Dr. Nitobe traveled to the United States to study at the age of 22 — similar in age as many of you graduating today.
As with you, Dr. Nitobe strove to polish his language skills and spent his youth enrapt in a lofty passion for learning. He has been admired as a genuine citizen of the world, having contributed greatly to the promotion of dialogue and mutual understanding between countries.
Still, he would spend the last years of his life locked in a fierce struggle against Japanese militarism, for Japan was plunging inexorably towards war, having withdrawn from the League of Nations and engaged in a massive buildup of military forces. It was amid such distressing circumstances that he set out to Canada to attend an international conference that sought to settle disputes among the nations in the Pacific.
Just before Dr. Nitobe left Japan for the conference, a trip that would prove to be his last, he traveled to his hometown in Iwate Prefecture, perhaps because he believed illness would prevent him from ever returning. There, he attended a gathering of youth and penned these words on a card:
"To live is to exert oneself for the people's sake. Inaction is death. When one rises above oneself, that is the beginning of life. Life should be led in the service of others. To live and not act is synonymous with death. Only when you devote your life to a worthy goal can you declare that you have truly lived." That was his message.
To set the passions of one's life ablaze and willingly set forth to open new pathways for the happiness of all, for the future of young people, for peace in this world — battling, engaging others in dialogue and crying out for justice all the way. This commitment with which Dr. Nitobe lived, resonates so deeply within me. For I have done the same. And for this reason, I have no regrets.
I therefore ask you, the class of 2007 — each of you whom I cherish and admire, to set out upon your chosen paths, exercising to the utmost the limitless strength and wisdom that dwells in your lives, as you resolutely tackle every challenge in your pursuit of the highest ideals.
Among his contemporaries that Dr. Nitobe most trusted and admired was Tsunesaburo Makiguchi, the founder of value-creating education.
In the original foreword of Mr. Makiguchi's book, The System of Value-Creating Pedagogy, Dr. Nitobe — who was also an ardent advocate of reforms to Japan's stifling education system at the time — lauded the treatise as a long-awaited "great work," convinced that it would inspire people to break through the plethora of dilemmas that mar modern society.
The spirit of value-creating education has been brought to blossom here, at SUA, to reach out to the entire world. I strongly believe that the hopes Dr. Nitobe would have had for SUA and for all of you who are preparing to serve as global citizens, would have been every bit as lofty as that which he held for Mr. Makiguchi's vision.
The key for peace is continuation of dialogue. Those are the words of Ms. McAskie, which underscore the crux of the issue. It is difficult to fathom the power of heartfelt dialogue, words issued from one's innermost being.
According to Plato, Socrates observed that that which was communicated from the soul "are not barren but contain a seed from which [other speeches] grow up in other abodes, so that this process is rendered eternal and immortal. Such speeches make the person who possesses them as happy as a human being can be."
I wholeheartedly concur. The power of words is the power that leads people to happiness. The power of the voice is the power that leads to victory. The power of dialogue is the power that leads to peace.
"Ask what is best in our experience, and we shall say, a few pieces of plain-dealing with wise people," offered Ralph Waldo Emerson, the celebrated philosopher of the American Renaissance.
Socrates, as you may know, did not leave behind any writings of his own. We know of his thoughts through the efforts of Plato, who presented them in the form of written dialogue. Plato insisted that the real author of the writings was his mentor — a Socrates who became, in Plato's admiring words, "beautiful and young."
It was the disciple, thoroughly devoted to and inextricably bonded with mentor, who transformed the mentor's ideas and ideals into a dialogue for the ages — and this, in turn, became the wellspring of Western philosophy and beacon of enlightened thought that would shine throughout human history.
When disciple and mentor are spiritually united, this relationship enables individuals to draw forth their boundless inner potential, infusing them with supreme strength and sublimity. Indeed, it would not be too farfetched to assert that humanity, from this century onward, will look to the mentor-disciple union as a fresh source of insight and ethical judgment, capable of projecting the power of dialogue on a global basis.
In Japan, I recently had the privilege of speaking with Dr. Jordan Plevnes, president of the Ohrid's Academy of Humanism in the Republic of Macedonia, at a function attended by members of SUA's undergraduate alumni, to whom I gave the name Soka Treasures Group (Soho-kai), and other alumni of Soka University of Japan. There, the academy president stated that the philosophy and practice of our Soka movement is now casting its light of hope upon the entire world and bringing about dramatic positive change to its future.
And it is you, the students of SUA, who stand at the forefront of this movement. You are the men and women in a pioneering effort to build a truly new century, proudly ushering in a renaissance that celebrates life and upholds its sanctity.
Attending the recent gathering of Soka University alumni were representatives of the first and second undergraduate classes of SUA, as well as the third graduating class of Soka University of Japan, who commemorated SUJ's 30th graduation anniversary. These men and women are now in their 50s, and serve as pillars in their respective fields of endeavor, inspiring trust, hope and confidence in their peers.
According to an ancient Eastern adage, the numeral, 1, represents the beginning, while 2 stands for continuation, and 3 for completion. And from there, all things shall be created without interruption or end. What decides whether progress will be enduring and eternal, then, is the third generation. I, too, have served as the third president of the Soka Gakkai with this resolve.
Every member of the third undergraduate class of SUA should be applauded, for it has been through your efforts that the foundations of this institution have been completed, ensuring that it will stand for an eternity. As the founder of SUA, my appreciation for the efforts you rendered knows no end.
I ask that you continue to shine on behalf of Soka, casting the light of hope upon the entire world, just as the dawn banishes darkness. I could not be more proud or pleased to work with you, to drive this great and united movement of peace, culture and education ever onward, a movement that humanity will surely come to treasure.
Your triumph is my very wish. My wife, Kaneko, and I hope that you will lead a life of unsurpassed glory, for you to always be healthy and protected, and for happiness to embrace your families. That is what we pray for every day, a prayer that we shall offer for the rest of our lives.
Allow me, then, to conclude my words of felicitations with this: May you all earn doctorates in the philosophy of happiness, always in high spirits and never succumbing to adversity!
And may you stand tall as victor among victors, to always uphold the principles of Soka and blaze new paths of hope wherever you may be!
Take the very best care of yourselves. I look forward to meeting you, not once but time after time!
I thank all of you for being here today.
Daisaku Ikeda
Founder