Raymond Ly (2017-2018 ASB Alumnus)
Project: Hurricane Harvey Relief Assistance in Houston, Texas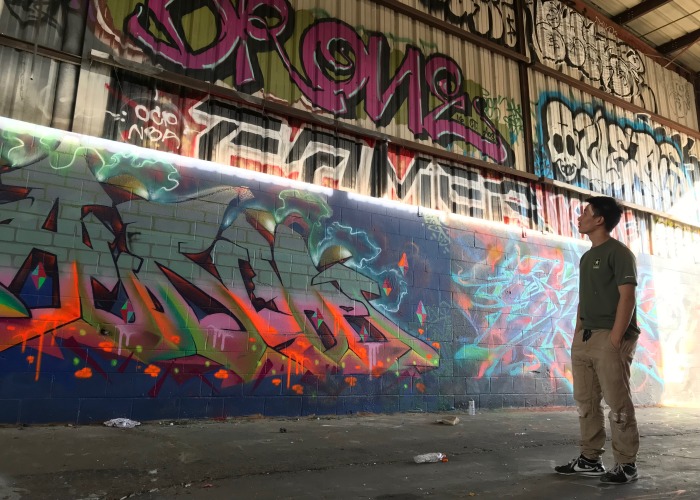 Ultimately, there's a difference between doing good and actually being 'Good'; one must approach ASB with the intention of understanding both.
What was your most memorable experience in ASB?
"My most memorable experience was while the ASB team and I were helping renovating a house, removing and adding paint, cutting up trash bags, using a lot of tape, and being on my hands and knees; it was one hell of a workout. However, the work wasn't as memorable as my thought process. The momentum I had was immeasurable; I didn't specifically enjoy the work, but knowing that I'm doing a good service to those who deserve more helped amplify for the energy. Up to the point where it was starting to become second nature to me, even though my allergies were killing me. Ultimately, it was definitely worth it, and inspired me to write a haiku: Invisible smoke / Inhaling imperfection / Exhaling freedom. I still write haikus."
Has your experience in ASB translated to your current endeavors (personally, academically, or in your career) and if so, how?
"My experience in ASB most definitely had transferable value. In terms of my character, I had a deeper appreciation for what I could do that didn't involve a degree or any kind of certification—I don't need a paper that affirms how much of an intellectual or expert I am to do some simple good. In many ways, I realized that it's easier to do good than to do bad. Why wouldn't you want to feel good about yourself? Therefore, ironically, I started to worry less about being a good student, and more on being a good person. Thus, career-wise, I would definitely be down to do some NGO work, and hustle with homies that have a genuine passion for being loud in their expression of love, but not lazy."
What is your greatest takeaway from your experience?
"There were too many takeaways from the experience, but the biggest one is in regards to being authentic. I've always been pretty hard-headed in trying to be as honest as I can be. However, when we had the task of helping package and give cookies at a women's homeless shelter, I had to continuously say "I hope you have a beautiful day" and other statements along those lines. Since I didn't know any of them, the thought of hoping on such a tender level was very foreign to me; I wasn't sure if I believed what I saying. However, the more I started saying these words, the more I understood how valuable they were. Sometimes, it's not about who says it, but what is said. If I cared so much about "being authentic" in my words, then wouldn't that be considered selfish? White lies are not persuasive weapons, but shields of thoughtfulness."
What would you say to students considering the ASB program?
"For student considering participating in the ASB program, the most important thing to keep in mind is that you shouldn't do this just because you don't have any Spring break plans. You also shouldn't do it so you can call yourself a global citizen and leave it at that. Being part of ASB requires your attention to actually put in work, as well as your growing intention to do some good. It's definitely a learning experience that extends beyond the ASB trip, and thinking otherwise will hinder that effect; just because you're going to do some good doesn't mean you're a good person. Ultimately, there's a difference between doing good and actually being "Good"; one must approach ASB with the intention of understanding both."