Scott Bower
Class of 2015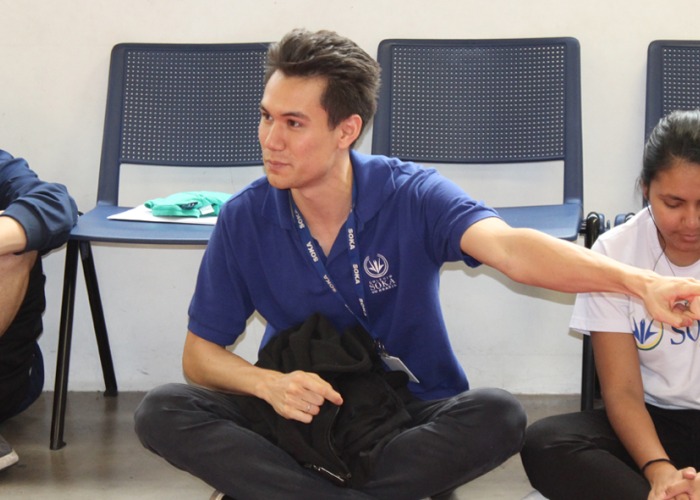 I believe that [INTS] has greatly prepared me to cultivate a perspective that made me aware of cultural differences, and political and social inequities.
Scott graduated from SUA with a concentration in International Studies (INTS) in 2015. He is currently an English teacher at the Soka High School of Brazil.
Q: What is your best memory as an International Studies concentrator?
A: I have been profoundly inspired and intrigued by studying Latin America, and in particular Brazil, through class seminars, internships in Brazil, learning clusters with Brazilian NGOs, extracurricular initiatives, and much more. What became evident to me in retrospect is how each class, guest speaker event, and travel opportunity built upon the other and gave me a richer perspective on the region as a whole. There were so many incredible opportunities that the International Studies concentration facilitated that it is difficult to name just one. However, I would say that my best memory as an INTS concentrator would be the countless visits I made to the office of my favorite INTS professor. It really boils down to the tremendous support I received during my time at SUA that made me truly appreciate all of the many wonderful experiences I listed previously. So, my best memory: calm and casual office chats with tea!
Q: How did International Studies prepare you for life after SUA?
A: I believe that International Studies has greatly prepared me to cultivate a perspective that made me aware of cultural differences, and political and social inequities. I am currently working in Sao Paulo, Brazil. Living in another country challenges me to continually refine my own rough edges as I find myself in situations that force me to reevaluate preconceived notions. Moreover, International Studies instilled within me a critical eye and far-reaching awareness. Although global issues may present themselves as confounding cultural conundrums, there will always be hope at the local level in transcending differences and creating new pathways as cultural ambassadors. I believe the formation of my opinions, passions, and knowledge in the INTS concentration has better equipped me to act as a cultural ambassador, avowed humanist, and global citizen.
Q: Do you have any advice for current International Studies concentrators?
A: First, learn as much as you can from all of the INTS professors and truly appreciate them. Second, reflect and dialogue with your peers on any and all issues that matter to you … and appreciate them as well! And the most important bit of advice (that I am trying to live by with great difficulty, especially as a recent graduate): Be patient. No one can resolve global issues overnight. With time, personal transformation, and friendship, things will slowly but surely move in the direction of peace and hope.