My Reflection on Soka Education by Hiroko Tomono GS '96
My Reflection on Soka Education: For the 20th Anniversary of Soka University of America, Aliso Viejo
The first half of year 2020 was one of the most challenging times in my life. The combination of uncertainty, anger, and doubt I felt was taking over my usual optimistic, hopeful outlook. I was managing and fulfilling my responsibilities as a mother of three pre-teen and teen daughters, a partner to my husband, a volunteer in my community, and the library director at Soka University of America (SUA). Whatever actions I was taking, however, seemed so insignificant when the suffering all around seemed so complex and pervasive. It became difficult for me to feel a sense of joy and fulfillment. There were times when I was overcome with the magnitude of problems we, as human beings, were collectively facing, and I felt paralyzed. Soka (創価) is to create value no matter how difficult a situation is. I knew something had to change.  
The despair I was feeling on and off sent me back to what the founder Daisaku Ikeda left behind for those who take the responsibility of building SUA. His hopes and expectations for this university with an important mission are expressed in numerous books, lectures, essays, proposals, and dialogues. They are also conveyed, very directly, in his messages to the SUA community. Reading them shook my life and pulled me out of the murky state, which gave me enough courage to be open and reach out.  
The pandemic made it impossible to meet people in person, so there was no physical limitation. I called people in many different time zones. Alumni friends, colleagues, students, community members, childhood friends, and family: some I hadn't spoken to for decades. And daily, I also had quiet conversations with many others by reading what they wrote and listening to what they recorded. During such interactions with people, I was given continuous opportunities to self-reflect. This exercise deepened my understanding and empathy, which helped me find concrete steps I could take and bring out the courage to actually follow through. I was aware of the importance of relationships, but I became a firm believer in relationships as the essence in learning and developing. Everyone involved must grow together. 
At this important juncture of SUA's history, I could not pass this opportunity to share what I witnessed and experienced as a member of the SUA community for the total of twenty two years. This is only a fraction of what I wanted to share. My hope is that other SUA community members will tell their stories because every experience is an important piece of history. We learn from history, evolve, and improve. Writing this piece took a lot longer than I anticipated, and it was quite a difficult but joyful experience; I was able to relive and remember treasured moments. 
*** 
Becoming independent from Soka University in Japan, "Soka University, Los Angeles (SULA)" was transformed into Soka University of America (SUA) as a free-standing university in 1994. Tremendous unseen work was poured into making this a reality, and I am forever grateful for the individuals - not only the staff and faculty - but also the hundreds of donors and volunteers. Prior to the ground opening in the 1980s, groups of volunteers traveled hours to care for the neglected buildings and land. They weeded the ground, removed paints revealing beautiful tile arts on the walls, and cleared the debris. The stunning beautiful campus surrounded by Santa Monica mountains in Calabasas was the pride of these supporters, even before its opening. They imagined future students learning and joining the global community to create a peaceful world. 
At the occasion of the opening of SUA Graduate School on September 2 in 1994, Founder Daisaku Ikeda provided the mission of SUA:
Tsunesaburo Makiguchi, the father of the system of value-creating education, was a man of profound courage and conviction. During the tumultuous first half of this century, he pioneered the cause of humanistic education, aspiring to the ideal of peaceful exchange among the world's peoples. This year marks the 50th anniversary of his death in prison, and I am deeply moved to imagine the joy with which he would have greeted this brilliant flowering of value-creating education on a global scale.

In his "The System of Value-Creating Pedagogy," Makiguchi describes three stages of human development: dependent, self-reliant and contributive modes of living. A dependent life is one of reliance on the authority and capabilities of others, in which one makes little or no effort to think or act for oneself. It is, in other words, a condition of spiritual laziness. A person who lives in a self-reliant manner may have a clearly defined sense of self and creed, but is prey to alienation and self-aggrandizement. A person who lives a contributive life neither relies on external authority nor lapses into arrogance. In a contributive life, the prime motivation is to contribute to the lives of others and to the realization of their happiness.

Makiguchi asserted that the human being must progress from a condition of dependence, to self-reliance, and finally to a contributive way of life. The mission of Soka University of America is to foster a steady stream of global citizens committed to living a contributive life.

To study and learn, to take on difficult challenges, to continue to take action for the sake of the happiness of your fellow citizens - this is the key to a life that is ever youthful, value-filled, unhindered and expansive.
Looking back at my life as a student at SUA, I seemed to have gone through the three stages of dependent, self-reliant, and contributive modes of living described by the founder of Soka Education Tsunesaburo Makiguchi.  
All the reading and writing assignments were demanding, but what was most difficult to me was to formulate my own opinions and to convey them not only in classrooms but everywhere else as my classmates and I spent most of our waking hours together. There were fewer than ten students in each cohort. There was nowhere to hide. I was accustomed to lecture-style classes in Japan and in a large California State University where I earned my Bachelor's degree. As questions were posed, I felt challenged by everyone around me to dig deep and learn who I was. 
Everyone else seemed so much more knowledgeable than I was. Though my classmates may have thought I was composed, I was actually putting pressure on myself to be alert, trying not to say things inappropriate or amiss. Feelings of inadequacy manifested as someone who was stressed, closed, and self-centered. I could only receive and appreciate what was offered to me by the SUA community. I was reliant on the "capability of others" and frankly "alienated and self-aggrandizing" at times. Though I was trying my very best, I felt far from the Global Citizen that the founder asked us to be. 
Towards the end of the first semester, however, it started to become possible for me to pay attention and notice my surroundings. The class of 1995, my classmates, English as a Second Language (ESL) students, staff, and faculty - I noticed how they were contributing to the development of SUA with the pioneer spirit that they are the ones to build the foundation of SUA, tackling what's in front of them with their eyes gazing towards the future. Appreciation and commitment were always at the center, and that was especially clear during the preparation for the first commencement ceremony. As I watched and participated in this campus life, I appreciated the continuous reminder that "I need to grow, and I want to grow." 
At the occasion of the commencement ceremony for the first graduating class of 1995, the founder emphasized, again, how he was also challenging himself to expand his life as taught by Tsunesaburo Makiguchi. He wrote at the end of the message to the graduating class, and everyone else: 
I would like to share with you three invaluable directives for life left to us by Mr. Makiguchi, in the hope that you will embrace them in the depths of your being.

Never peddle your knowledge, nor force it meaninglessly on others. Rather, be truly sagacious leaders who proffer the "keys of wisdom" which enable others to unlock the treasure houses of knowledge.

Be people of character, who partake of the joys and sufferings of your fellow citizens, and who can create the harmonious coexistence, the mutual prosperity of self and others, of the individual and the community.

Never be satisfied with passive goodness. Be a person of courage and mettle who clearly debates and distinguishes right and wrong, and who takes bold and committed action for good.
Truly manifesting these three "invaluable directives for life" in my life has been difficult. To be honest, it was a burden in some situations. Most of the time, however, I have not felt such heaviness. They have motivated me to continue the cycle of self-reflection, relationship building, and stepping up. The community I have continued to cultivate and expand in my life brought so much joy in this journey because I was never alone.  
One of my professors Jonathan Epstein so beautifully expressed what the community of SUA was like in his writing. With his permission, I am including what he wrote just last month in its entirety:  
In the musical BRIGADOON (1947), a mythical village in the Scottish Highlands appears from out of the mists for one day every hundred years. It is visible only to those who are pure in heart.

For twelve years (1994-2006), the lifespan of Soka University's Calabasas campus, it was my Brigadoon. There I taught graduate  students in our program leading to an MA in Second and Foreign Language Education with a concentration in Teaching English to  Speakers of Other Languages (TESOL).

I will forever treasure the graduate students of those pioneer days — indomitable spirits whose commitment, kind hearts and tireless efforts nourished and inspired me.

We were small but thought big, our values based on humanistic student-centered teaching and a burning desire to live a contributive life. In our cozy mountain sanctuary, under the direction of our gold medal dean, Tomoko Takahashi, we flourished for a complete cycle of the zodiac.

The awe and admiration I feel for Dr. T — her vision, leadership, relational skills and integrity — are off the charts. Her trust and confidence in me gave me wings.

A shout out also to the Director of the English program, Jack Walker, a true master teacher and masterful coordinator of the practicum that provided empowering experiences for our graduate students in their final semester.

Another key element in our magical kingdom was the English program itself — the indefatigable, humanistic teachers and the effervescent, self-challenging students from Soka Women's College and Soka University in Japan. Whenever and wherever I  encountered these students — in the hallways, cafeteria, dorm or classroom — they radiated joy and aliveness. They were a constant  source of energy and delight for everyone. Outside or inside the classroom (Concurrently with graduate school, I taught a number of 3- and 12-week intensives from 1999-2006), our English program students always "made my day."

I am eternally grateful to Terrie Mathis, my 12-year colleague who helped me laugh at myself and enriched all my campus days with her humor, compassion, and friendship.

I also want to acknowledge a few (among many) others who made enormous contributions to the growth and maintenance of our once-in-a-century miracle — Cliff Mosher, Earlyn Mosher, Maryanne Lucas, Nick Abera.

Finally, we owe our very existence to the one who "dreamed a dream" and brought us into being — Founder Daisaku Ikeda.

As I reflect on those long-ago times, their unique and lasting significance shines a rainbow over the arc of my life. I never cease to marvel at what good fortune it was to have played a part in this great experiment in education.
Jonathan, a veteran educator, had already retired from University of California, Los Angeles when he joined the founding Graduate School faculty team. Just like his colleague Terrie and Dean Dr. T, it was obvious to us how much they loved and enjoyed being in the classroom with us. It was also apparent how much they loved being with us outside of the classroom.  
They demonstrated the "humanistic, student-centered" teaching and learning environment in the way they spoke with us, listened to us, wrote their comments on our assignments, and brought out our potential hidden deeply inside us. In Jonathan's class, for instance, he patiently and quietly encouraged us to be open. I eventually let my guard down and allowed myself to be vulnerable when working on my assignments and sharing my thoughts with my classmates. Self-reflection and growth did not begin until I was honest with myself. In his pedagogy and practical teaching classes, he gave me continuous opportunities to train myself to be a humanistic educator.  
As Jonathan described, the Soka University and Soka Women's College students were incredibly pure at heart. Seeing their lives full of joy and appreciation, I felt motivated to learn so that I could be closer to becoming an effective, compassionate educator. The practicum teaching with the students was the most nerve-racking and most exuberant class during the master's program. 
With the relationships we built in and outside of the classrooms, there were endless conversations. My class had a spectrum of ages and cultural backgrounds, as any other graduate school classes have. Needless to say, there were some arguments or conflicts with my classmates, especially with those sharing the house. I was in my early 20s, and I know for sure I was a cause of frustration for many. I was and still am amazed by how embracing everyone was! My self-discovery process accelerated thanks to them. 
The staff members, especially the librarians, changed my life. Though I applied to the graduate school with the intention to become a language teacher, the dedicated librarians there inspired me to pursue a different path in librarianship. I had no personal relationships with any librarians or any other staff members at my previous alma maters. At SUA, however, I truly felt at home. I never felt unwelcomed in the staff lounge or at their office rooms where I was patiently listened to and felt valued. The trust and expectation that they warmly showed us in their words and behaviors pushed me to study and work harder - to seize the moment. Their commitment to be the global citizens themselves gave me the courage to dig deep to cultivate my compassion and wisdom.  
Not only the dialogues with the SUA family, but the dialogues I had with myself as I listened to the Human Rights Lecture Series speakers were another impetus of my growth. They were constant nutrients in the garden of SUA where I grew. They challenged my views and opened my eyes to the worlds that I couldn't pay attention to before due to my limited capacity. In the 1990s, SUA staff and Deborah deCesare were working with scholars and activists to cultivate the culture of Diversity, Equity, and Inclusion in the larger community of Southern California almost three decades before higher education institutions in general started focusing their efforts on DEI. 
*** 
"The trust and expectation" I felt in the nurturing environment were heightened in the summer of 1996 when I was immersing myself in the heavy work of writing a master's thesis while working as a library and cafeteria assistant. Founder Ikeda and Mrs. Ikeda arrived from Japan and stayed on campus as they prepared for their trip in the U.S. and South America. They lived among us. From the day after their arrival, we saw them strolling the campus, stopping and having conversations with students and visitors. There is no doubt in my mind that the founder was extremely busy, tackling a mountain of work. Nevertheless, we felt cared and unrushed during our encounters with him. 
On June 1st, some Soka University ESL students were soaking up the sun outside when they happened to see Founder Ikeda and Mrs. Ikeda on a golf cart. Some guests were visiting the campus to participate in the meeting to discuss the opening of SUA Aliso Viejo campus. The founder asked the students to have conversations in English with the visitors who were nearby. Some of those students later told me how nervous they were! As he watched the students trying their best, he warmly told them not to worry too much about their academic skills. He emphasized the importance of not giving up and enjoying the limited time on campus. 
Later that evening, a group of ESL students were on their way back to their residential hall and ran into the founder and Mrs. Ikeda. He asked every one of them about their hometown and surprised them all with how much he knew about the developments or happenings of their local areas. They also heard from him how he loves America and believes in the potential of America. At one point, he took a pause from the conversation and looked up at the sky. Taking his lead, the students gazed up at the sky. Together, they admired the beauty for a while. 
On June 2nd, my classmate Carol and I happened to be in front of our residential house. When we noticed the founder and Mrs. Ikeda taking a walk nearby, they noticed us also. With a welcoming smile, he gestured to show us that we wouldn't be bothering them if we got closer. We excitedly ran to them, yet at the same time feeling bad about taking their time from important work. He asked us many questions about our hometowns and parents. Practical, heart-warming suggestions were shared with us, and as a result of this exchange, I have made the efforts to be more open to my family and communicate with them as frequently as possible. Mrs. Ikeda was incredibly warm and friendly with us also. We stood together surrounded by the beautiful Santa Monica mountains and had a long conversation. I deeply felt his complete trust in me. It wasn't an overwhelming feeling, but it stirred my desire to respond to his expectation - for me to be a Soka, value-creating educator. 
On the same day, he walked through the graduate students' dining room. Seeing a photo of Mount Fuji (taken by him) mounted on the wall, he joked about the photographer and shared his hope for the students to be like the indomitable Mount Fuji.  
Next day on June 3rd, everyone including the visitors were treated to a special Sukiyaki dinner. Surrounding a Japanese hot pot dish Sukiyaki at each table, we deepened old and new friendships. This was a gift from the founder to all of us; he must have planned this several days before. The cafeteria room was full of energy; the conversations and laughter filled up the Wisdom Hall, the building where all the classes took place. 
June 4th was the day when the founder delivered his lecture, "Tsunesaburo Makiguchi's Lifelong Pursuit of Justice and Humane Values" at the Simon Wiesenthal Center. That morning, he drove a golf cart by Wisdom Hall, right in front of the classroom windows where ESL students were taking their classes. For a short minute or two, the only thing the students (and the teachers!) could focus on was him enjoying the speedy golf cart. Later that day, they received chocolate ice creams from him. 
The most memorable from the lecture at the Museum of Tolerance was the question and answer session that followed immediately after his talk. He was remarkably open and unassuming. I could feel the atmosphere of the hall changing. The last question of several was posed by a high school educator who needed some directions on how to teach tolerance, as described in his lecture, to K-12 students. His response was very clear:  
…the key is, first and foremost, the growth and development of the teachers themselves. If teaching professionals do not put their heart into their job and just regard it as something to be done with as little effort as possible, this will be communicated to the students who are very much aware of their teachers' attitudes. … teaching is a sacred vocation and the best way for educators to teach tolerance to their students is through their own sense of responsibility and compassion, their concern for the students' welfare and their committed efforts to help them grow." He also added the importance of having contact with different cultures to cultivate tolerance in students. (Ikeda, Daisaku. "My Dear Friends in America," 2013, p.421)
Here again, he was sharing his hopes and expectations with all of us. 
Next day on June 5th, my classmates and I were visited by the founder and Mrs. Ikeda in front of our house. After some interactions, he suggested that he take a photo of all of us with Dean Takahashi. We gathered in front of a small hill covered in pink flowers and smiled for him.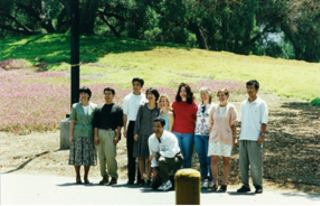 Group photo of me with my classmates, Dean Takahashi, and a man volunteering. When he visited another house occupied by the other graduate students, he asked them what they did in the area where a punching bag was hanging. When they explained to him that it's their "dojo" (training place), he commented how bare their dojo was. Some days later, they received flower pots from him. His assistants told them that he had asked them to purchase those pots of flowers soon after his visit to the students' dojo. He may have been suggesting to them that "training" does not always have to be serious. Joy and beauty could be found in dojo. 
The day of their departure for Denver where the founder received the Honorary Doctorate of Education from the University of Denver, all of us gathered by Central Hall where many historical dialogues between the founder and peace builders (Dr. Linus Pauling, Mrs. Rosa Parks, and Dr. Norman Cousins to name a few) took place in previous years. He spoke with the ESL teachers before giving some words of encouragement and appreciation to the rest of us. About a month of packed schedule was awaiting him in Colorado, New York, Florida, and South America. The well-known lecture about Global Citizenship at Teachers College Columbia University was given during this trip. 
Some years later, the founder published a photo essay in a daily newspaper, Seikyo Shimbun. Accompanying a photo he took, he celebrated the life of courageous pioneer Amelia Earhart. He wrote, in part: 
On July 2nd, 1996, I was at Soka University of America, Los Angeles campus. I just returned from a month trip to the Bahamas, Cuba, Costa Rica, and Mexico to LA. There were tall Hemp Palms under vibrant California sunshine stretching high to reach out the sky. Looking up, I noticed a white bullet line looking like crossing the sturdy stock. The fan-shaped fronds were swayed by the wind as if they wanted to fly toward the sky. Fifty nine years earlier from the day, on the second of July in 1939, there was a woman who ended her contrail-like life in the sky over the Pacific Ocean. … Airplanes can't function without flying high. They wouldn't work without flying fast. They have to continue flying forward.

This day (when the picture was taken), the sky above Soka University of America was blue and cloudless just like the fulfilling heart of those who single-mindedly accomplished a pursuit. From this campus, too, talented persons of peace are departing for the heavens around the world. A life-time work of "the silver miracle" that these young entrusted people are going to create; it will cover the earth in many layers and unite a variety of well-intentioned people. That time, peace will be achieved.

This is what I believe. Life is limited. I want to leave behind a course of lighted path to the heart of successors… "Just like how that person lived." "Just like how that person lived."
For many years and decades after, each encounter during the summer left a lasting impression and became a source for contemplation for many of us.  
Upon graduation, I switched my role from a student to a library staff for one year, then I pursued a Master's degree in Library and Information Studies. Working full-time as an administrative assistant at a company in Calabasas, I drove all over Southern California crossing many counties to attend classes at nights and weekends to complete the program.  
In 2001 when I returned to SUA as a library assistant, I promised to give what was given to me. Though there were many external and internal challenges, taking a partnership role in students' learning was truly fulfilling and enjoyable. Seeing our sister campus developing in Aliso Viejo was profoundly encouraging, and we had the pleasure of helping the Bridge students who spent their summer months with us on the Calabasas campus. Meanwhile, the graduate school alumni association was growing steadily, and in May of the same year, the founder gave us a beautiful name "アメリカ 創誓会" ("America Soseikai" [value-creating group of vow]).  
Together with the SUA community, including our alumni friends, we celebrated the 10th anniversary of the Graduate School with a full-day event in 2004. We were reminded that our connections are strong, and we refreshed our vow to continue our unique paths. Not long after, however, we heard the devastating news. Our beloved campus was going to close.  
I immersed myself in all the important projects of closing, moving, and merging two libraries. The only time I let myself feel sad about the closure was the last gathering in 2006 when so many alumni returned home from afar, exchanged our treasured memories, and again, refreshed our vows. All the library resources were packed and delivered to the new home: the Daisaku and Kaneko Ikeda Library by early 2007. And I moved across the county with my husband and our first new born. 
For a very long time, I felt like I was back in the first semester of the graduate program. I was no longer in a cozy, comfortable place; I was a "new kid on the block." Though I knew that it was me putting pressure on myself not to do or say things amiss, it felt safer staying in the library rather than reaching out. Taking a part in the relationship-building effort at the new campus necessitated a lot of growing on my part. In such difficult times, I remembered the founder's encouragement given to us at the time of transition: "unity is power."  
Honest comments from SUA students were often the force that pushed me out of my shell. One year, there was an anonymous comment left by a student in the library's annual survey. This student wrote that the library seemed disconnected from the rest of the campus. "Wow, how insightful!" and then "Ouch, I better do something!" were my immediate thoughts.  
I could genuinely claim that I have always responded to requests with sincere, responsive actions. Sincerity and responsiveness show that we care, and this is what I always hoped that all library staff remembered when serving the community. What was lacking, I realized, is that I was not openly reaching out; I was passive. Taking advantage of numerous occasions on campus - at presentations, conferences, guest speakers' talks, panel discussions, mixers, receptions, and fitness classes - I made myself to be fully present and strike conversations to build relationships, re-build a community I feel I belong to.  
Keeping my ears and eyes wide open, I searched for services or information gaps to respond to changing needs of the community. Collaborating with faculty, staff, and students, the library staff and I made efforts to fill the gaps. I certainly hope that we are making the student proud - the student who shared the comment with us. As the founder said, unity is power, and it is joyous. 
*** 
The month of May in 2020 marked my thirty years of living my life in California. Three months before I left my hometown Miyazaki as a teenager, the SUA founder Daisaku Ikeda conveyed his hopes for the people in the United States to make "a truly fresh start for the future" during his two-week stay in Los Angeles.  
One of the reasons for this sentiment, he explained, is due to great changes resulting from a new generation emerging in the cycle of every thirty years. He shared an observation of a historian Dr. Arthur M. Schlesinger Jr. that people in America have challenged themselves to actualize the founding ideals of equality and humanity, which manifested in transformational changes every thirty years. These changes accompanied great turmoil. 
Noting Dr. Schlesinger's remarks of President Roosevelt's New Deal in 1930s and President Kennedy's New Frontier as well as "an upsurge of counterculture movements across the country, most visibly in the form of student protests" in 1960s, founder Ikeda was intrigued by that "America has tended to return to the prime point of its founding ideals at intervals of thirty years." He added an important point, "In human terms, thirty years correspond roughly to one generation. In a thirty-year period, one generation is replaced by the next; the order of things requires the emergence of a new, youthful generation" (Ikeda, 2013, p.54) 
The year 2020 was a fresh start. What took me out of the despair, which came in waves, were commitment and relationships. The commitments I have witnessed and the genuine relationships nurtured in the past 30 years brought the courage out of me not to give up on myself and others. I have no doubt that this decade is the time for transformation. There is no coincidence that the SUA community is made up with the particular individuals from the past, now, and future. We all have unique roles to play. The founder also spoke about America as follows: 
Change, unceasing change, is one of the distinguishing characteristics of America. Change occurs more rapidly here than it does elsewhere. This could be said to be an indication of the vitality that this country possesses.

Thus the question is whether we are to accept change passively and be swept away by it or whether we are to take the lead and create positive changes on our own initiative. While conservatism and self-protection might be likened to winter, night and death, the spirit of pioneering and attempting to realize ideals evokes images of spring, morning and birth. (Ikeda, 2013, p.58)
My hope and vow is that every graduate of SUA truly feels that they have no regret of attending SUA, no matter how many years or decades it may take for some. I am incredibly lucky that I am surrounded by many with whom I was able to encounter and develop friendships because of the network of Soka. It would be too selfish of me to keep this treasure to myself.  
When my classmates and I graduated in December 1996, the founder shared these words with us, all of us:  
That which is created with little effort crumbles easily. Only things that have been built through great effort, into which heart and soul have been poured, can withstand the trials of time and will continue to shine far into the future. … The wisdom that well forth from a sense of deeply-held commitment and responsibility has the power to change history. …It is my hope that you will take on the challenge of creating value, advancing one step at a time, always resisting the currents of inertia, refusing to passively accept reality. In this way I hope you will cultivate, with courage and vigor, new realms of humanism in the twenty-first century. …I would like to conclude my message with these words, the youthful motto of Ben Yehuda, who made pivotal contributions to reviving Hebrew as a spoken, living language after a lapse of some two thousand years: "The day is short: the work to be done is so great!
Building on the solid foundation of trust, SUA will be indomitable like Mount Fuji. To be an active agent in the continuous development of SUA, I have to be open, welcoming, and embracing - especially with those who seem to have very different perspectives from mine. I'm striving to be able to demonstrate the embodiment of Global Citizenship in the most natural and in my own unique way. The founder has left clear guidance and encouragement. It's up to me to muster up the courage to take the necessary steps. 
March, 2021 
Hiroko Tomono Furniss 
SUA Graduate School, Class of 1996