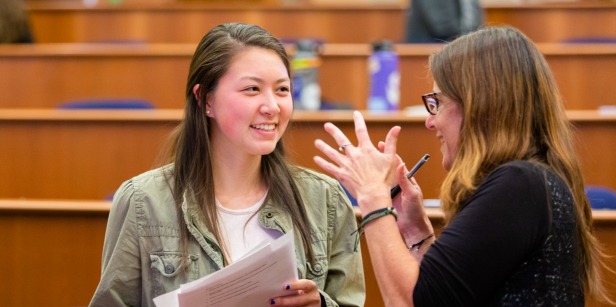 Capstone
The Capstone Experience is designed to give students the opportunity to develop deep understanding of a topic in their field of concentration, drawing upon the skills and knowledge acquired from the SUA liberal arts education.
Learning Objectives
To further develop habits of independent inquiry and study.
To acquire close, focused knowledge of a topic.
To further develop and refine research, writing, and analytical skills congruent with the educational mission of Soka University of America.
To enhance students' ability to formulate and research a question or set of questions and from this to produce a coherent and substantial treatment of the chosen topic.
Selected Previous Capstone Topics
Previous Environmental Studies Capstone topics have included: 
Renewable Energy in California, Germany, and Japan
Farmers Markets and Local Food Access in Orange County, California
Water Audit of Soka University of America
River Ecology and Ecological Restoration: A Case Study of the Los Angeles River
Climate Change and Informal Urban Settlements: Building Resilience for the Urban Poor in Nairobi, Kenya
Approaching the Nonhuman: Navigating Art, Abjection, and Ambiguity for a Post-Natural Ecology
Previous Humanities Capstone topics have included: 
The Power of Uncanny Women: Analysis of Japanese Horror Film and Argentine Fantastic Literature
Sigmund Freud's Unconscious and the Collective Pursuit of Hysteria
Montaigne and Me, Intimate but not Sexual
What a Time to Be Alive: An Exploration of All Things Millennial: An Audio Podcast
A Dialogue on Dance: Funding, Advocacy, and Participation
White Rabbit Knows Everything - A Short Novella
Previous International Studies Capstone topics have included:
The Causes of the Thai Sex Industry and its Effects on Thai Women
Violent Insurgent Group: Defining the Relationship between the State, the Insurgency, and the Population
Multicultural Hawaii: Seeking Autonomy
The Legacy of America's Super Citizens: What Comic Book Superheroes Reveal about American National Identity
An Evaluation of the Construction and Reproduction of Historical Narratives about the War of the Pacific in Peruvian Textbooks
The Philosophy of Nonviolence in Guatemala: Withdrawing from La Violencia through Hip Hop
Previous Social and Behavioral Sciences Capstone topics have included:
The Commercialization of Hip Hop: When Keeping It Real Goes Wrong 
Semper Fidelis: The Construction of Gender in Military Wives
Gender Equality in Vietnam: Promises and Reality
Myanmar's Ethnic Problem: History, Conditions, and Solutions
Parental and Peer Contexts of Hookup Culture and Its Potential Influences on Sexual Behaviors and Marital Attitudes
An Investigation Into the Meaning and Implementation of "Inclusive Education"